Fredericksburg, Texas, is a small town with a booming restaurant scene. With great Texas wine, German specialties, and plenty of Tex-Mex and burgers thrown in, there are lots of good eats here. Whether you're looking for a quick breakfast or an upscale Hill Country dinner experience, you'll find it among our picks for some of the best restaurants in Fredericksburg.
Otto's German Bistro
Helmed by a chef from Dusseldorf, Otto's is a great restaurant for dinner in downtown Fredericksburg. This upscale bistro offers modern German specialties like duck schnitzel and Bavarian beef soup along with other European dishes on a menu that changes regularly. Many ingredients come from nearby farms in the Hill Country, which are highlighted on the menu.
The cocktails are lovingly crafted, and the wine list features lots of choices from Germany and Austria.
Just a couple of steps off Main Street, Otto's is open every day, which is great in a town where many restaurants are closed on Monday and Tuesday evenings. It's at the top of our list for places to go in Fredericksburg.
Vaudeville
Vaudeville is a unique space that combines a bistro with a boutique and gallery. Often appearing on lists of best places to eat in Texas, it combines French flair with elements of Southern comfort food.
The restaurant offers a lunch menu featuring freshly baked pastries and a selection of soups, salads, and sandwiches along with specialties like duck confit and buttermilk fried chicken. In the evening, main courses include hearty dishes like rack of lamb and braised beef with polenta. Their Sunday night supper club based around a multi-course tasting menu is also very popular.
Farm Haus Bistro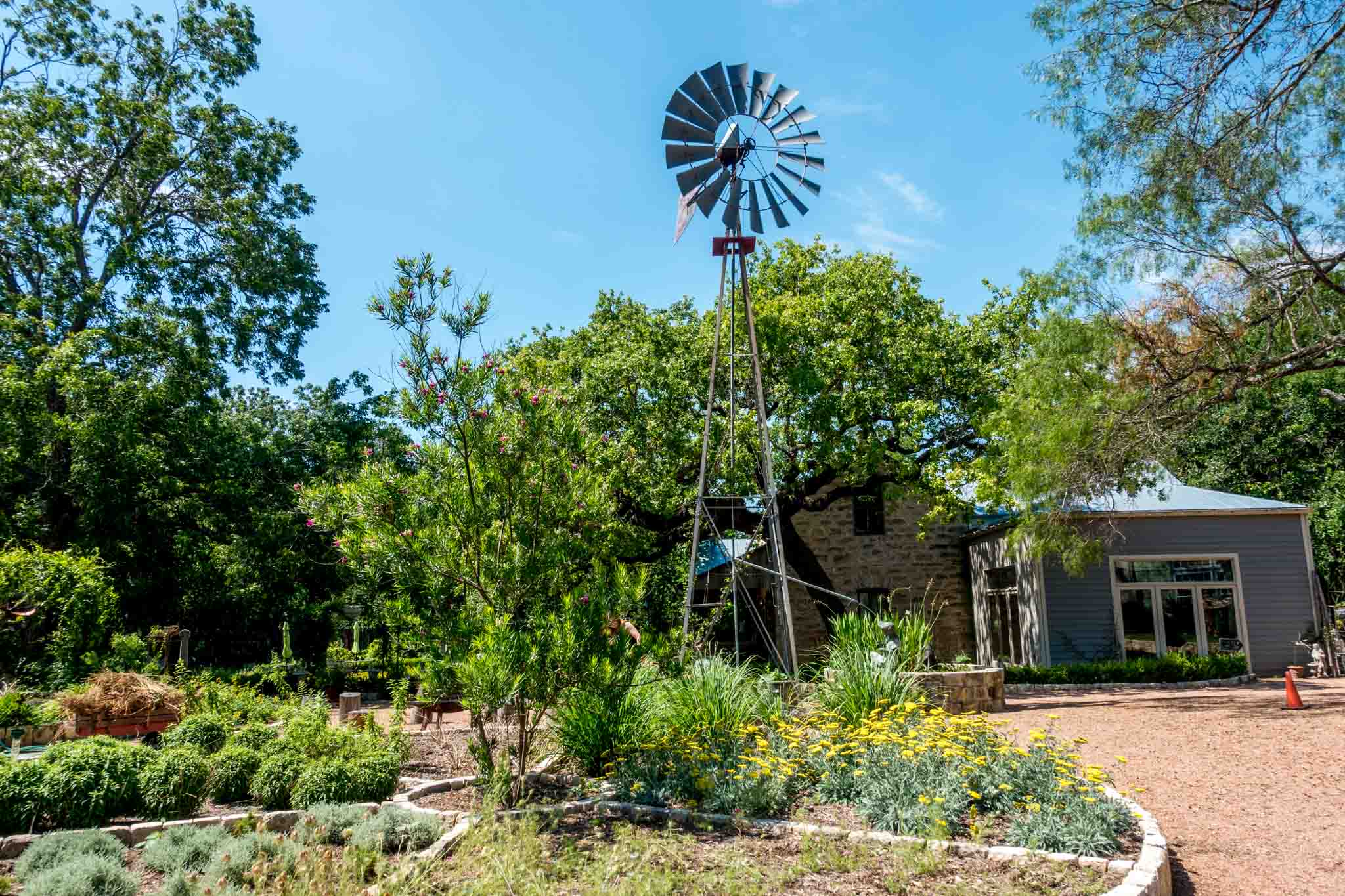 Set in the garden environment of Fredericksburg Herb Farm, Farm Haus Bistro features lots of fresh produce, in keeping with the theme. Salads, quiches, and omelets feature heavily at lunch alongside treats like a homemade cinnamon roll. The dinner menu is a mix of flatbreads and filling options like filet mignon, eggplant lasagna, and roasted quail in a brandy port reduction.
Der Lindenbaum
One of the top German restaurants in Fredericksburg, Der Lindenbaum is located in an historic building on Main Street. It offers German specialties like goulash, schnitzel, and rheinischer sauerbraten (beef marinated in a sweet and sour sauce). They offer an impressive selection of German beer and wine.
Hondo's on Main
Hondo's on Main is a local favorite. This welcoming spot is owned by the daughter of Hondo Crouch, the former self-proclaimed mayor of nearby Luckenbach. His warm, fun-loving spirit lives on at this namesake restaurant.
Hondo's has live music most days and a large patio to enjoy. The menu is full of casual, good food like burgers, enchiladas, and sandwiches. Don't miss the Frito pie.
Sunset Grill
Known for serving some of the best breakfast in Fredericksburg, Sunset Grill is located just a couple of minutes from Main Street on South Adams Street. Open for breakfast, lunch and Sunday brunch, Sunset Grill serves an impressive array of omelets, salads, sandwiches, and different types of eggs Benedict. The French toast is a particular favorite.
Auslander Restaurant & Biergarten
A mainstay of the city for over 30 years, Auslander specializes in the food of the Bavaria region of Germany. That means lots of schnitzel, sausage, and sauerkraut.
Though on the heavier side by its nature, the dishes we've sampled at Auslander have all been flavorful, fresh, and perfectly cooked. In addition to bratwurst, meatballs (klopse) over spaetzle, potato soup, and crispy schnitzel, there are non-German alternatives like hamburgers and a grilled chicken salad.
The biergarten is a perfect place to sit on a nice day. Auslander serves beer from Fredericksburg breweries and lots of German and international brews along with wine and frozen cocktails.
Rathskeller
Located in the Historic Keidel Hospital building, Rathskeller Restaurant serves a little bit of everything. As the German name implies, you'll find a selection of German sausages and schnitzels. The greater part of the menu features pastas, seafood, burgers, sandwiches, and more for lunch and dinner. Breakfast includes numerous egg dishes, breakfast tacos, and beignets.
Cabernet Grill
The Cabernet Grill is frequently listed as one of the best restaurants in Fredericksburg, and our meals there have always been excellent. Specializing in what they call Hill Country cuisine, the menu is full of seafood, steak, and specialties like oak-smoked pork tenderloin and sous vide fried chicken.
The claim to fame of this upscale restaurant is that its wine list is exclusively Texas wine. There are over 150 selections from the nearby wineries in Fredericksburg, the High Plains, and beyond. Plan ahead if eating here is a priority on weekends.
Airport Diner
The Airport Diner is a classic 1940s diner with the food to go along with it. You'll find traditional egg dishes, biscuits and gravy, pancakes, and breakfast tacos at breakfast. Lunch includes salads, burgers, chicken wraps, and a daily Blue Plate special. The most unique part of the experience is the environment—right on the edge of the Gillespie County airport, you can watch the planes take off right outside the window.
Burger Burger
This casual place with the repetitive name is one of our favorite restaurants in Fredericksburg. The burgers at Burger Burger are great (with a name like that, they had better be), but they also offer salads, chicken wings, amazing milkshakes, and a handful of vegetarian options, too.
Hill Top Cafe
The charming Hill Top Café about 10 miles north of town is worth the drive. Set in an old gas station and roadhouse, they offer some of the best seafood in the area. During lunch, dinner, and Sunday brunch, the menu features Southern cuisine as well as Cajun dishes and a few Greek specialties thrown in. There is frequent live music.
Woerners Warehouse Cafe
Woerner Warehouse Café is a popular spot for breakfast and lunch in the Warehouse District. Set inside Woerner Feed Store, the café is surrounded by gifts and an eclectic mix of antiques so you can do a little browsing while you wait for your table.
The restaurant draws on all the fresh produce of the Hill Country to create its menu of salads, soups, and sandwiches. Fresh quiches and pastries are also a highlight, and the pizzas are delicious.
Backwoods BBQ
Central Texas is known for barbecue, and Backwoods BBQ is some of the best in town. The family-owned establishment specializes in mesquite-cooked pit BBQ and steaks. Visitors rave about the ribs, ribeye, and macaroni and cheese.
Fredericksburg Pie Company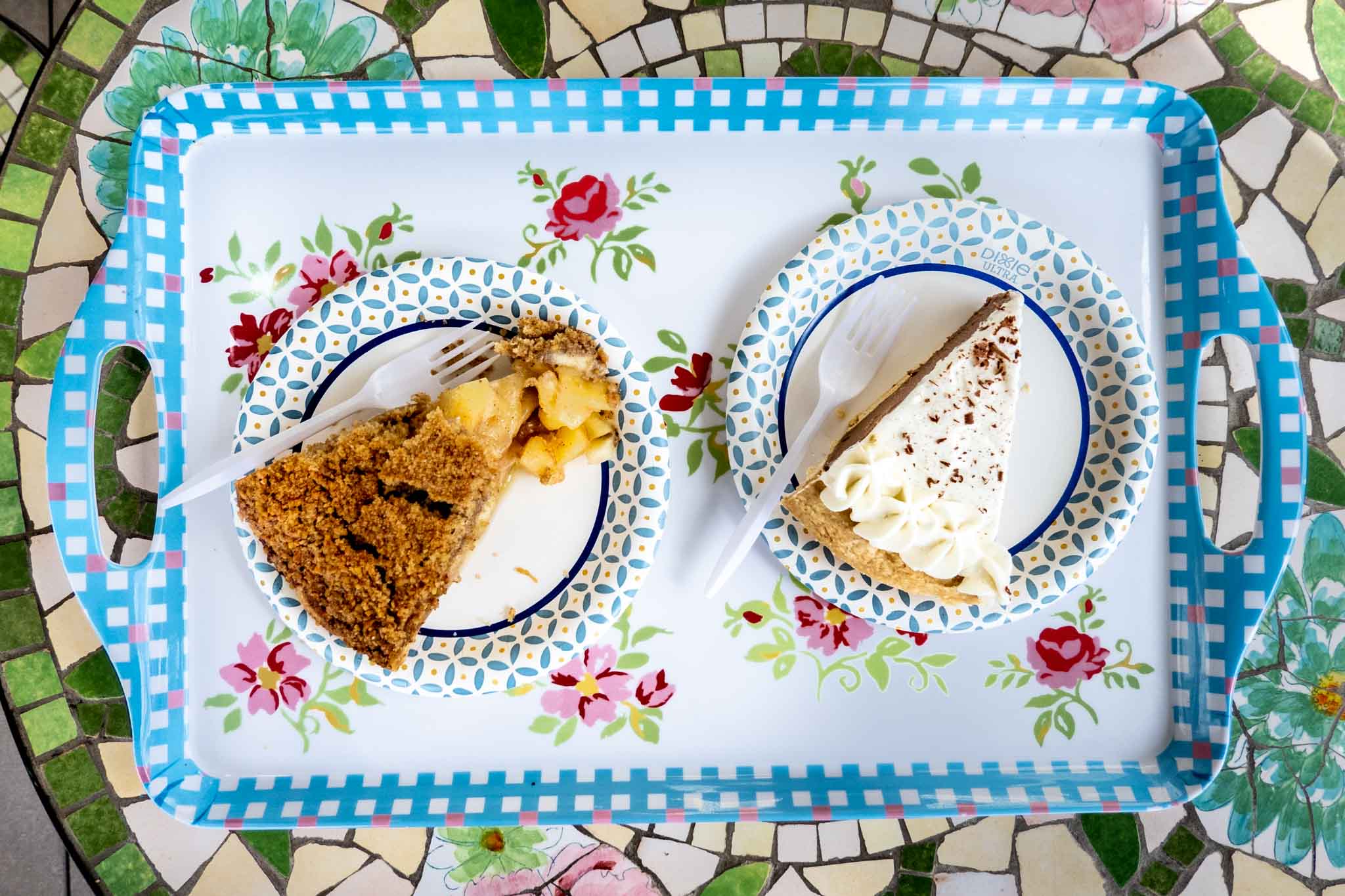 Fredericksburg Pie Company is the place to go in town for pie. Homemade and made fresh daily, there is always a selection of fruit, pecan, and cream pies. There are often as many as 15-20 types to choose from. Get there before the mid-afternoon when they're often sold out.
Emma + Ollie
With a focus on local ingredients, farm-to-table restaurant Emma + Ollie serves delicious breakfast and lunch dishes. There are dozens of pastry items, including fabulous beignets and cinnamon rolls.
Everything here is made from scratch so it's super fresh. At breakfast, you'll find options like steel cut oatmeal, avocado toast, and breakfast bowls. For lunch, there are daily specials in addition to a selection of salads, po' boys, burgers, and soups.
Fredericksburg Brewing Company
The oldest brewpub in Texas, Fredericksburg Brewing Company serves German-style craft beer made on site. Their restored 1890s building is in the heart of the action in downtown, so it's convenient from everywhere. The menu includes German fare, pizza, burgers, and salad.
Twisted Sisters Bake Shop
Twisted Sisters Bake Shop is on our list every time we visit Fredericksburg. A full-service espresso bar with lots of fresh-made items, it's most appropriate for breakfast or light lunch, and offerings change daily.
Well-known for their killer cinnamon rolls, they often have a selection muffins, cupcakes, and other pastries. For something a little more substantial, opt for the quiches, salads, or sandwiches. We're in love with the fabulous breakfast tacos.
Fredericksburg Mini-Donut Co.
Creations from the Fredericksburg Mini-Donut Company are one of the city's favorite treats. They're made to order every day in the company's food truck (parked in the Ace Hardware lot). Orders come with your choice of toppings, ranging from specials like turtle to the classic cinnamon and sugar. Drip coffee is available, too, so all your morning needs are met.
Tubby's Ice House
Tubby's Ice House is a casual, family-friendly restaurant with a lovely outdoor patio. The menu is predominantly burgers, tacos, sandwiches, and salads. We've tried several tacos and the pulled pork sandwich and have walked away happy every time. Locals rave about the margaritas and cheese curds.
Old German Bakery & Restaurant
The Old German Bakery and Restaurant has been a Fredericksburg institution for over 40 years. Serving German food using traditional German recipes, they make everything from scratch. With all-day breakfast and filling lunch items like German meatloaf and smoked pork chops, you're guaranteed not to leave hungry. The pastries and bread alone are worth a visit here.