From the moment we stepped through the gates at Keukenhof gardens, it was clear we were in a happy place. Everywhere, people excitedly analyzed their maps to plan their route for the day.
In the gift shop, visitors chose between their favorite tulip-emblazoned items. People stared—mouths agape—at the interlaced red tulips and purple crocus that welcomed us. Kids and (more than a few) mesmerized adults ran from garden to garden, so intrigued that they couldn't decide where to begin. The colors and smells of the flowers and the collective excitement of the crowd came at us all at once. There's a reason this place is the most famous tulip garden in the Netherlands—Keukenhof is simply divine.
There's so much to see in the Keukenhof tulip gardens—and, of course, you'll want to see it all—that it helps to know a bit about what's ahead of you. These tips will help you get the most out of your experience when you visit Keukenhof.
What is Keukenhof gardens?
Just outside of Amsterdam in the small town of Lisse, Netherlands, the beautiful fields of Keukenhof cover an enormous 32 hectares (about 80 acres). Keukenhof, which literally means "kitchen garden," traces its origins back to the 15th century when the lands provided herbs and vegetables to Countess Jacqueline of Bavaria. The area became an exhibition garden in 1949 when a group of flower bulb growers decided to showcase their industry with an annual spring display.
Every year, 1600 flower varieties are planted on these remarkable grounds. In total, the yearly design requires a staggering seven million flower bulbs. One of the most popular tourist attractions in the Netherlands, Keukenhof gardens and the nearby Dutch flower fields welcome one million visitors a year in just eight weeks.
The garden is undoubtedly most famous for its tulips, but there are numerous other flowers to see, too. Since the design and theme change each year, it is a great place to visit more than once if you have the chance, especially if you're coming from nearby Amsterdam or Rotterdam.
Get to Keukenhof easily from central Amsterdam with this tour. If you prefer private transportation straight from your hotel, check out this half-day tour option.

It's easy to visit from central Rotterdam on this full-day tour.
Tips for Visiting Keukenhof
For most people, visiting Keukenhof gardens is a once-in-a-lifetime experience, so it's a good idea to plan head.
Consider your timing
Keukenhof park is open every year from mid-March to mid-May. Weather is unpredictable, so there's no way to be certain when peak flower bloom will be. In general, if the weather warms up earlier, more flowers will be in bloom.
If you have the flexibility, planning your visit for mid-to-late April is probably the best option to try to see the tulips in bloom and to catch them before they've past their prime. That said, during our visit on April 10th, the weather had only been warm for about four days, and most of the tulip gardens were not yet blooming.
While you can't control the weather, try to be strategic about what day and time you visit, if you can. Keukenhof gardens is such a popular attraction that it often becomes overwhelmed with people on the weekends. Weekday mornings or early evenings (near opening and closing times) are often said to be the best times to visit.
At off-peak times, there are fewer people and the light is usually better for photographs at those times anyway. If you arrive early, head to the windmill or the pond—these areas are some of the prettiest and fill up with people before many other areas do.
If you can't visit early or late in the day, don't worry. We arrived on a day trip from Antwerp (a 2-hour journey), so we did not get there until 11am on a Tuesday. While the park was busy, it wasn't wall-to-wall people and we were able to move around easily and even take photos without lots of people, at least for a couple of hours.
Know about the events
Certain events happen at every year. It's worth it to know the timing so that you can participate if you want to (or avoid them completely due to potential crowds). A few highlights include Dutch Heritage weekend the last weekend of March, the Rose Show in mid-April, and the Flower Parade on April 25.
Stay awhile
Keukenhof is huge. The gardens are laid out so that there's lots to see throughout the park—sculptures, gardens, pavilions, fountains, etc.
If you plan for at least a half-day, you'll feel like you have plenty of time to see everything plus stop for lunch and even consider taking one of the great boat tours. This is especially important if it's crowded—if you're in a hurry and trying to get around other people (who are stopping frequently to look at flowers), it may make for a less-than-enjoyable time. Take your time and enjoy the gorgeous views.
Plan your route
Grab one of the free maps at the entrance and consider your route. With four pavilions, the windmill, the ponds, the inspiration gardens, and flowers stretching almost as far as you can see in all directions, there's a lot to see around the grounds.
Each feature offers something new. Whether they showcase different flowers or different types of tulips, unique settings, or unusual themes or arrangements, each area is worth visiting. Plus, the further you venture, the more likely you are to have part of the gardens to yourself. Because many people will cluster around the main attractions like the big pond, the flower mosaic, and the windmill, if you discover the far corners, you may well just find yourself alone among the tulips and hyacinths.
While we can't prove this made for fewer crowds, we also adopted a plan I learned from my mom, who is left-handed. Because most people are right-handed, they tend to go to the right when they enter a space. Instead of going with much of the crowd, we went left (clockwise), and it seemed to be a good decision.
There are plenty of flowers to see
The gardens' treasures go way beyond tulips. That means that unless there's still snow on the ground, you're likely to see a decent number of flowers.
Why? Well, the gardeners are very smart.
Tulips in Holland like warm weather, and that often doesn't come until sometime in late March or April. The gardeners plant tulips along with hyacinths, crocus, daffodils, and all kinds of other gorgeous flowers that bloom at different times in the season. That means that even if you can't visit Keukenhof during peak blooming, there are still lots of colorful gardens and arrangements to see. This was something we didn't fully appreciate before our visit, so we were afraid there would be nothing to see since the weather was just beginning to warm up. Luckily, we were wrong.
Don't miss the pavilions
Keukenhof has four pavilions featuring different types of flowers and information about flower growing. You can learn about the history of tulips—before they became the national symbol of The Netherlands, they came from Turkey—see magnificent displays, learn about flower arranging, and more. No matter what the weather, these pavilions are the places you're guaranteed to see numerous flowers, and the tulips here bloom before those in the ground outside.
Since the pavilions are covered, they're the perfect place to spend time if it's a bit chilly or raining. Since they're so in-depth and the flowers are gorgeous, you'll find plenty of people here even if the sun is shining. In May, one of the pavilions hosts the largest lily show in the world.
Scout out the sculptures
Throughout Keukenhof gardens, there are more than 100 sculptures and works of art added into the landscape. Some complement the year's theme and others are a bit more abstract, but they all add to the beauty that is the gardens.
Try the restaurants or bring your own picnic
There is a wide variety of food available. From traditional stroopwafels and tiny pancakes called poffertjes to Asian and Italian dishes, you can find something tasty in every corner of the park (we've written more about some of our favorite Dutch foods here).
Our buffet lunch was surprisingly good and a huge amount of food for just €12 each. If you decide to partake in the restaurants or food stands, you may want to target a non-peak time so you don't spend overly long waiting for food, for seating, or to pay. You can also bring your own food to enjoy in the park.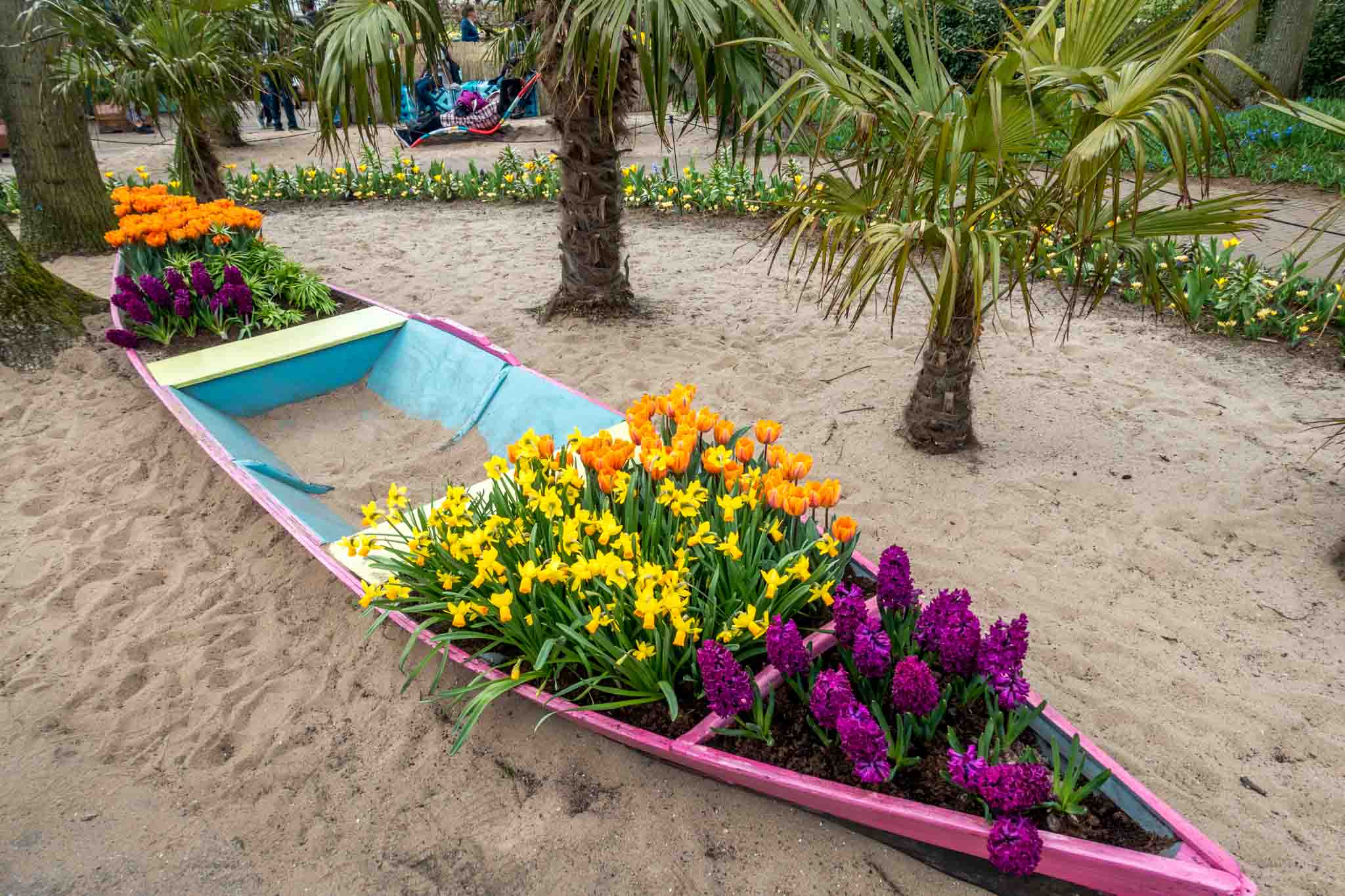 It's fun for the whole family
Keukenhof is tailored to be a fun day out for the whole family, almost regardless of age or level of mobility. The park was filled with families and groups of all different makeups, including grandparents in wheelchairs down to toddlers. The park is wheelchair-friendly and even has a limited number of wheelchairs available for reservation. For young children, there is a petting zoo and a play area to work off extra energy, and slightly older kids can find their way through the giant maze or do a scavenger hunt in the park.
Rent a bike
After about five hours at the gardens, we seriously considered not renting bicycles to explore the nearby commercial tulip fields. We'd gotten up early to make the trip from Antwerp and, frankly, our feet were a bit sore after traversing most of the 15 kilometers (9 miles) of trails. But then we decided to go for it, and it turned out to be one of the best choices we've made lately.
In the parking lot, Rent-a-Bike van Dam rents bikes for just €10 and provides four possible routes (from 5-25km) for your flower-viewing pleasure. Route 3 is 25 kilometers and goes all the way out to the nearby beach. Route 4 is only 10 kilometers and happened to be the most colorful during our visit, so we opted for that.
Within minutes, we met up on the route with five other English speakers all saying how we couldn't believe we'd almost skipped this experience. We made our way around together, stopping at the fragrant fields, finding good photo spots, and searching for the right signs marking our route. The hyacinths and daffodils looked amazing and smelled even better. Missing out on the experience would have been a huge mistake.
How to Get Here
Getting from Amsterdam to Keukenhof is quite simple via public transportation. There are multiple shuttles every day from Amsterdam's Schiphol Airport directly to the front gate.
In the Arrivals 3-4 area of Schiphol, it's almost impossible to miss the Keukenhof desk with its large video monitors scrolling footage of the beautiful gardens. At the desk, you can purchase tickets either for the shuttle bus alone or combined Keukenhof tickets that include both the shuttle and admission to the gardens.
From the desk, the attendant points out the route to the shuttle buses. Once outside the terminal, there are large electric signs, attendants in bright vests, and large planters filled with tulips all guiding the way to the buses. Essentially, the staff does everything possible to make the departure point very easy to find. The buses for the 35-minute trip run basically back-to-back, although it's possible there will be a wait on heavy traffic days.
Keukenhof is also accessible via public transportation from Central Station Leiden, Haarlem station, and through group tours.
You can arrive by private car or by motor home and park for just €6, but there is no guarantee that parking will be available. When the parking lot is full, cars are not allowed in and traffic is re-routed. There are four charging stations available for electric cars.
No matter how you choose to get there, Keukenhof is absolutely worth a day on any trip nearby in Europe.
We were the guests of Keukenhof. All opinions of the vibrant and sweet-smelling are our own.