Nashville, Tennessee, is full of so much good food. The southern classics like fried chicken, barbecue, and meat-and-three meals are done to perfection. At the same time, street tacos, Indian curries, and other international cuisines also gain rave reviews. Whether you're looking for a casual outing or a fun date night in town, these are some of the best restaurants in Nashville that we return to every chance we get.
Husk
Husk has consistently been named one of the best places to eat in Nashville—and in the United States—since it opened in 2013. Set in a 19th-century mansion downtown, the food and service at Husk are on-point, but the mood is relaxed.
Seasonal, southern ingredients are the focus here, and chefs frequently incorporate heirloom produce and grains in unique ways. The menu changes daily depending on local and seasonal availability.
We loved the shrimp and grits, the cornbread, and the tender filet. The cocktails are excellent, too—if you're a whiskey lover, this place is for you.
The Southern Steak & Oyster
Located in the SoBro district, The Southern Steak & Oyster features flavors from the American South, the Caribbean, Nova Scotia, and beyond. That means you can find a little bit of a lot of delicious things on their menu from shucked-to-order oysters to gumbo and filet mignon. They serve dinner and killer cocktails, and The Southern is a popular weekend brunch spot.
Chaatable Indian Street Food
A colorful, energetic restaurant designed to evoke the atmosphere of an Indian bazaar, Chaatable Indian Street food serves flavorful curries, kebabs, and other spicy specialties. With a wall of bright bangles and vivid lanterns, everything about this place is fun. Don't miss the inventive cocktail list that features drinks with pun-ny names like the scotch-based Monkey's Drunkle and the cumin and gin concoction called "It's the Fennel Countdown."
Josephine
In the 12 South neighborhood, Josephine features a constantly changing menu of the best produce and meats available daily. Chef Andrew Little—twice a James Beard semifinalist—combines Southern cuisine with his Pennsylvania Dutch roots, which works quite nicely for a Texas native living in Philadelphia (me, I'm talking about me).
At dinner, standout dishes range from steak frites and crab cakes to heirloom tomato salad. Happy hour features Rocky-inspired cheesesteaks. Brunch ranges from pecan sticky buns and a grilled chicken sandwich to a plate of every breakfast item under the sun that is appropriately named "Take a Nap."
Pinewood Social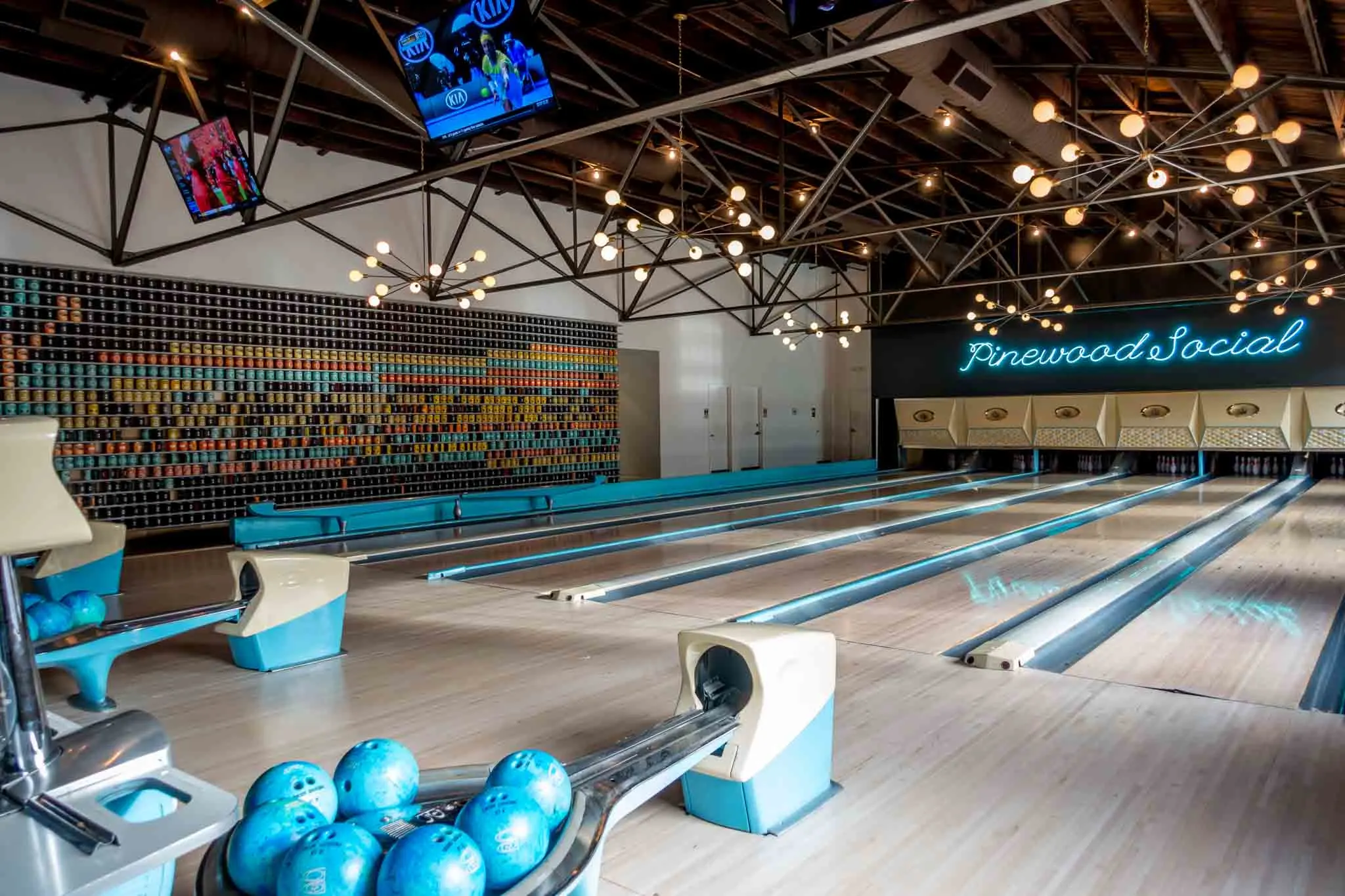 Pinewood Social is a restaurant, coffee shop, cocktail bar, bowling alley, and co-working space all rolled into one. Simply put, it's one of the most fun Nashville restaurants.
If you're looking for breakfast, Pinewood Social is great for an espresso drink from the coffee bar and challah French toast or an omelet. For lunch, there are lots of sandwiches and soups. Dinner brings treats like shortrib mac and cheese or steak frites. In the middle, you can bowl with friends, play a game of bocce ball, or even take a dip in the pool. The options feel endless at this unique restaurant.
Hattie B's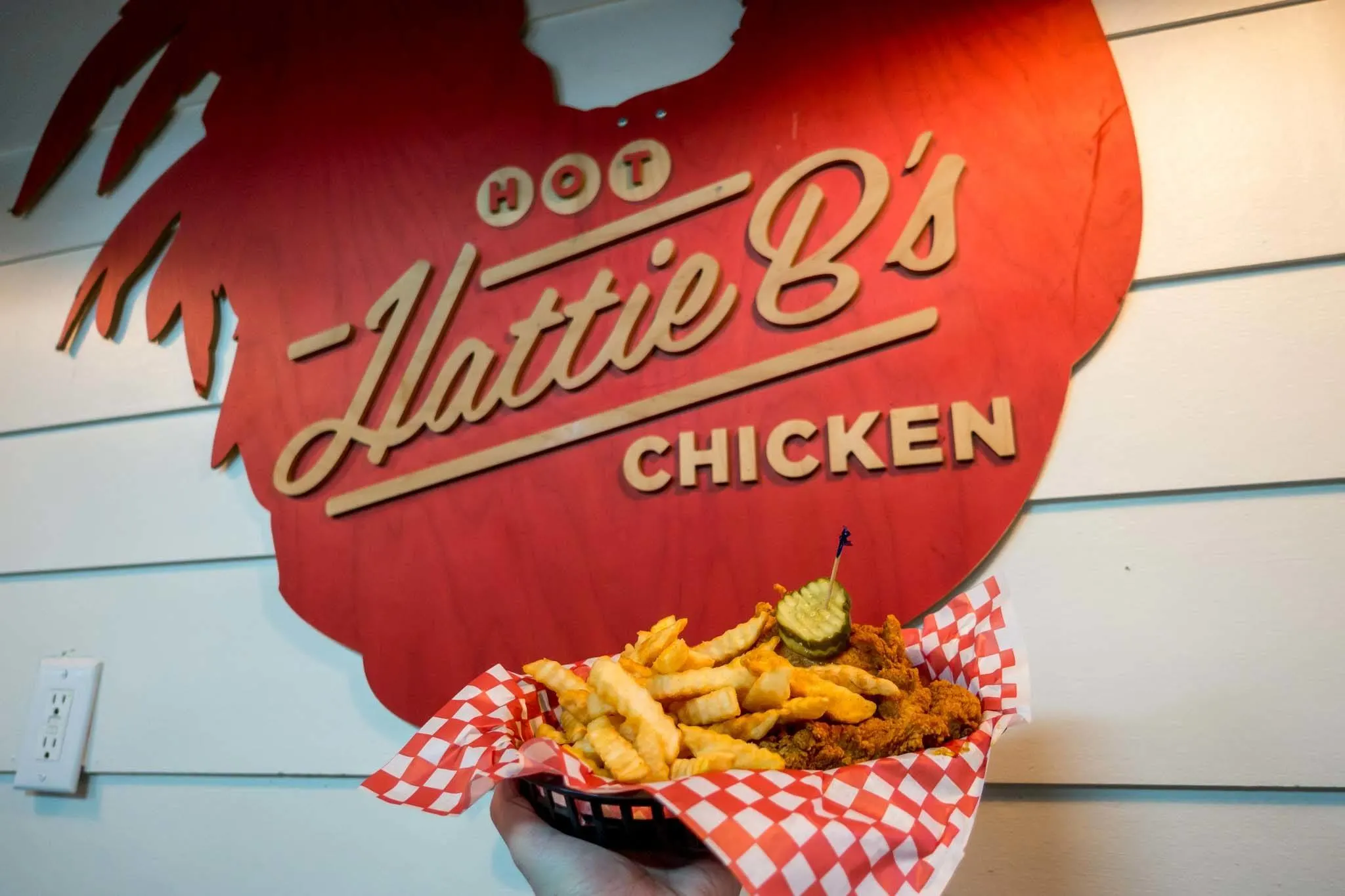 Hot chicken is one thing visitors must eat in Nashville, and Hattie B's is the place to go for it. Fried chicken is slathered in a cayenne pepper sauce and served with white bread and pickle chips. Depending on how hot you like it, the sauce can range from mild to something that might make you cry, so be careful in ordering. On Sundays you can get hot chicken with waffles at Hattie B's, so make sure to add it to your list.
Bajo Sexto
Bajo Sexto is an unexpected taco shop located right inside the Country Music Hall of Fame. It's the perfect place to stop for a meal or a snack when you're exploring the fun things to do in Nashville because it's right in the middle of many main attractions.
We loved the carnitas and the "bajo" fish. Whether you opt for a quesadilla, a burrito, or a taco on hand made tortillas, this place is a home run. Plus, you can get a margarita to-go to carry around downtown with you.
Pancake Pantry
Pancake Pantry is one of the most popular places in Nashville for breakfast. For 60 years, they have served pancakes, hash browns, and egg dishes that people gladly wait for. Many mornings, the line stretches around the building.
Located in the Hillsboro Village neighborhood, Pancake Pantry makes 23 types of pancakes and other breakfast items that are available all day. Thursday through Sunday, they also offer dinner items like burgers, sandwiches, and meatloaf. Check out their online "pancake cam" to see how long the line is.
The Loveless Cafe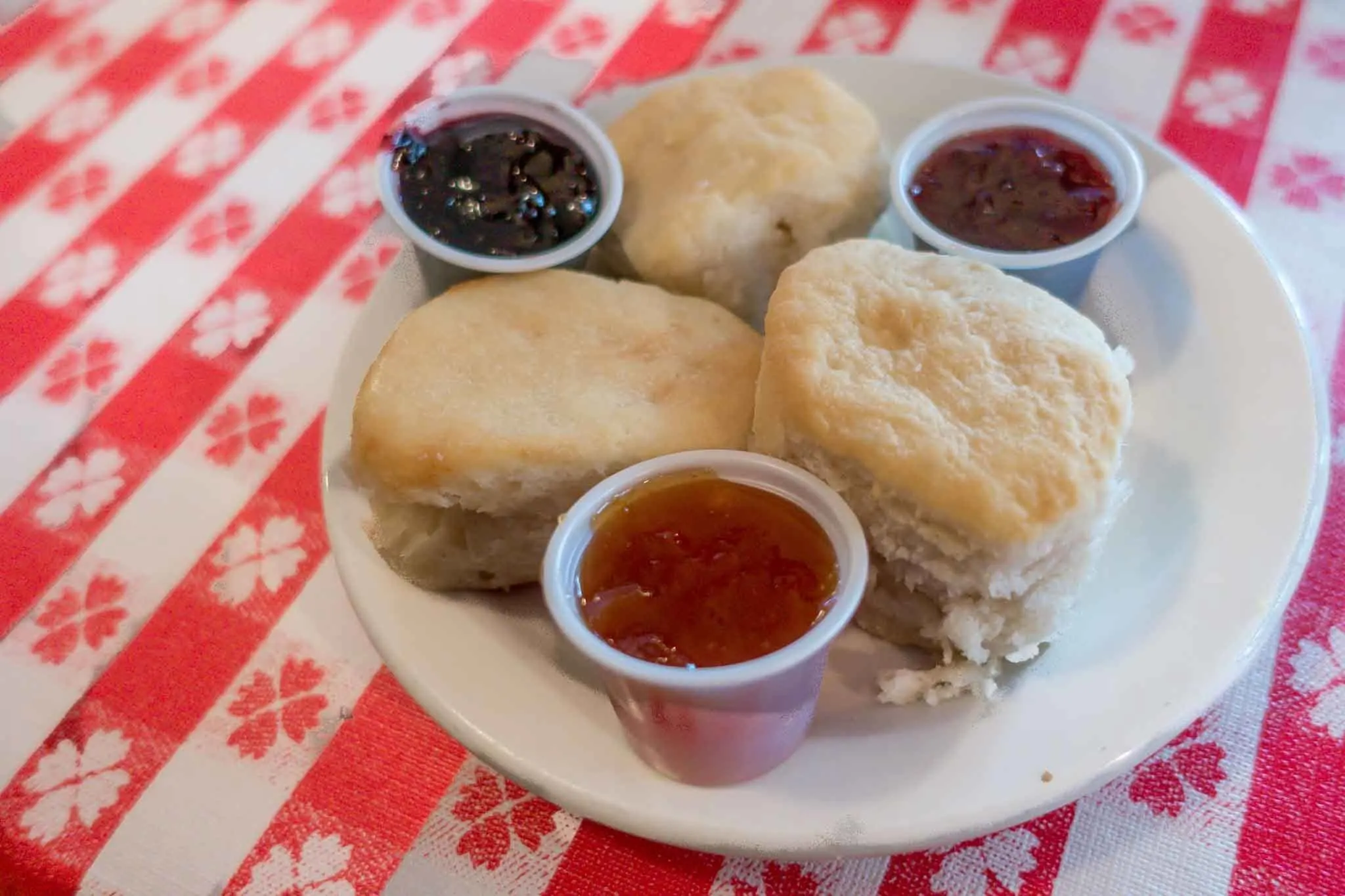 The Loveless Cafe is a landmark and a must-visit on any weekend trip to Nashville. It has been treating diners to fresh, from-scratch Southern cooking for 70 years.
Every morning, the cooks at The Loveless Cafe start their work at 3am to please the crowds that arrive looking for their heavenly biscuits, preserves, grits, and country ham. Later in the day, favorites include fried chicken, pulled pork, and any of the other meats smoked in their on-site smokehouse.
Burger Up
A standout in the 12 South neighborhood, Burger Up makes outstanding burgers, sweet potato fries, and a Vidalia onion tower that is 100% worth the calories. The restaurant was founded on the concept of thoughtful consuming and sustainability. All their meat comes from nearby Franklin, and they work with lots of Tennessee farms to serve fresh, local produce. There are lots of vegetarian options, too.
Biscuit Love
Biscuit Love is one of the most popular restaurants for brunch in the city. In fact, it's rare that there's not a line outside the location in the Gulch. It's just that good. Luckily, traffic at the location in Hillsboro Village is a little more manageable, but it's still best to go on a weekday if you can.
As the name suggests, Biscuit Love is most known for its buttery, pillowy biscuits. They're available with gravy, with hot chicken, alongside grits, and with scrambled eggs. If you're a breakfast fan, there's sure to be something that appeals to you. The signature is the "East Nasty"—a biscuit topped with fried chicken, cheddar, and gravy. Yum.
Arnold's Country Kitchen
"Meat & 3" (meat and three vegetables) is a staple of home cooking in the South, and Arnold's Country Kitchen is the best place to try it in Nashville. In a city that averages a new restaurant opening every week, Arnold's has been consistent for 30 years, even winning two James Beard awards.
Go early to beat the crowd and go hungry to sample as much macaroni and cheese, fried green tomatoes, and chicken fried chicken as you can. On evenings and weekends, there is a different menu with tacos, sandwiches, and plated dinners, but there are still plenty of sides.
Five Daughters Bakery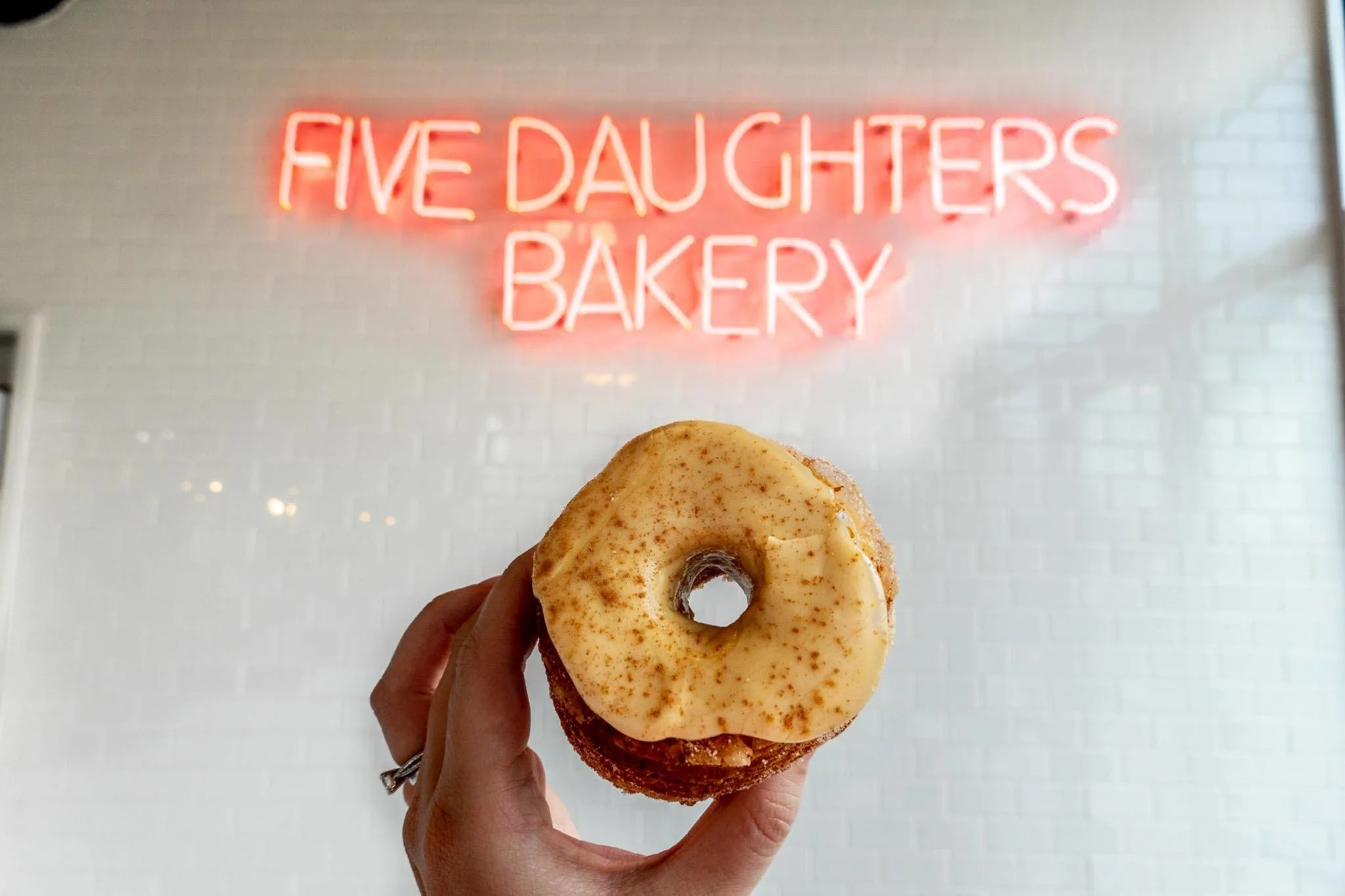 The donuts at Five Daughters Bakery are a must try food in Nashville. With three locations, this family-run bakery makes traditional yeast donuts along with vegan and paleo options.
What Five Daughters Bakery is most known for is their 100-layer donut. This combination of a donut and croissant is rolled in sugar, filled with cream, and glazed, making an incredible end product. Even better: their fresh pastries are made from scratch daily with locally sourced ingredients.
Frothy Monkey
On its surface, Frothy Monkey is the top coffee shop in the city with reliable coffee and creative espresso drink specials. But, if you look a little closer, visitors will see that it's way more than that.
Frothy Monkey offers a menu of salads and sandwiches, complete with notations about the farms where the ingredients come from. There is also all-day brunch (until 5), pasta dishes, and heartier fare like salmon with quinoa and shrimp and grits. Many locations also serve beer, wine, and cocktails.
Cheap Charlie's Tacos
In the parking lot of a gas station in East Nashville, you'll find some of the best street tacos in the city. Cheap Charlie's Tacos (formerly Five Points Tacos) serves what the name says—cheap (and fabulous) tacos. There are also burritos, tamales, and crunch wraps all coming out of the tiny kitchen. From shrimp to barbacoa to carnitas, all your taco needs will be met and then some at a shockingly affordable price.
Laura Longwell is an award-winning travel blogger and photographer. Since founding Travel Addicts in 2008, she has written hundreds of articles that help over 3 million people a year get the most out of their travel. In that time, she has visited nearly 60 countries on 5 continents, often returning to favorite destinations over and over again. She has a deep love of history, uncovering unexpected attractions, and trying all the good food a place has to offer.
In addition to Travel Addicts, Laura runs a site about her hometown of Philadelphia—Guide to Philly—which chronicles unique things to do and places to see around southeastern Pennsylvania. Her travel tips and advice appear across the web.