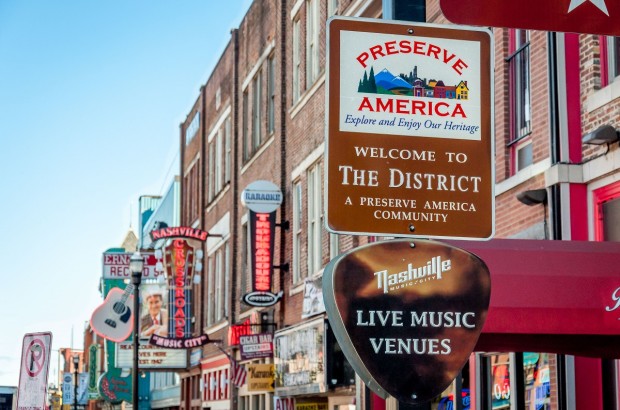 Music City (aka Nashville) seems to have it all. There is live music basically any hour of the day, fun places to hang out and relax, and history stretching back to the early days of America. And don't forget the food. There are oh-so-many enticing things to eat in delicious Nashville. We recently spent some time exploring the city and learning about all the top things to do in Nashville, Tennessee.
Check current hotel prices in Nashville here
Best Things to do in Nashville
Prince's Hot Chicken is the original place to try the treat that is Nashville hot chicken. They've been making it delicious and down home for over 70 years. Bolton's also comes highly recommended. My choice on this trip was Hattie B's, a six-year-old company that has quickly become a Nashville staple. On Sundays, they make hot chicken and waffles, served with a fruit compote. I didn't have the chance to try it this trip, so it's a guarantee that I'll have to return.
Honky tonks don't have a cover charge, so at Robert's Western World, you can grab a stool, order the house specialty—fried bologna sandwich—and pay what you wish when the band passes the tip jar (or bucket, as the case may be). Live bands play essentially all day, providing the soundtrack for visitors two-stepping just in front of the stage. The classic country tunes give the place a laid back but fun atmosphere if you want to have a good time without feeling like you're in the middle of a rock concert. You can't have an experience like this just anywhere, which made visiting Robert's Western World one of our favorite Nashville activities.
The lobby is spectacular and the food is delicious, but one off the quirkiest reasons to visit the Hermitage Hotel is its bathroom. The Art Deco men's bathroom located just off the hotel lobby has consistently been noted as the best bathroom in America. The large loo is decorated with bright green and black glass tiles and green fixtures. If you're in the mood, you can stop a moment in the two-seat shoeshine station that greets you when you pass through the door. At this point, it's so famous that the bathroom is also open for women. And photos. A visit here is one of the best free things to do in Nashville.
Now just 24 acres, a tour of Belle Meade plantation offers a glimpse into the life of the moneyed class around the time of the Civil War and beyond. Take a walk around the grounds to see the carriage house, the slaves' quarters, the old dairy, and the smokehouse. Then take a guided tour through the old mansion for a brief peek into the Old South at one of the top places to go in Nashville, Tennessee.
In many ways, the Ryman Auditorium made Nashville the capital of country music. Today, visitors can tour the hallowed auditorium and hear Trisha Yearwood, Nicole Kidman, Robin Roberts, and others talk about the history of the building and its performers.
You can take a photo on the Ryman's famous stage and even make a record–one of the must do things in Nashville. The $22 self-guided tour is at your own pace and is probably best reserved for avid country music fans. If a tour isn't quite your speed, you can grab a ticket to one of the performances (country and beyond) that still happen here almost every night of the week.
Whether you're a Jack drinker or not, we couldn't recommend the tour here more highly. And, if you are a Jack drinker, definitely take the tasting tour. It's one of the best things to do in Tennessee! (If you'd like to visit Jack Daniel's but don't want to drive yourself, check out this convenient transportation option.)
If craft spirits are your thing but you want to stick a little closer to Music City, there are several great Nashville distilleries to visit. Two of our favorites were Corsair Distillery and Nelson's Green Brier Distillery.
We visited Corsair's location on Merritt Ave. where the drinks were flowing freely at the bar while a tour went on behind-the-scenes. Stop in to try some absinthe, whiskey, gin, or any of the other spirits on offer. Nelson's Green Brier Distillery is another great option in the city. Pre-Prohibition, Charles Nelson's distillery was one of the biggest in the South. Today, his great-great-great grandsons are working to recreate the magic with their white whiskey, bourbon, and sherry cask-finished bourbon. They offer tours and tastings at their warehouse and distillery on Clinton Street.
One of the more unexpected items is a stone wall that was part of his home before it burned down in 2007. The museum is well-done and interesting, but with an $20 admission fee, the smallish Johnny Cash Museum may be best reserved for Cash's most enthusiastic fans.
The Farmers Market covered farm sheds host up to 100 farmers, depending on the season, along with dairies, cheese-makers, and other selling their products. Inside the market are 16 restaurants and shops. Whether you're looking for gourmet pizza, Jamaican specialties, or anything in between, you're likely to find it here.
In addition to the drinks, you'll also find a menu featuring delicious bites like shrimp corn dogs, fried brie, and fried chicken po boy sliders. It gets busy here, so show up near opening or closing time if you don't want to wait. It's worth it to check out this institution when you visit Nashville.
One of the more historical things to do in Nashville, a tour of the Hermitage's museum and grounds paints a picture of a popular but complicated president with a fiery personality and provides information about the lives of the slaves on the plantation. Guides inside the mansion provide commentary about life in the house and are proud to point out that the Hermitage is the most accurately-preserved of the early Presidents' homes.
The Country Music Hall of Fame makes an effort to pay tribute to county music's heritage while also having a focus on contemporary and even cross-over artists. While there is a permanent collection, some of the exhibits rotate, such as the one we saw about the career of Keith Urban. Through 2016, Dylan, Cash, and the Nashville Cats: A New Music City, looks at how Bob Dylan and Johnny Cash influenced each other, along with other artists like Neil Young, Joni Mitchell, and Leonard Cohen.
We received complimentary admission to several attractions thanks to Visit Music City. All opinions of the fun things to do and eat in Nashville are our own. Note: Some links may be affiliate links, which means Travel Addicts may earn a few pennies if you buy something–-at no additional cost to you.
---
What is your favorite thing to do in Nashville?