Iceland is a small country that has gone through a rapid transformation. Once off-the-beaten path for travelers, Iceland is squarely on most travelers bucket list. Whether you visit for a weekend or a month, you won't ever get bored. Whether you love adventure or relaxation, you can find it here. These are our favorite Iceland attractions.
It's no secret that I wanted to visit Iceland for nearly two decades before we finally made the trip. Even during that first trip over a decade ago, we really didn't have a good idea of what we would find in this small country. We've now been several times and each time is even more surprising and wonderful than the last.
In our Internet research, we found so many cheesy "top 10" articles that didn't show how beautiful and wonderful this country can be. Even worse, many of those 'what to do in Iceland' articles had inaccuracies and seemed to be written by people who had never been to the island. Our list is different! We hope you like it.
See Related Article: The Best Time to Visit Iceland.
The Ring Road
There's really no better way to experience Iceland than renting a car and driving the Ring Road. This is one of the world's great road trips and follows Route 1 all the way around the island. The Ring Road is 828 miles of adventure to see see all of the top sights in Iceland.
During our first trip, we built a full week into our Iceland itinerary to drive drive the Ring Road, see all of the Iceland attractions, explore the island, stop in the small villages, and hike in the remote countryside. Most of the best things to do in Iceland can be found along the Ring Road, or a short detour off it.
This country is made for a road trip. The roads are well maintained, the driving is easy, parking is plentiful, and you can go at your own pace. And, most of the best things to see in Iceland require a car or expensive guided tour to reach them. Save time, save money – do a road trip!
The Golden Circle
The top Iceland attraction is the famous Golden Circle, where examples of the best of the island can be found in one place. The Golden Circle is one day drive (or tour) that takes in a sample of everything that is great about Iceland: waterfalls, geyers, lakes, volcano calderas, and even hot springs. If you don't know what to see in Iceland or don't have the time to drive the Ring Road, start here on the Golden Circle.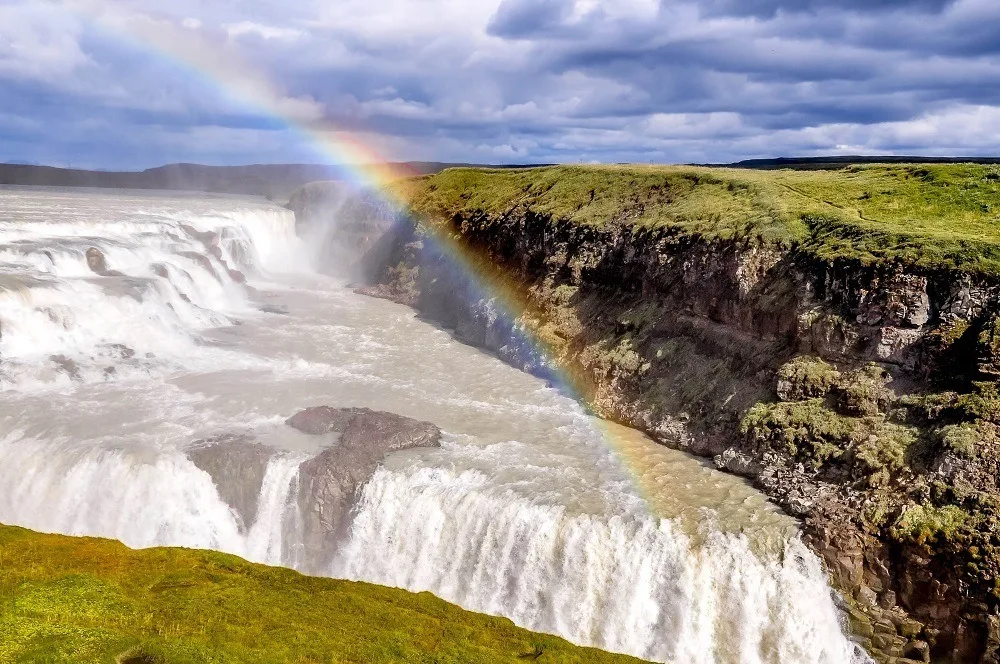 Here, you'll visit the Þingvellir National Park, a UNESCO World Heritage Site where the Icelandic people gathered and governed their nation. Þingvellir also sits atop the Mid-Atlantic Ridge, where the North American and Eurasian tectonic plates intersect, and we could actually hike between the two plates. You can also snorkel or scuba dive between the tectonic plates here.
Other amazing Iceland sights on the Golden Circle are the geyser (Geysir), the spectacular waterfall Gullfoss, and the volcano caldera of Kerid.
If you are interested in visiting, check out our Golden Circle Self-Drive Tour. Or, you can select one of the Golden Circle tours.
Reykjavik
Reykjavik is the world's northern most capital city. Reykjavik is small both in terms of geographic size and population, which makes it a great city to explore. Visitors can walk across the entire downtown area in about 20 minutes.
Reykjavik is a young, hip city full of fantastic museums and numerous excellent restaurants. The country's tourism boom has caused the city to explode. Many of the best Iceland attractions are located in the capital or are close by.
Once one of the world's quietest capitals, there's now a ton to do in city. There's a giant list of things to do in Reykjavik, including museums, street art, food tours, cocktail tours, walking excursions, and about anything else you can think of.
Visitors wondering where to go in Iceland should put Reykjavik high on the list. It's possible to use the capital city as a base for day trips out into the countryside (such as the Golden Circle). There's a good list of day trips from Reykjavik here.
The Culinary Scene
The culinary scene in Iceland has long been the butt of jokes. The country's reputation as a culinary wasteland is probably a bit unfair. However, the country isn't known as a destination for gourmands.
In a country that has to import nearly every food item, ingredients can be expensive. While fish and lamb are plentiful, other items can be subject to scarcity or are a real treat. Yes, the grocery stores still carry an obscene amount of mayonnaise (there's just something about Icelanders and their mayonnaise). And yes, fresh fruits and vegetables can commend a premium.
But, things have changed! Indulging in the culinary scene needs be on your list. There are now exceptional restaurants all across the country and not just in the capital. In addition to nearly every kind of international cuisine you can imagine, chefs are re-imagining traditional cuisine for new audiences…and new generations of diners.
Put dining on your list of Icelandic attractions!
Jokalsarlon Glacier Lagoon
One of the top things to see in Iceland (or at least one of the most beautiful) is the Jökulsárlón glacial lake. The Breiðamerkurjökull glacier leaves the Vatnajökull National Park and pushes its way to the sea. The glacier ends in a giant glacial lagoon.
Pieces of the glacier break off and the resulting icebergs float across the lake and towards the sea. This is truly one of the best sites in Iceland. It has been featured in dozens of movies and TV shows from James Bond to Batman.
Jokulsarlon is easy to reach – it is located just off the Ring Road. It is a 5-hour drive (one way) from Reykjavik. Most people visit on a self-drive tour of the Ring Road. For people who don't want to drive, there are a number of Jokulsarlon tours.
Hot Springs
Due to its locations atop the junction of the North American and Eurasian tectonic plates, the country has a lot of geothermal activity. This means that throughout the entire country, you are never very far from thermal water. Most of the country runs on geothermal power. And, hot springs and geothermal pools are exceptionally popular.
Nearly all of the public swimming pools in the country use geothermal heat. And we found that several of the B&Bs or guesthouses where we stayed also had private hot springs pools to dip into.
However, most visitors to the island ultimately visit one of the large hot springs complexes. Getting a good soak is one of the top things to do in Iceland for tourists.
In northeast Iceland, the Myvatn Nature Baths offer a hot springs experience in a natural environment with views of the mountains. In the north of Iceland, the incredible GeoSea geothermal pool offers incredible views of the ocean and the mountains from beautiful infinity pools.
But the granddaddy of them all is the Blue Lagoon between the airport and downtown Reykjavik. These Blue Lagoon pools are the most famous of all the Iceland tourist attractions and welcome over 1 million people each year. Built as the run-off from the adjacent geothermal power plant, there's no denying how popular it can be.
If you spend any time in the Reykjavik area, you'll likely end up in the Blue Lagoon. You can drive yourself, or take one of the popular Blue Lagoon tours. If you plan on going, be sure to check out our guide to the Blue Lagoon.
Kirkjufell
Kirkjufell, or church mountain, has been an important spiritual site in Iceland. It's also one of the most beautiful. This mountain is the most photographed mountain in the country and is one of the must see places in Iceland. It has been featured in several movies, and in the Game of Thrones series.
The Kirkjufell Mountain sticks out into the Atlantic Ocean near the town of Grundarfjordur. The mountain is surrounded by the ocean on three sides. Adjacent to the mountain is the beautiful Kirkjufellsfoss waterfall, which is fed by the Snaefellsjokull glacier, and is one of the most photographed waterfalls in Iceland. This is natural landmark that is not to be missed!
Getting to Kirkjufell involved a two-hour drive from Reykjavik. There are numerous day trips from Reykjavik to Kirkufell.
Whale Watching
The cold North Atlantic waters are prime whale watching territory. There are opportunities for whale watching throughout the country, including along the south coast and from the harbor in Reykjavik. However, we found the best opportunity is in the north of Iceland in the Shaky Bay. Going whale watching in Husavik is a magical chance see these giants up close and one of the top Iceland attractions.
Husavik has a long history of whaling, but these days the hunts are with cameras and binoculars. Over 20 species of whales frequent Shaky Bay, so there's plenty of opportunity to spot these gentle giants. On our three-hour excursion, we spotted whales several times.
If a day out on the windy water has left you with a bit of a chill, why not visit the GeoSea Spa in Husavik? (Can you tell how much we love this place?)
If you're interested, check out the whale watching tours in Reykjavik or the whale watching tours in Husavik.
The Northern Lights
When people wonder about stuff to do in Iceland, the Northern Lights are pretty high on the list. In winter, tens of thousands of people flock to the country in the hopes of seeing the highly elusive Aurora Borealis.
The Northern Lights atmospheric phenomena occurs on cold nights in the winter. They are unpredictable. To have a chance of seeing them, you need a sky without many clouds, with very little moonlight, and to be away from city lights.
But when you see see them, they can eerie and magical. A wavy band of gray, green, and deep purple weaves and churns its way through the sky. Everyone should see the Northern Lights once in their lives!
The Northern Lights are one of the Iceland must see attractions. Every evening in the winter, you'll see bus after bus leaving Reykjavik in search of the lights. You can go hunting for Northern Lights in Iceland on your own, or you can join one of the hundreds of tours that are offered.
Icelandic Hot Dogs
Every cheesy list of the "top ten things to do in Iceland" mentions eating a hot dog. We know what you're thinking: a hot dog??? That's crazy. But hear us out.
The lowly hot dog is the unofficial national food of Iceland. It goes back to the period a few decades ago before the explosion in Iceland tourism when there really wasn't any basic infrastructure in the country except for the gas station. The gas stations in Iceland developed into multi-purpose stores selling gas, but also food, clothes, farm supplies and offering services like showers, laundries, and pharmacies.
And the Icelandic gas station hot dog was king. Don't knock them if you haven't tried them. Icelanders are proud of their hot dogs and eat them often. Just look for a sign that says "Pylsur."
Most tourists end up at the Bæjarins Beztu Pylsur, a hot dog stand in the heart of downtown Reykjavik that has been serving up these sausages since 1937. These exceptional dogs are not to be missed, but be prepared to wait in the long line. Don't worry, it moves quickly.
Street Art in Reykjavik
Despite its reputation as a grey and ugly city, the capital is full of LOTS of color. Many of the buildings are painted in traditional Scandinavian colors: red, yellow, and blue.
But the real color can be found on the sides of buildings throughout town. The whole culture of street art in Reykjavik is going strong. This city is one of the street art capitals of the world. And locals are fiercely protective of these works. Don't you dare call them graffiti.
Many of the murals are sponsored by local business. But others are painted independently and depict aspects of Icelandic culture, offer social commentary, or are just plain beautiful. If you spend any time here, you won't be able to miss these murals. For us, the street murals were one of the best things to see in Iceland.
Visit Greenland
One of the best things to do in Iceland isn't actually in Iceland…it's in Greenland. It's possible to take a day trip to Greenland from Iceland.
It's not as if there aren't enough places to see in Iceland, however, we were intrigued and captivated by the possibility of visiting another country and see some different things. Greenland is difficult to reach from North America and Europe, but surprisingly easy to access from Iceland.
We made the trip over a decade ago to see what is becoming ground zero for global warming. Climate change in Greenland is very, very real. Everywhere we looked, we could see the effects of melting glaciers.
And while we expected to be awed by the scenery. We were most impacted by the cultural experience. Whatever your expectations, Greenland will surprise you and challenge you.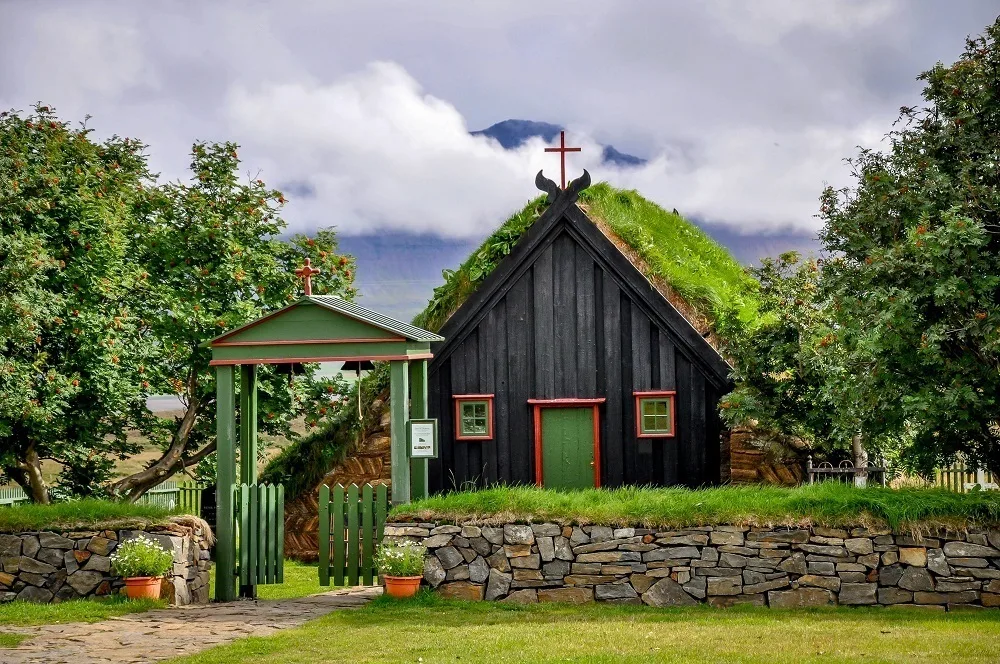 When we first visited several years ago, we were the first people we knew who had been. However, in recent years, the country's popularity has increased…and it's easy to see why. There are so many great things to do in Iceland!
Have you been? Where was your favorite place to go in Iceland? What Iceland attractions would you recommend to other visitors?
Lance Longwell is a travel writer and photographer who has published Travel Addicts since 2008, making it one of the oldest travel blogs. He is a life-long traveler, having visited all 50 of the United States by the time he graduated high school. Lance has continued his adventures by visiting 70 countries on 5 continents – all in search of the world's perfect sausage. He's a passionate foodie and enjoys hot springs and cultural oddities. When he's not traveling (or writing about travel), you'll find him photographing his hometown of Philadelphia.