Bath, England, was near the top of my bucket list for most of my life. As a kid at summer camp, I met a young woman from the city. She told me stories about a beautiful place in southwest England that had hot springs and looked like it was out of a movie. Nearly three decades later, I finally saw for myself that what she had said was true—it's a stunning city to explore, and there are lots of fun things to do in Bath.
A UNESCO World Heritage City, Bath welcomes more than 4 million visitors every year to its historic streets and peaceful parks. At roughly 100 miles west of London, it's possible to visit Bath as a day trip from the capital, but spending a night or a weekend here is an even better choice to give yourself more time to uncover its magic.
We've now visited Bath three times, and there's always more to discover. Here's a look at some of our favorite things.
See the Roman Baths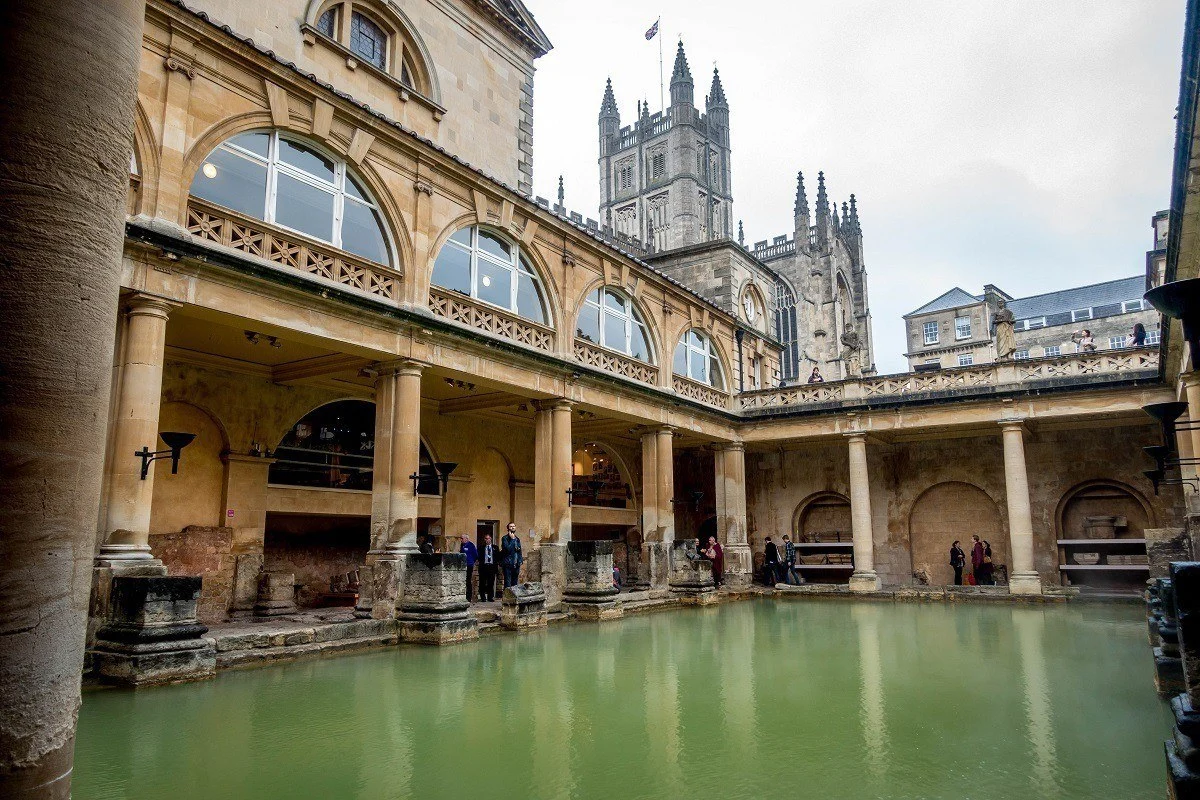 One of the major Bath tourist attractions, the Roman Baths date back as far as 60 AD when the original temple was constructed and the natural hot springs were channeled inside. There have been many phases of development and destruction over the centuries, providing lots for visitors to see today.
The top things to see at the Roman Baths are the Great Bath, the sacred spring, and the remains of the Temple to Sulis Minerva. The first-rate museum and entertaining audio guide explain the importance of the site and its preservation. As history lovers, we were smitten with this unique place.
Because seeing the site is one of the top things to do in Bath, it can get quite crowded, especially with tour and school groups. We recommend booking ahead or going early or late to avoid the lines, if you can. Leave at least 90 minutes for a proper visit.
Take a hop-on hop-off bus tour to visit the Roman Baths and other city highlights, or consider a city walking tour that includes admission to the baths.
Soak at Thermae Bath Spa
If you actually want to dip into the water, you need to head two blocks down the street from the Roman Baths to Thermae Bath Spa. This amazing, modern spa complex quickly became one of our favorite places to visit in Bath.
Thermae Bath Spa has a stunning open-air rooftop pool to look out on the city and a giant relaxation pool. With the additional steam rooms, spa treatment rooms, and on-site restaurant, a visitor could spend hours pampering themselves in the waters.
It's worth noting that the spa is a camera-free zone, so you can enjoy the water and the view but don't plan on photos or videos of the kind that are popular at other famous spas and hot springs in Europe. Book ahead or show up early in the day to fill one of the walk-in spots.
Shop on Pulteney Bridge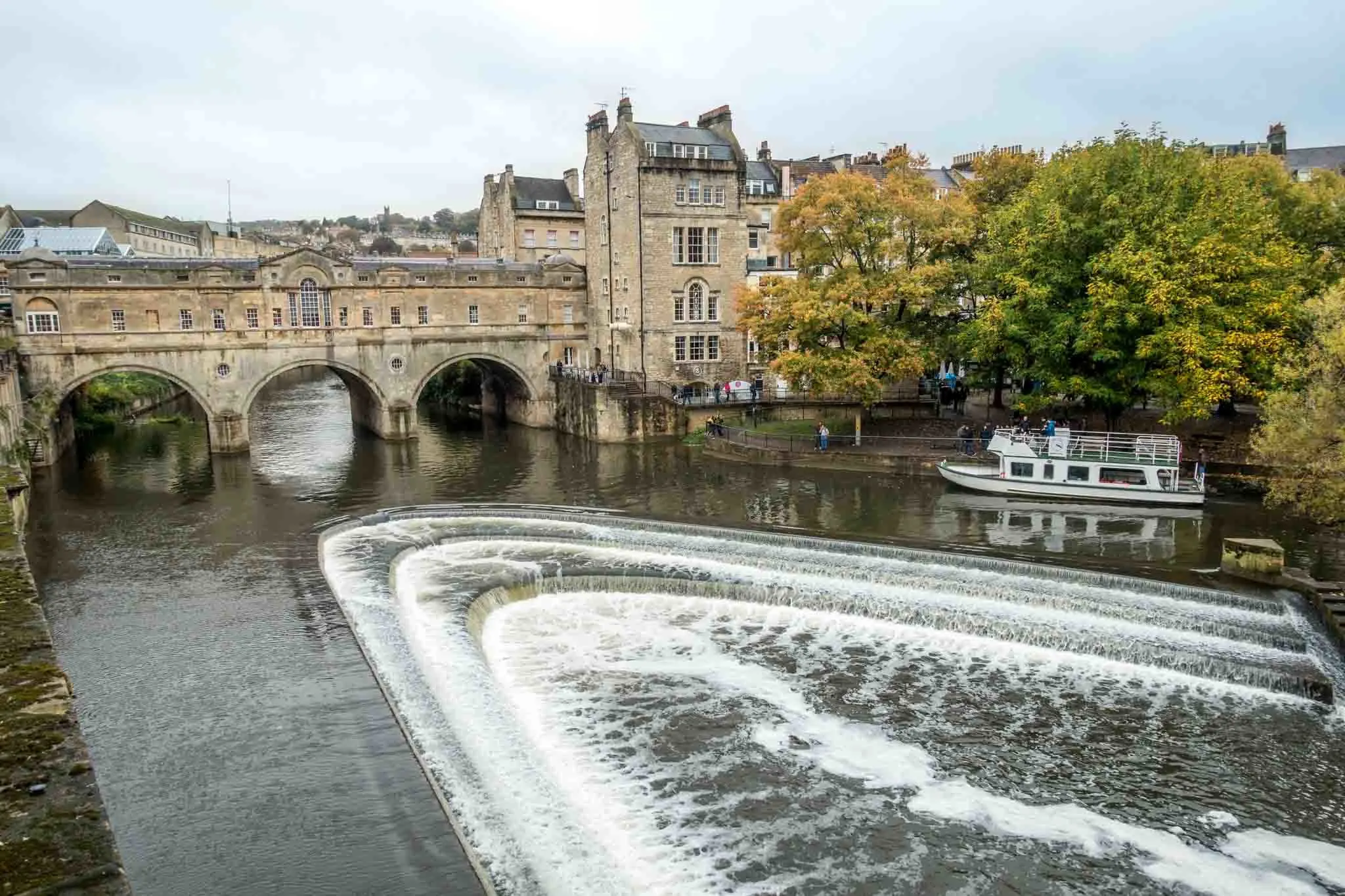 Take a little stroll along the River Avon to the Pulteney Bridge. This 18th-century construction is one of the most photographed things to see in Bath.
With classic Georgian elements, the bridge was funded by landowner William Pulteney as part of an effort to create a "new town" including land across the river. The tiny stores that span both sides of the bridge include cute cafes, charming flower shops, and more. We were lucky to get a prime spot looking out over the river while we enjoyed a cup of tea inside–a perfect, picturesque break from sightseeing.
Visit The Bath Distillery
If there's a local distillery nearby, you can guarantee it will be on our list of places to visit, so stopping by the Bath Distillery Gin Bar was a must. If the detailed menu isn't enough, the helpful bartenders will walk you through the different notes and flavors of any one of the impressive 230 gins they have in-house, and you can sample their small-batch Bath Gin Company gins, too. The classic and the orange slow gin were among our favorites, but they have something for every palate.
If the infused-spirit moves you, consider taking a tour or cocktail class. If you're spending more time in the area, don't miss the Oxford Artisan Distillery in Oxford just an hour away.
Eat a Sally Lunn bun
We didn't quite get the idea of the bun until we tried it. Situated in Bath's oldest house is Sally Lunn's Historic Eating House. It claims to be "one of the world's most famous eating houses." That's a lofty promise, but Sally Lunn's delivers. The focus is the bun: a massive teacake. The warm buns are served as a half bun, with the tops served with sweet delights and the bottoms served with savory goodness.
Whether you get a half or a whole, the buns are amazing! Our favorite is the cinnamon butter, which is like a giant cinnamon roll. They are so good that we always try to bring some back to the US with us from the UK.
See a show
Bath is full of entertainment from great theater performances to more casual experiences. One of the top places to go is the Theatre Royal, which offers a year-round program of theater, comedy, and opera. Around the Christmas holidays, they also put on pantomimes—musical comedy productions for the whole family. The Egg is their special theater for young people, featuring puppet shows, classic works, and other performances designed to appeal to children as young as 2 years old.
If you're looking for something completely different, consider a magic show. Each weekend, Krowd Keepers features renowned professional magicians entertaining in an intimate 35-seat theaters over the Ale House Pub. A night here will leave you impressed and entertained.
Visit Bath Abbey
Day or night, the city skyline is dominated by the beautiful Bath Abbey. During the day, its 161-foot bell tower is visible from all around the city, and the bells ring out. At night, the illuminated facade seems mystical, and the details of its Gothic exterior are somehow even more prominent.
Tracing its roots back to the year 757 AD, the current Bath Abbey was constructed in 1500. Inside, you'll find richly colored stained glass, fan vaulting on the ceilings, and hundreds of wall memorials and floor stones. Visiting the Abbey is free, and behind-the-scenes tower tours are available for £15 every day except Sunday for those wanting a closer look, so it's definitely worth at least a quick visit.
Get local insights on the main Bath attractions on this top-rated walking tour or this private option. For a unique spin, consider a ghost tour of top sites.
Try glass blowing at Bath Aqua Glass
There are lots of fun things to see and do in Bath, but one of the most unique is to make your own glass creation. At Bath Aqua Glass, you can take one of their informative workshops designed for any skill level—from beginner to advanced—and walk out with a creative souvenir like an ornament or paperweight.
Seeing a custom item you make come to life is a great way to remember a trip to Bath. If you don't have time to make your own, you can also pop into the glassblowing studio to watch the professionals at work.
During certain special events like the city's famous Christmas market, you might find their mobile glass blowing trailer around town. If you're lucky, you can sign up to make a bauble on the spot.
See the Jane Austen Centre
Bath's most famous resident was the novelist Jane Austen. She was already an accomplished writer when her family moved to the city, but she didn't write much during her time here.
Bath did provide deep inspiration for elements that would later be included in her two most famous works, Sense and Sensibility and Pride and Prejudice. At the Jane Austen Centre, you can experience a bit of Austen's life in Bath.
Shop at SouthGate
Just a few steps from the train station, you'll find the massive shopping and restaurant complex known as SouthGate. With over 50 shops and 20 restaurants, it has a little bit of everything.
One of our favorite stops at SouthGate is Hotel Chocolat, a British chocolatier and cocoa grower. In addition to truffles and expected treats, they also have ice cream and specialty items like cocoa gin. You'll even find vegan options there.
See The Royal Crescent
The Royal Crescent is one of the most famous streets in England and one of Bath's most famous landmarks. This curving row of 30 uniform Georgian townhouses built in the 1770s looks much like it did when it was constructed 250 years ago. If you're a Bridgerton fan, you may recognize the setting as the home of the Featherington family.
Most of the townhouses in the Royal Crescent are private homes, but Number 1 Royal Crescent has been turned into a museum. Furnished with authentic decorations and period furniture, the museum shows how Bath's most fashionable Georgians lived in the late 18th century.
See more Bridgerton locations and learn about the Regency period on this themed tour.
Wander Prior Park Landscape Garden
The Prior Park Landscape Garden is a Bath must see. A walk around this National Trust property takes about a half-hour and centers around its beautiful Palladian bridge, one of only four of its kind in the world. Wander the sweeping valley and take in the views on a beautiful day.
Visit Bath Guildhall Market
The Bath Guildhall Market is the oldest shopping venue in the city. A stop here satisfied our need for caffeine and our compulsion to always visit markets whenever we travel. With about 20 cute shops and cafes, the market is the perfect place for a little browsing and a little snacking when you visit Bath.
Explore the Holburne Museum
Bath's first public art museum, the Holburne Museum opened to the public in 1882. Its collection focuses on decorative and fine art—most notably works by Thomas Gainsborough, Johan Zoffany, and Francesco Guardi. Visitors will also see items ranging from Renaissance bronzes to miniature carvings and period furniture.
The Holburne is housed in the former Sydney Hotel, and its exterior is used as the home of Lady Danbury in Bridgerton. One of its grandest spaces is the former hotel ballroom, which now features porcelain and silver items displayed under a dazzling chandelier. The museum's café overlooks the former hotel gardens, the only surviving 18th-century pleasure garden in Britain.
Enjoy the culinary scene
Bath has a robust culinary scene. Check out Sotto Sotto for Mediterranean fare served in the beautiful setting of a candlelit stone cellar. For something less formal, The Raven is a traditional English pub serving excellent pies and cask ales. For a lighter menu (or a late-night dessert), head to Bill's, which has a broad menu and a kitschy ambiance. The tough-to-find Sub 13 lounge is our pick for amazing cocktails and first-rate mixology.
Play mini golf in Royal Victoria Park
In Royal Victoria Park, you'll find something that's not on the main tourist path of places to go in Bath—Adventure Golf.
Most of the year, the mini golf course provides a fun outing with family or friends during the day. But, in the winter, things get even more interesting at night. From mid-November through early January, the golf course and the balls glow in the dark at night. Check out the 18-hole course and navigate the obstacles like waterfalls and bridges lit up in the colors of the rainbow.
Visit Bath Christmas Market
The Christmas market in Bath is often listed as one of the best Christmas markets in the UK. The squares and streets near the Abbey and beyond become a giant holiday festival to the point that the whole city center feels like it's joined in on Christmas. It's magic.
The Bath Christmas market has more than 150 chalets, and most of them are local from Bath and the surrounding area. That means that much of the merchandise and food you find for sale here is unique, handcrafted, or artisan, which truly makes the market a standout.
In addition to the shopping and food, you'll find musical entertainment in the streets, in theaters, and at the Abbey during the market season. There's also ice skating in Royal Victoria Park and other festive activities around the city.
Where to Stay

The Gainsborough Bath Spa: Five-star accommodations and service and the only hotel whose spa has access to the city's natural thermal waters.
The Francis Hotel: A townhouse hotel with individually decorated rooms—many with four-poster beds and views over Bath—that offers top-notch service.
Abbey Hotel: Boutique hotel set within three Georgian townhouses from the 1740s.
Lance Longwell is a travel writer and photographer who has published Travel Addicts since 2008, making it one of the oldest travel blogs. He is a life-long traveler, having visited all 50 of the United States by the time he graduated high school. Lance has continued his adventures by visiting 70 countries on 5 continents – all in search of the world's perfect sausage. He's a passionate foodie and enjoys hot springs and cultural oddities. When he's not traveling (or writing about travel), you'll find him photographing his hometown of Philadelphia.