Known for its charm and German-Texas heritage, the Historic District of Gruene, Texas, is a top attraction in the Hill Country. This distinctive area is filled with buildings from the 1800s that now house boutiques, restaurants, and gathering spots for live music and other festivities. Any day of the week, there are lots of fun things to do in Gruene that attract locals and visitors from across the state.
Gruene (pronounced "green") was established in 1872 by cotton farmer Henry D. Gruene, a first-generation Texan whose father came from Germany. The German-influenced town thrived until the 1920s when the boll weevil destroyed the cotton crop and the effect of the Great Depression reached the area. In the 1970s, restoration and new investment revived the town, which is now an historic district in New Braunfels.
Today, visitors come for dancing, antiquing, river tubing, and more. Here's a look at what to do when you visit Gruene.
See a concert at Gruene Hall
The oldest continually operating dance hall in Texas, Gruene Hall welcomes performers every night of the week to its stage in the center of the historic district. With its indoor dance hall and ample courtyard, there is plenty of space to spread out, two-step, and enjoy the music.
Built in 1878, Gruene Hall has an illustrious history and—like its neighbor not far away in Luckenbach—remains a favorite of artists both famous and up-and-coming. Over the decades, greats such as Willie Nelson, Gregg Allman, George Strait, Lyle Lovett, and more have played here. You never know who you might see on their way to stardom.
Shop at Gruene General Store
In true general store fashion, Gruene General Store has a little bit of everything, though this place was clearly designed to appeal to visitors rather than locals doing their weekly shopping. You can find postcards and souvenir t-shirts alongside candy, jewelry, and home décor items. For something a little more unique, there is handmade fudge and an old-fashioned soda fountain to enjoy.
Hang out at Gruene Coffee Haus
The local roastery and coffee house, Gruene Coffee House has visitors' needs covered from morning to night. This family-owned shop serves their freshly roasted beans in drip coffee and espresso drinks plus a menu of smoothies, local wine, craft beer, and more, inviting customers to sit down and stay for a while. They're particularly known for their Texas Pecan coffee, a blend that includes roasted Texas pecans with the coffee beans. Open daily.
Tube on the Comal River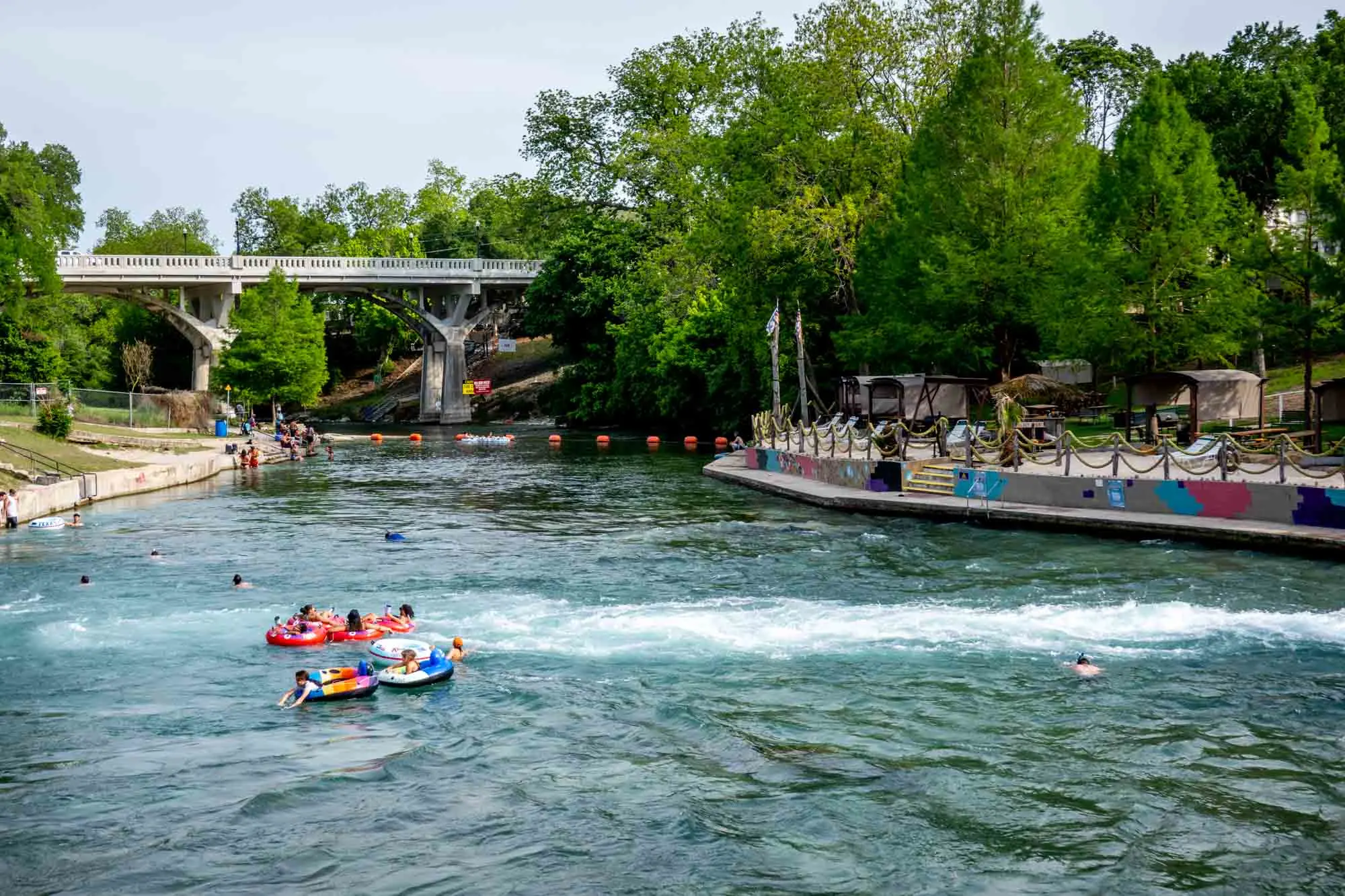 One of the most popular things to do near Gruene in the spring and summer is to spend time on the Comal and Guadalupe Rivers. Tubing and rafting top the list of ways to beat the heat in the area with different companies offering not only tube rentals but shuttle service back to your car or hotel. For local service, Rockin' R has both a location in Gruene and a private exit on the Comal River.
Browse the wares at Gruene Antique Company
The Gruene Antique Company began welcoming visitors through its doors over a century ago when it was the dry goods market for local tenant farmers. Now, the building offers distinctly different merchandise in its 6500 square feet of space. From unique housewares and specialty books to collectibles and even cowboy boots, Gruene Antique Company has a little bit of everything for collectors in Central Texas.
Fly fish on the Guadalupe River
The area around Gruene is home to many warm water species of fish. As a result, it's a great place to go fly fishing for trout, bass, carp, and more. You can buy gear at a place like Gruene Outfitters and strike out on your own or connect with one of the many local guides who lead regular trips along the Guadalupe River and beyond.
Go wine tasting at The Grapevine
Central Texas is known for its great wineries, and The Grapevine is the best place in Gruene to sample the offerings. Right off the main street, the shop offers a large selection of local wines and beers that you can enjoy in the tasting room or on the huge patio outside–under misters or beside fire pits, depending on the season.
If you find yourself in town on the third Thursday of the month (except January), make sure to stop by for the "Come and Taste It" events. Texas vineyards feature tastings of their favorite or hard-to-find vintages for free, and there's even live music.
Eat at the Gristmill
The Gristmill River Restaurant & Bar is the most popular restaurant in Gruene for good reason—not only is the food great, but the setting is unlike any other restaurant you'll find. Built in 1977, it is a replica of the original cotton gin that operated here until parts of it burned down in 1922.
Overlooking the Guadalupe River, the Gristmill is known for its rustic setting and tiered patio. Try the burgers, ribs, or chicken fried steak while you enjoy the view.
Attend Old Gruene Market Days
On the third weekend of every month (except January), nearly 100 local artisans come to town for Old Gruene Market Days. This special market has welcomed producers and artists for over 30 years selling their unique merchandise and food items.
Nothing here is generic or mass-produced—everything is original and made by the vendors themselves. There is a wide variety of things for sale ranging from custom furniture and jewelry to photography and sculpture.
Stay in the historic district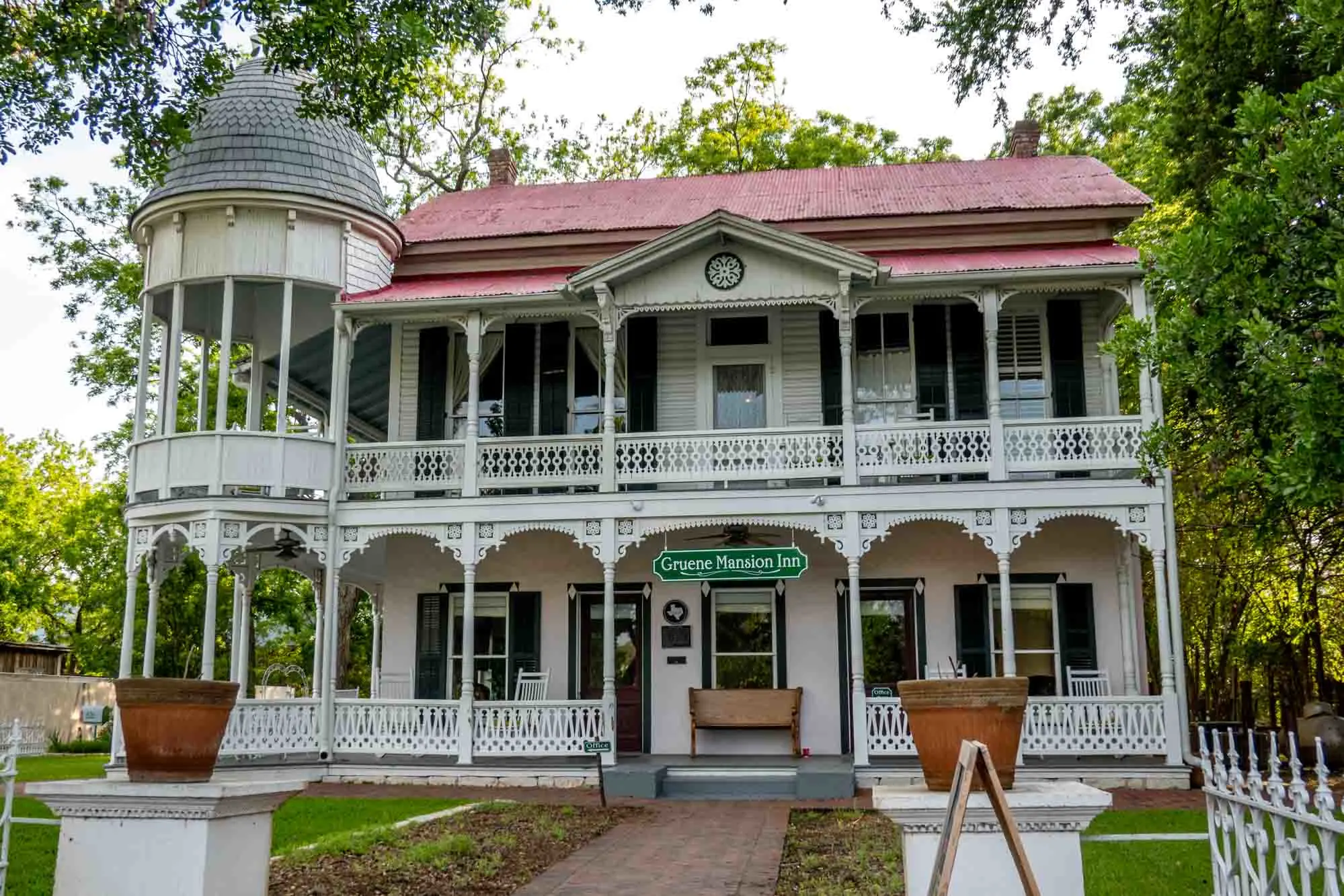 There's no better way to enjoy all that Gruene has to offer than to wake up in the historic district. Just steps from the dance hall, Gruene Mansion Inn occupies the 1872 Victorian home that once belonged to Henry D, Gruene, the town's founder. With the addition of barns, the Carriage House, and other historic buildings, there are different types of rooms to choose from, and staying here puts you in the heart of everything.