In the mid-1800s, German immigrants flocked to Texas following a series of failed political revolutions in Europe. They settled around central Texas and set up new communities, bringing their history, language, art, and food, and they forever changed the fabric of what is now the Hill Country. Many of these German towns in Texas still exist and maintain their unique character.
Some of the German towns have dozens of buildings built by the early settlers. Others still use German terms to describe areas of town (like the main square is the marktplatz) and proudly welcome visitors with signs that proclaim "Wilkommen!" Many keep the traditions alive in food, art, and museums dedicated to the people who original created the German settlements.
All these aspects combine to create places that are intriguingly Texan and German at the same time. Here's a look at some of these distinctive towns.
Fredericksburg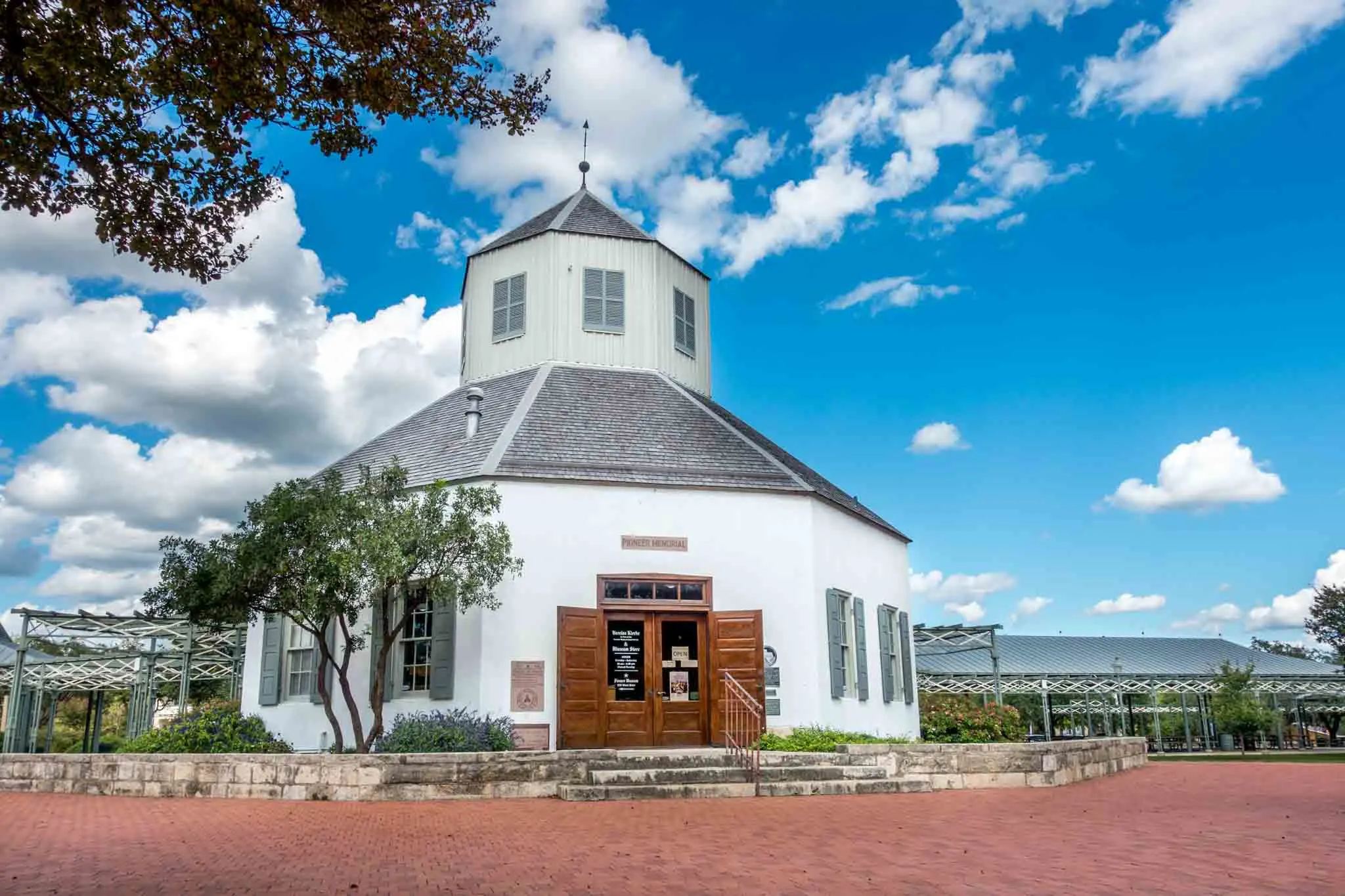 Fredericksburg is likely the most well-known of the German towns in Texas.
Founded in 1846 and named after Prince Frederick of Prussia, Fredericksburg maintained a strong German culture for a long time, even as Texan and American influences crept in. For over a century, German was spoken regularly, and descendants of the first settlers developed their own dialect called Texas German.
The town's German history is now preserved in the Pioneer Museum, which occupies 3.5 acres right on Main Street. The historic buildings on the grounds are packed with artifacts that tell the story of why the Germans chose to settle this area of central Texas and what life was like when they arrived.
Lots of Americanized aspects of German culture are still very much alive in Fredericksburg, particularly when it comes to holidays and food. In particular, the town's Oktoberfest, which has been running for over 40 years, is a celebration of all things German–from the dirndls and music to the beer and sausage. At Christmas, German tradition is evident in the Christmas pyramid that dominates the Marktplatz.
Many German restaurants still line Main Street and are a frequent destination for visitors and locals. Der Lindenbaum offers German specialties like goulash and schnitzel, and Auslander, a mainstay of the city for over 30 years, specializes in Bavarian food like schnitzel, sausage, and sauerkraut. Two breweries in town—Fredericksburg Brewing Company and Altstadt Brewery—make German-style beers.
There is lots to do in Fredericksburg beyond its German influences. Visit the top-rated wineries or do some shopping on Main Street. If outdoor activities are more your speed, see the wildflowers of the Willow City Loop in the spring or head out to Enchanted Rock for some hiking.
Boerne
Boerne is one of the cutest towns in the Hill Country. Its natural features, shopping, breweries, and historical attractions make it a fun place to explore.
In 1849, a group of Free Thinker German colonists founded the town, which they named after Cicero's residence, Tusculum. Three years later, the name was changed to Boerne (pronounced "Bernie") after German author Karl Ludwig Börne.
Boerne's heritage is primarily preserved at two main sites in town.
Herff Farm, which dates from 1852, is a preserved homestead that was owned by German-born Dr. Ferdinand Herff. The 1883 family home still stands along with some of the agricultural structures. The property is now used as a "nature school," community garden, and the site of a popular farmer's market.
On the north side of town, the Kuhlmann-King Historical Complex is a non-profit museum run by the Boerne Area Historical Preservation Society. Its two buildings date from the late 19th century and showcase thousands of historical objects related to Boerne's history and the German immigrants who settled there.
Around town, there are echoes of Boerne's German heritage. You can shop at Dienger, an historic building built by a German pioneer that is now a popular clothing store and café, and eat schnitzel and bratwurst at Little Gretel Restaurant. Tusculum Brewing Co.–which uses the town's original moniker–occupies a prime spot on Main Street.
For some time outdoors, check out Cibolo Nature Center, which occupies 100 acres with four different ecosystems and six miles of walking trails. Visiting Cave Without a Name is also one of the most fun things to do in Boerne. The living cavern 80 feet below ground is filled with massive stalagmites and stalactites, creating a slightly eerie and yet beautiful space.
New Braunfels
In New Braunfels, German influences are clear all over town. A quick glance at business names and the street art that decorates many of the walls lets you know a lot about the town's heritage.
About half-way between San Antonio and Austin, New Braunfels was founded in 1845 by Prince Carl of Solms-Braunfels, who named the new settlement for his hometown in Germany.
Two main museums give visitors insight to life in Central Texas in the late 1800s.
The Sophienburg Museum chronicles the lives of the German colonists who came to the area and how they contributed to the education, industry, economy, and traditions that made New Braunfels what it is. Visitors can read first-hand accounts of their experiences and see preserved artifacts.
The Museum of Texas Handmade Furniture looks at the town's history through the lens of household items. Displays include artifacts made by the first European settlers, including noted master carpenters. The complex of buildings on the grounds gives visitors a unique glimpse into the daily activities of life in the 19th century.
One of the most popular areas in New Braunfels is the Gruene historic district, a charming area packed with fun things to do. While the area isn't a museum, the charm of its historic buildings draws visitors from all over.
Established in 1872, Gruene boasts many buildings from the 1800s that now house boutiques, restaurants, and gathering spots for live music and other festivities. At its heart is Gruene Hall, the oldest continually operating dance hall in Texas. Famous musicians and up-and-coming artists occupy its stage every day.
Around New Braunfels, other businesses highlight the German town's heritage. Naegelin's, the oldest bakery in Texas, sells German cookies, strudel, and more. Krause's Biergarten and Café, which is decked out in flags and decorations from the different regions of Germany, sells lots of German classics, too.
Comfort
In 1854, a group of German settlers left New Braunfels and decided to stop in an area they dubbed "Camp Comfort" due to its fresh water and beautiful setting. The name stuck, and the settlers, who were Freethinkers and abolitionists, made the area along the banks of Cypress Creek home.
The first settlers and their descendants made buildings that were meant to last. Today, downtown Comfort is on the National Register of Historic Places and has one of the most well-preserved historic business districts in the state.
Many buildings around town have historic markers that offer information about who built and owned them and what their original purpose was. Those details and more are available on the Comfort Heritage Foundation website, which also offers a map of historic structures so visitors can put together a self-guided walking tour.
Some of the historic buildings are open to the public as businesses and are easy to find along High Street and Main Street.
A saloon dating from 1891 is now The Elephant Story—a clothes, jewelry, and gift shop that donates its profits to rescue elephants in Asia. Down the street, Hotel Giles now occupies a structure that was built in 1880 as the residence of Peter Ingenhuett whose family was among the founders of Comfort. Similar stories can be seen on buildings across town.
With a population of just over 3,000, Comfort is small, but there are still plenty of things to do. There is a distillery and two winery tasting rooms, and there are more restaurants and shops than one might expect, especially for antiques. The 8th Street Market is a fun place to browse among the art, vintage finds, and repurposed items, and Studio Comfort nearby features contemporary art made by Texas artists.
On the outskirts of town, there are a few unique roadside attractions. A 100+ year-old Hygieostatic Bat Roost, which was built for bats to combat malaria-carrying mosquitos, is a unique site to see. The Cartoon Saloon is also worth a stop. The roadside photo op isn't a real saloon, but it's still is a popular hangout and place for a beer (best to BYOB, though).
Schulenberg
The small town of Schulenberg, Texas, remains on the map primarily due to the ongoing influence of its German heritage. Nearly 150 years after its founding, Schulenberg attracts visitors for its magnificent painted churches, food, and celebrations of culture.
Once a boom town stop on the railroad, Schulenberg was shaped by a mix of German, Austrian, and Czech settlers. One of their primary legacies is the painted churches of Schulenberg, which draw visitors from all over Texas. These decorative churches are meant to replicate the grandeur of the churches the settlers left behind, only using elaborate painting techniques rather than the gold and marble of Central Europe.
Visiting several of the churches makes for an interesting Austin day trip and an experience you're unlikely to get anywhere else.
These churches are unassuming on the outside but remarkable works of art on the inside. They're filled with bright blue skies, shocks of pink, swirling ivy, and life-sized statues. All the work was done by hand, and much of it is at least 100 years old.
In addition to the churches, a couple of museums highlight different aspects of the town's past. The Schulenburg Historical Museum displays photos and artifacts donated by local families that show the lives of settlers and their descendants.
The Stanzel Model Aircraft Museum includes the Stanzel family homestead, a 19th-century home with period furnishings. It also includes exhibits about Victor and Joe Stanzel, brothers who were accomplished designers and manufacturers of model airplanes.
When it comes to food, Oakridge Smokehouse is a local favorite. This popular restaurant combines Texas BBQ with traditional German cuisine like sausage and sauerkraut.
If you're visiting in April, don't miss the annual Sausagefest that highlights Czech and German heritage. A sausage cook-off, polka music, pickles, and wine tasting make this the place to be.