With candy-colored homes, great restaurants, and one of the most famous markets in the world, there are lots of fun things to do in Notting Hill. This area of London is one of the city's most famous neighborhoods thanks to its architecture and the number of movies filmed among–and inspired by–its lovely streets.
Things to do in Notting Hill
Whether you want to eat your way across the neighborhood, find the perfect antique, spot the movie locations, or simply enjoy the ambiance, there is plenty to occupy your time here.
Graffik Gallery
Seeing street art is one of our favorite ways to explore a city. From the murals of Reykjavik to the Comic Book Route in Brussels, we try to make it a part of every trip we take.
In Notting Hill, the place to see street art isn't where you think it might be—down alleys and on the sides of buildings. Instead, it's in Graffik Gallery, which features the works of renowned muralist Banksy and other street artists such as Stik and The Dotmaster, who painted their iconic sign.
In addition to its regular artistic exhibitions, Graffik hosts regular graffiti workshops where you can work with stencils and walk away with your own canvas art.
The Museum of Brands
Both of us spent years in public relations and marketing, so we geek out about something like the Museum of Brands. This small museum shows the changes in advertising since Victorian times and provides a nostalgic look at ads and jingles from years past.
You can see the evolution of the marketing and advertising of everyday products like laundry detergent and cereal to see how approaches have changed over the years. But the Museum of Brands also takes the conversation deeper with a look at how products and brands can inspire and become agents of social change.
Rainbow-colored homes
The multicolored homes are some of the top things to see in Notting Hill and are a lot of what gives this area its appeal. Many of the side streets off Portobello Road are lined with houses painted in the colors of the rainbow. Some are more muted pastel varieties, and others stand out for their hot pink, tomato red, or bright purple hues.
It's fun to walk around the neighborhood and identify favorite stretches of homes. One of the most famous areas is Lancaster Road between Basing Street and All Saints Road because both sides of the street are lined with colorful buildings. We also enjoyed the colors of Chepstow Villas and Denbigh Terrace.
While it is true that these areas are an Instagrammer's dream, it's important to remember that these are almost all private homes and they should be respected accordingly. No one would want strangers on their front steps posing for photos or touching their personal property.
Antique shops
The first time I heard of Portobello Road was as a child watching Bedknobs and Broomsticks when it was called, a "street where the riches of ages are stowed." The world's largest antique market, it is indeed a place to find all kinds of treasures.
Whether you're looking for books, brass, aviation items, or even Egyptian antiquities, the antique dealers of Portobello Road can steer you in the right direction. There are numerous one-of-a-kind items for browsers and true collectors.
There are lots of options every day of the week, but Saturdays are particularly popular when the street fills with vendors. One popular stop with tourists—thanks to its appealing exterior and appearance in the Paddington movies—is Alice's. It offers antiques alongside modern vintage items and a particularly pretty collection of teapots.
Electric Cinema
In 1910, the famous Electric Cinema opened on Portobello Road nearly two decades before "talkies" were the norm in movies. Today, it's one of the most luxurious places around to watch a film, restored with period details that make you feel like you're in the Golden Age of movies.
You can book a king-sized sofa or even a bed to watch your movie of choice. Curl up under a cashmere blanket and order an Old Fashioned from the on-site bar. After the film is done, you can head next door to the Electric Diner for dinner.
Portobello Road Market
The biggest attraction in the area is the Portobello Road Market. It stretches for nearly a kilometer throughout the neighborhood, and you can easily lose several hours shopping and eating your way through the offerings.
Fridays and Saturdays are the main market days, though some portion of the vendors are also out on weekdays. During the week, you'll find fresh produce, street food, souvenirs, clothing, and more. On Saturdays, all the antique sellers join the mix as collectors and bargain hunters flood the streets.
Saturday afternoons are the most crowded times at the market, so try to visit in the morning or on a weekday, if your schedule allows.
The Mews
The Mews of the Notting Hill neighborhood have a particular charm. These areas were once stables and carriage houses for the horses and coachmen that served the larger houses nearby. Now, they're traffic-free enclaves with brightly-painted buildings and cobblestoned streets.
St. Luke's Mews is one of the prettiest mews around and one of the most famous thanks to the appearance of #27 as Juliet's house in Love Actually. Streets like Pencombe Mews and Denbigh Close are worth visiting, too.
The Distillery
The generically-named The Distillery is four floors of gin heaven at the corner of Portobello Road and Talbot Road. Whether you're looking for a drink, a meal, an education, or a room, it's a great place to stop.
The top floor is the micro hotel where gin lovers can relax in one of three rooms. They're especially handy if you're attending The Ginstitute downstairs where you learn about the history of London's favorite beverage while sampling a healthy number of cocktails along the way.
Most visitors to The Distillery will find themselves on the first two floors. On the ground floor, the Resting Room Bar offers a full menu of lunch and dinner options and a cocktail menu in which every drink comes with an origin story. The first floor is GinTonica where you can nibble on tapas while sipping a mind boggling selection of gin and tonics from The Distillery's catalog of over 200 gin brands.
Biscuiteers
Just a block from The Distillery, Biscuiteers is cute shop that focuses on beautifully decorated cookies. Some offerings change with the season and notable events, so you might find Christmas-themed cookies, Mother's Day biscuits, or designs related to the World Cup.
There are lots of homemade decorated cookies available, or you can design them yourself. Pick up a kit in the store, take a seat in the icing café, or sign up for one of the on-site decorating workshops. If you'd rather get straight to the eating and save the icing for another time, visit the café for afternoon tea or other treats.
Notting Hill Bookshop
Notting Hill Bookshop served as the inspiration for the travel bookstore Hugh Grant owned in Notting Hill. Its fame puts it on the circuit of popular photo stops for tourists in the neighborhood. Some visitors take it a step further and use the cute store as a proposal spot.
The bookstore has a wide range of offerings, including travel (as Grant's store did), a cozy children's section, and special leather-bound and gift editions of books.
Doughnut Time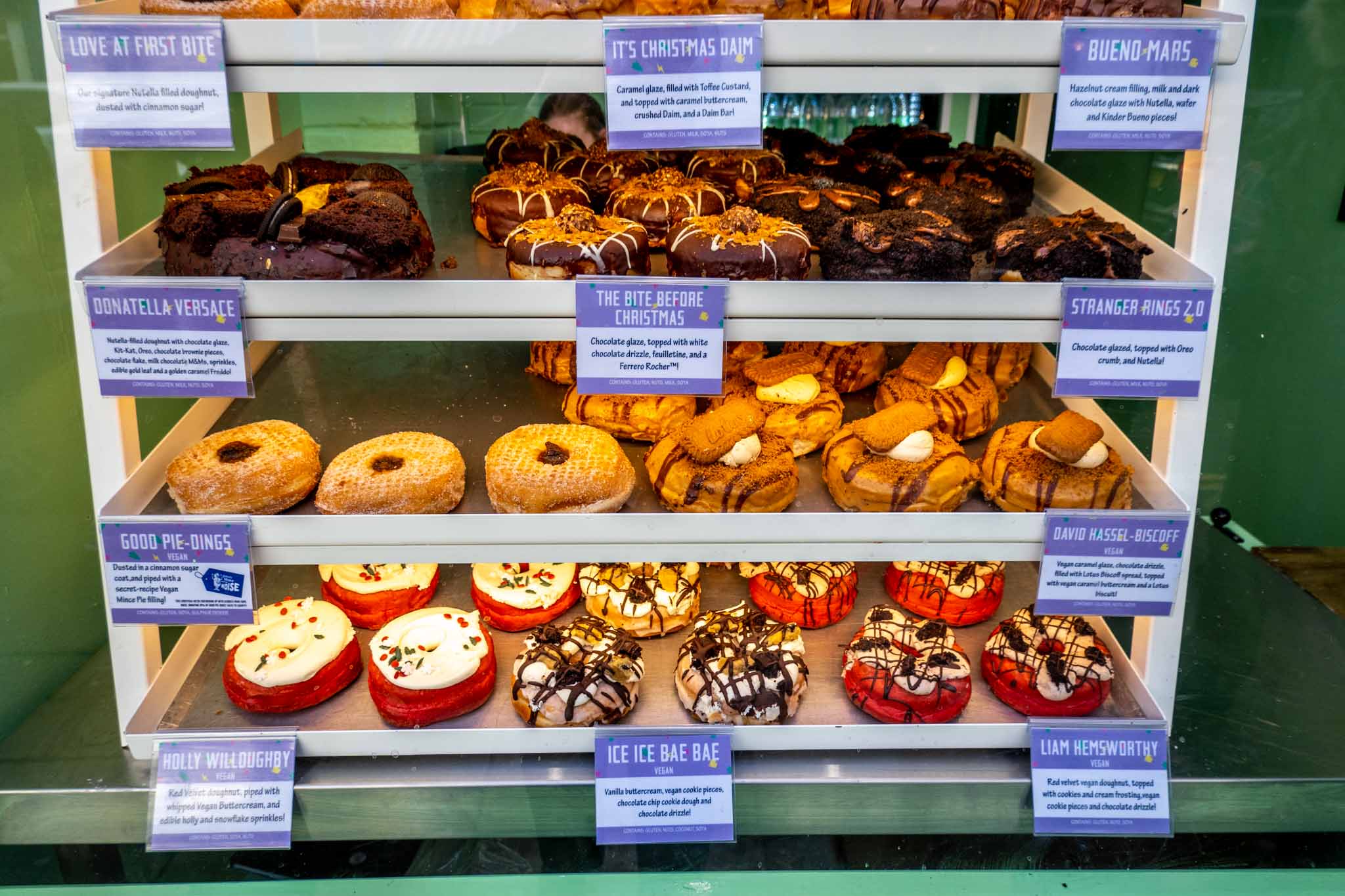 For a decadent treat on the go, stop by Doughnut Time in the tiny alcove next to the bookshop. The bakery is known for its homemade creations often with pun-filled names or with spins on celebrity monikers.
You'll often find doughnut versions inspired by movies filmed in the neighborhood alongside other indulgent creations. Their signature "Love At First Bite," a Nutella-filled doughnut topped with cinnamon sugar, was our favorite.
Restaurants and Cafes
The neighborhood is filled with charming restaurants and cafes. Whether it's stopping for a lavender or rose latte at Farm Girl, grabbing a pint and Pad Thai at Churchill Arms, or indulging in a feast of salads and Middle Eastern specialties at Ottolenghi, there is a wide variety to choose from.
How to Get Here
Notting Hill is well-connected to other parts of London, so it's fairly easy to reach from points across the city. There are several tube stations in the area, including Notting Hill Gate in the south, Westbourne Park in the north, and Ladbroke Grove in the northeast. The neighborhood is also easy to reach on foot from major London attractions like Hyde Park and Kensington Palace.
It's also easy to visit Notting Hill on a long layover in London as it is only a 6-minute trip from Paddington Station.