The town of Tromsø, Norway is the largest town in the north. And it is way north. Tromso is nearly 200 miles north of the Arctic Circle. And visiting Tromso is a remarkable experience. Here's the things to do in Tromso and what you want to know before visiting.
The northern-most everything in the world can be found in Tromso. The northern-most brewery, cathedral, university, glass blowing studio, aquarium, etc. can all be found here. Tromso is as far north as the very northern-most points in Alaska and Russia. Tromso is way, way north.
With a population of over 79,000, a great international airport, a deep harbor, and a beautiful location, Tromso is essentially the capital of the north and the hub for all tourism and trade in the region.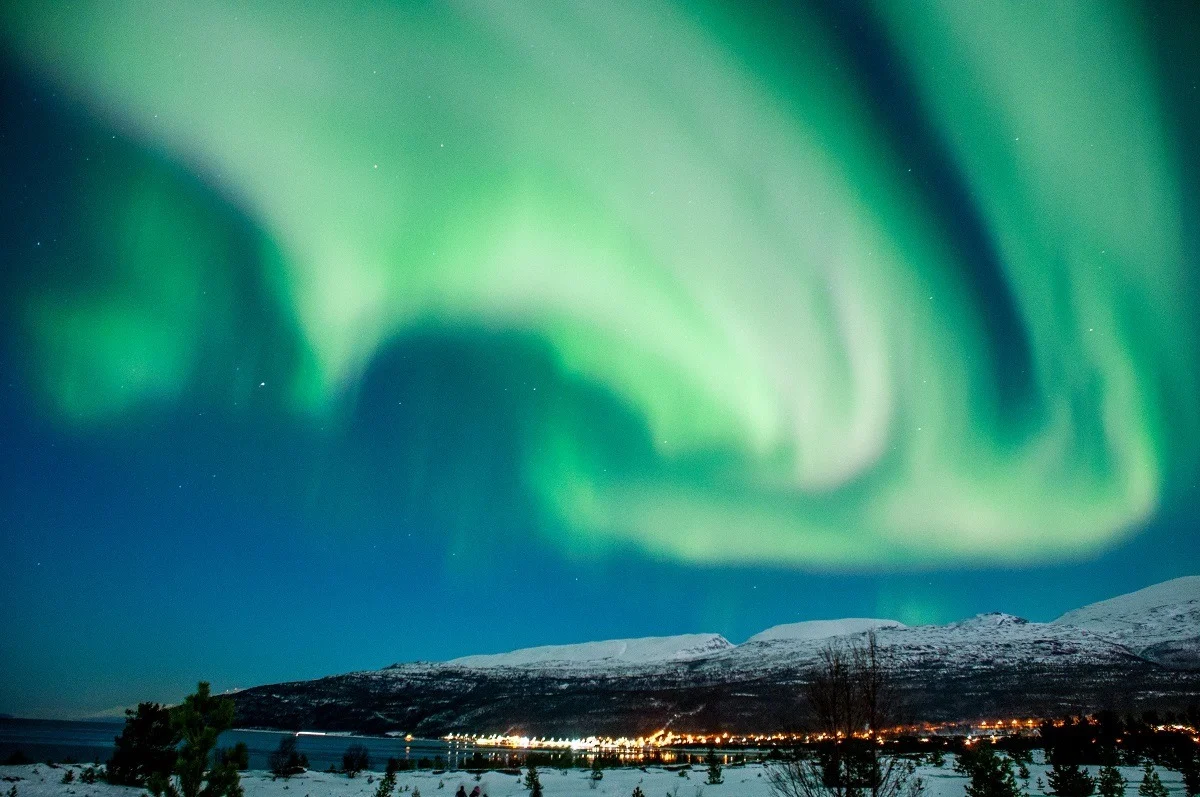 Why would anyone visit Tromso? In two words: the northern lights! Tromso is arguably the best place in the world to see the Aurora Borealis. Tourists flock here en masse in the winter to catch a glimpse of the dancing lights. But there are so many other things to do in Tromso
Things to Do
Despite its remoteness and small-town feel, there's a surprising number of things to do in Tromso. From active adventures to relaxing in the natural beauty, there's no shortage of attractions and activities.
Northern Lights Tours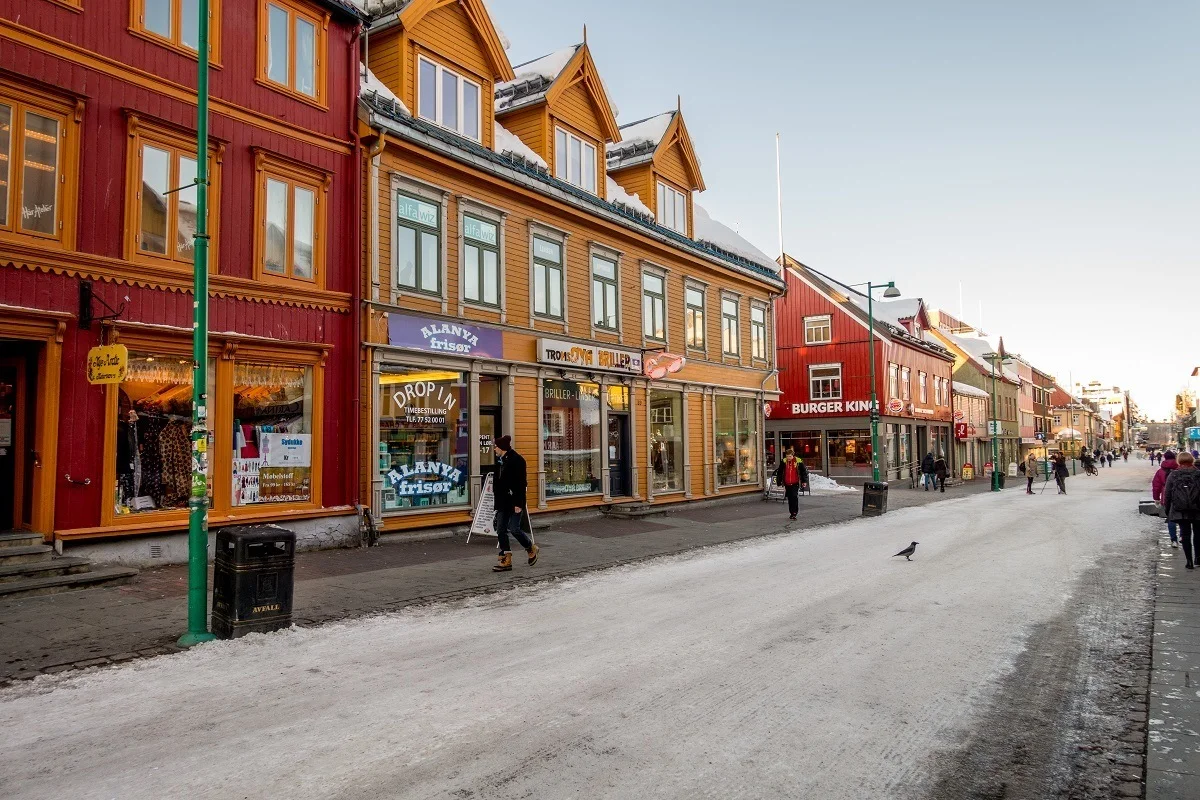 Seeing the northern lights is a bucket list item for millions. And there's no better place in the world to see them than Tromso. Most nights, the dancing lights can be seen above the town or in the countryside outside it. In fact, the main northern lights observatory for Norway is located close by.
Whether you go on an organized northern lights tour or head out on your own, you'll love seeing the Green Lady – those dancing Aurora lights. These is no way to explain how beautiful and mysterious they are. Visitors should allow at least several days in the Tromso area to go out in search of the lights. For more information on what lights are really like, check out our article on chasing the Northern Lights in Tromso or you can learn more about Aurora Borealis.
Dog Sledding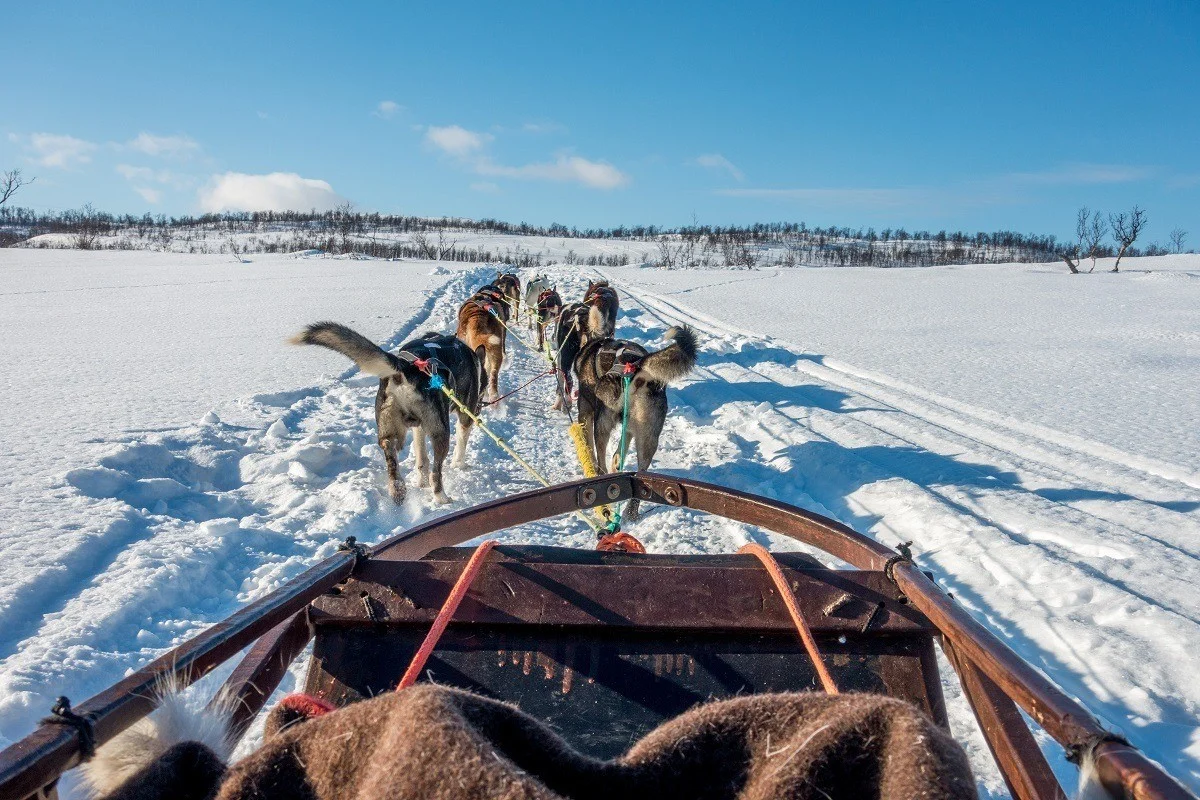 While filling your nights looking for the northern lights, you can spend your days seeing the Norwegian countryside. And there's no better way to experience Norway than from a dog sled!
One of the popular activites in the region is dog sledding in Tromso! The dogs are born to run and love being out in the snow. We didn't know what to expect, but it is more exciting than we ever expected. And much colder! (Dress warmly)
Fjord Cruise
A couple of different companies offer fjord tours by boat. Re-purposed fishing boats take visitors out to see wildlife like eagles, dolphins, seals, and even whales. These fjord cruises are chance to see the area around Tromso at water level.
The companies also offer northern lights or midnight sun tours (called the polar nights) or even a chance to try your luck fishing. Whether you just want to sightsee or try your hand catching fish, this is a great way to spend a day in Tromso.
Tromso is also a popular port for cruise ships, which offer fjord cruises as part of their sailings!
The Arctic Cathedral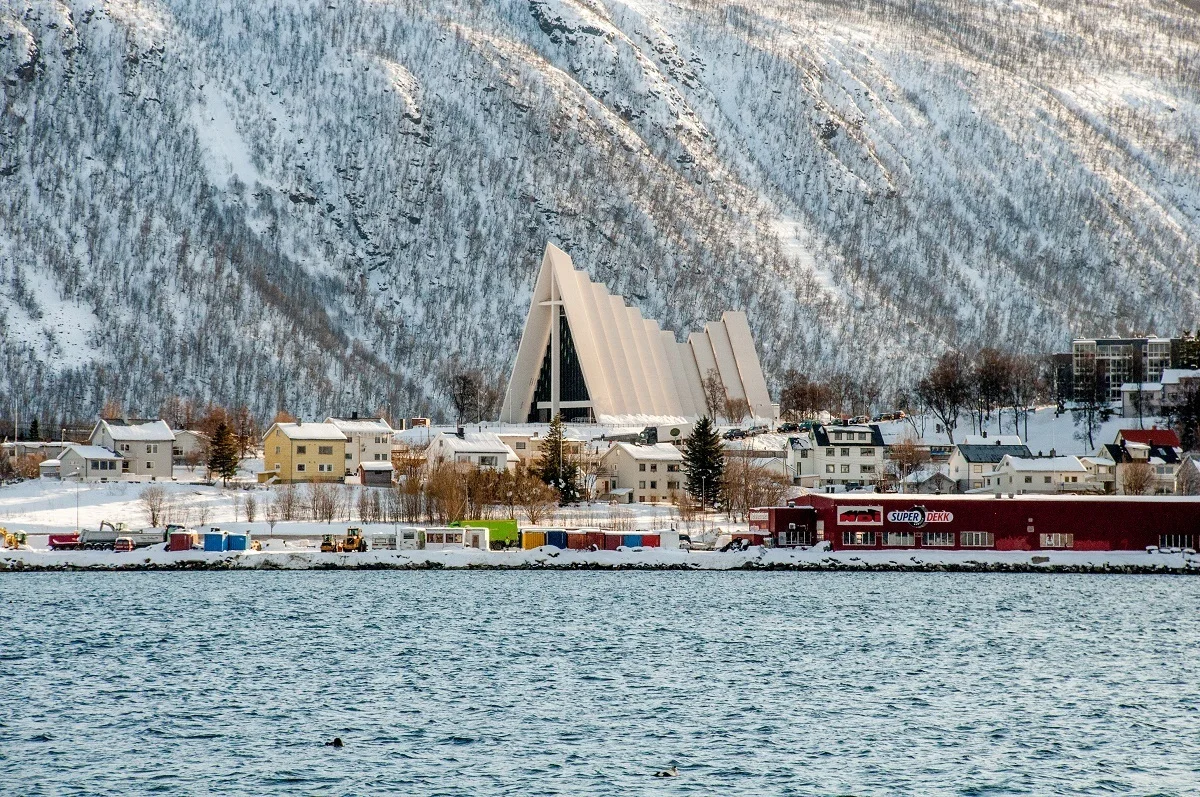 Built in 1965, the steel and concrete Arctic Cathedral (Ishavskatedralen) sits on the mainland just across from downtown Tromso. The massive structure is designed to resemble a block of ice sticking up into the air. The cathedral is a popular attraction with visitors.
The cathedral is also a popular venue for concerts in the evening. If you are lucky, there may be a performance while you are in town. Check the cathedral website for performance schedule.
Brewery
The northern-most brewery in the world can be found in Tromso. Mack's Beer Hall is one of those places that transcends a mere brewery and becomes an iconic attraction in the city. There's nothing better than pulling up a table and enjoying a pint on a cold winter day. Mack's is a Tromso institution.
Or just do nothing at all. Tromso is a great city to slow down and be in the moment. Pull up a chair in a coffee shop, enjoy a cup and stare out the windows at the mountains. Or you can wander the small lanes in town and drop into shops and just experience small-town life.
Where to Stay
Radisson Blu Tromso. This is arguably the best hotel in Tromso. The Radisson Blu Tromso has a commanding location on the water, offers views of the bay and the mountains, and is extremely close to the tourist information office. When it comes to location, the Radisdon Blu has it. Unfortunately, during our trip, the hotel was fully booked. (Book a room here)
Comfort Hotel Xpress Tromso. The Comfort Hotel Xpress is the budget hotel in the Clarion group. The rooms were warm, clean and comfortable but without frills or amenities. The room was also extremely small. However, for a rather last-minute trip, it fit the bill for us and offered good value for the money. As a bonus, the location was very central (halfway between the TI and Mack's Brewery). (Book a room here)
Scandic Grand Tromso. The Scandic Grand is another top choice. It is located be very close to the TI and in close proximity to a number of great local restaurants. (Book a room here)
Apartment rentals. There are a bunch of apartments and vacation homes for rent in Tromso. Many of them include lots of excellent perks like a rental car, heavy thermal suits, winter boots, etc. If you are looking for more room or something a bit more independent, check out vacation rentals in Tromso. (Check current prices here.)
Where to Eat
In addition to being an outdoor paradise, Tromso is a college town. That means there are lots of reasonable, cheap eats to be had throughout the town. Here are a few of our favorites.
Mack's Beer Hall. This is the tasting room at the world's northern most brewery: Mack's Brewery. Mack's features a broad selection of their own craft beers. It closes early, so makes a good happy hour option. Food options are (sadly) lacking.
Suvi. One thing you'll learn in Norway is that they love flavorful and spicy food. In Tromso, that means a visit to Suvi (which is diagonally across the street from the Comfort Xpress hotel). Suvi serves amazing pan-Asian cuisine featuring heavily on Vietnamese dishes, but also sushi and Thai-inspired dishes.
Kaia Bar & Restaurant. Located right on the water at Tromso's marina (and featuring views of the bridge and the cathedral), Kaia is the place for a heavy meal to fuel up before going out into the cold. We ducked in here for burgers and fish and chips before our first night out with the aurora.
Good Food Tromso. This food cart is open late (like 4:00am late on the weekends), which makes it the perfect spot for a post-aurora trip refueling (or after a night of hard drinking). Standard kebab fare with friendly employees.
Raketten. The Scandinavians love their hotdogs. And Raketten kiosk is the place in Tromso. Standard dogs plus exotic fare like Reindeer are available. They aren't open very late so it makes a good lunch spot.