Dancing fairy lights, the scent of sweet treats, and children laughing as they learn to skate—these are the hallmarks of the winter season in the Netherlands and just a few of the things that make visiting the Amsterdam Christmas markets so much fun. A trip to this famous city at the holidays means you'll find handmade crafts, funky art, decorations, and tons of local food items all within beautiful surroundings.
Whether you want to stick to the tourist area or are planning to venture a little farther, here's a look at some of the best Christmas markets the city has to offer.
Ice Village
In the heart of the city's tourist area, Ice Village is impossible to miss. Its mix of shopping and skating entices visitors and locals to take a spin around the rink and do a bit of browsing and eating at the market.
The substantial ice-skating rink spreads out on Museumplein and seems to end at the doorstep of the iconic Rijksmuseum across the square. Just a few steps away, nearly 50 merchants and food vendors sell their wares in a cozy area set up just for the Christmas season.
The largest Christmas market in Amsterdam, Ice Village merchants sell distinctive items you won't find other places. There is lots of art and photography—especially works showcasing some of the main attractions in Amsterdam—plus handmade jewelry, knitted items, and home furnishings.
The market is also an ideal place to stop for a bite to eat or a warm drink. From mulled wine and hot chocolate to churros, raclette, and other tasty bites, there is a lot to pick from.
The market is scheduled for December 13-26, 2023, and the rink is open November 11, 2023 to February 4, 2024.
Amsterdam Winter Paradise
RAI Amsterdam, the city's exhibition center, turns into a fun-fair event for the holidays. With indoor and outdoor components, Amsterdam Winter Paradise is the biggest event of the season in Holland.
From December 14 through January 1, 2024, there are rides, performances, shopping opportunities, and dining beyond anything you might expect at a traditional Christmas market. Outside, the massive Ferris wheel towers over Europaplein, where you can take a lap around the outdoor ice-skating rink, tube across real snow, and roast marshmallows over an open fire. Inside brings even more skating, space for curling competitions with friends, swings, and all the food you can imagine.
The event often sells out closer to Christmas, so it's a good idea to buy your tickets in advance.
Rembrandtplein
The Winterland Market in Rembrandtplein is small but mighty. Located in the city center, the square's main attraction is its bustling ice-skating rink. Any time you visit, it is filled with kids learning to skate, teenagers playing on the ice, and adults out for a bit of fun.
Beyond the ice, there are a handful of chalets selling Christmas gifts and lots of food stands selling Dutch specialties to keep you warm. There is mulled wine and hot chocolate as well as sausages, fried fish, potato pancakes, and other treats. While the dates for the artisans are more limited, the ice skating rink and many of the food vendors are open November 17, 2023 through January 7, 2024.
Christmas at Westergas
The first Sunday of every month, Westergasfabriek hosts a market full of clothes, housewares, accessories, food, and art. This 19th-century complex of red brick buildings in Amsterdam West was once home to the city's gasworks company but is now packed with cafes, breweries, cinemas, shops, and more. The Sunday market takes place alongside all the fun places to visit here.
On December 3, the regular market becomes the Sinterklaas (St. Nicholas) Market. Saint Nick himself makes an appearance and takes the time to meet the children who are visiting. In addition, there are vendors selling toys, jewelry, and other gifts.
Funky Xmas Market
In mid-December, the Christmas spirit fills Westergas during the Funky Xmas market. With lots of different stalls and vendors and a complete food court, there is so much to see at this somewhat nontraditional highlight of December in Amsterdam.
Bright colors, lots of lights, and plenty of entertainment combine to make the Funky Xmas market a fun destination for visitors looking for something a little different. There is nothing cookie-cutter here—from distinctive artwork to handmade jewelry and one-of-a-kind candles, artisans at this market showcase their creativity in a way you don't find everywhere. This is a great spot to find something unique for loved ones who are hard to buy for.
The market's food is also a bit atypical, going beyond Dutch food and traditional Christmas fare. There are poffertjes and mulled wine, of course, but the international offerings are substantial. If you're looking for savory British pies, Japanese food, and Indonesian snacks, there is a lot here. We loved the Brazilian empanadas, in particular.
The Funky Xmas market is also packed with entertainment. Expect to see live music and dancing as well as magicians, jugglers, and other performers playing tricks and wowing audiences under a circus tent. The market is scheduled for December 17, 2023.
Pure Markt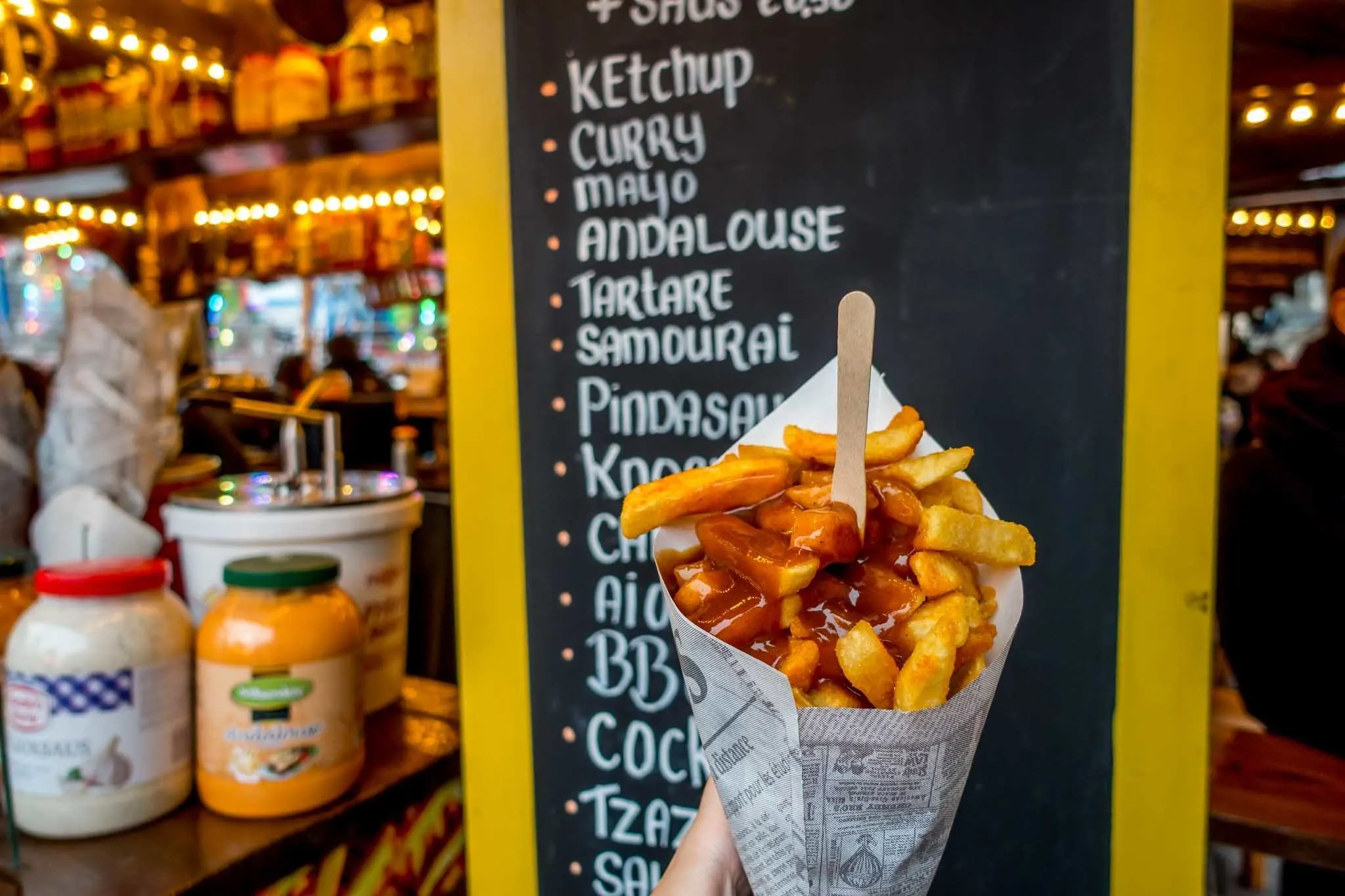 Food is the specialty at Pure Markt. This welcoming market that rotates locations throughout the city brings produce, artisanal food, and other delicious products to Park Frankendael for its yearly December market just a few days before Christmas.
Set in a seven-acre park that's part of a 17th-century estate, Park Frankendael provides a lovely background for the most festive market of the year. About 70% of the vendors here focus on food, and their passion for their work is contagious. The participants who come from across Holland are happy to chat about what they grow, bake, and harvest and to make recommendations about what you'll like most. With more than 100 vendors focusing on Dutch cuisine and international foods, the choice feels almost endless.
When it comes to shopping, the Pure Markt has a mix of designer, vintage, and gift items. There is also live music plus a cut out of Santa and other pretty backdrops for seasonal photos. This year's market is December 17, 2023.
Haarlem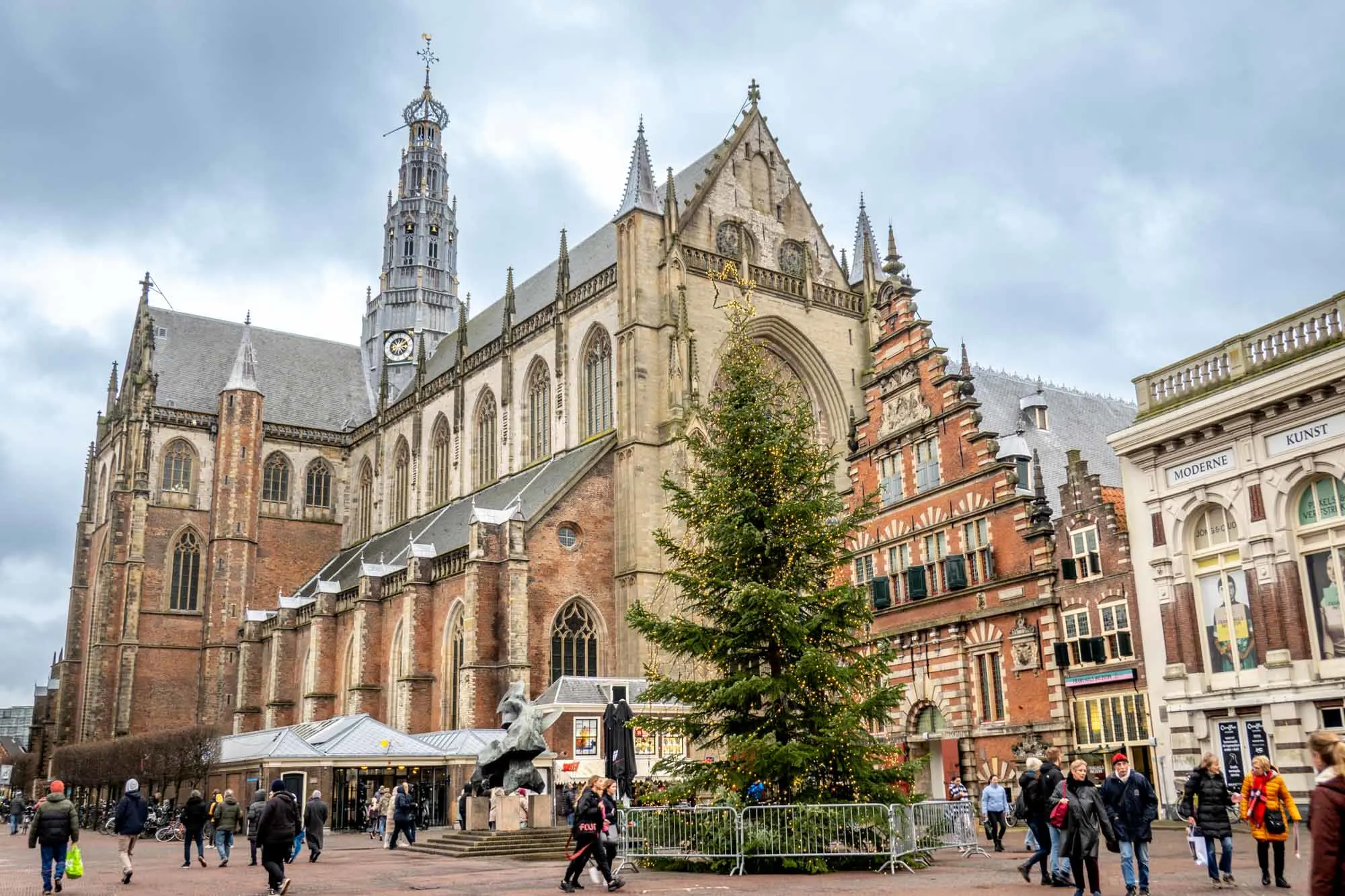 Only 15 minutes from Amsterdam by train, Haarlem is a dream and an easy day trip. It has beautiful architecture, cafes, and quiet lanes, and—during the second weekend of December—it has one of the largest Christmas markets in the Netherlands.
The 300 market stalls spill through the city center running from the Frans Hals Museum to Nieuwegracht. Much of the action is concentrated around Grote Markt and St. Bavo's Church, which has several stages for live entertainment and music.
As you wander through the chalets, take the time to sample the waffles, hot chocolate, and international treats while listening to the Christmas carols and browsing through the gifts and souvenirs. If you need a break from the activity of the market, check out some of the other things to see in Haarlem, including the Corrie ten Boom House or De Jopenkerk, a brewery located in a former church. In 2023, the market takes place December 8-10.
Winter Village Stadshart Amstelveen
Just a few minutes south of Amsterdam, Amstelveen hosts its Winter Village, which centers around the ice-skating rink in the heart of the town.
While children skate, adults enjoy the pop-up restaurant and bar alongside the ice. Throughout the season, there are concerts and special events like curling competitions and disco skating on the rink that draw visitors from all around.
More than 60 stalls offer handmade gifts and holiday treats, and shops around the market stay open extended hours to make shopping even easier. Last year's market ran from December 3, 2022 to January 8, 2023. Dates for this year are still TBD.