Dazzling colors, canals, the wonder of half-timbered buildings that look like a perfect illustration—these are the things of Colmar, France. Its streets meander into tiny alleys and then open into small squares used by traders and merchants centuries ago. Its mostly pedestrian center is a festival of brightly tiled roofs and even brighter facades, welcoming the curious. Many visitors blitz through this lovely city on a day trip or a brief shore excursion, but there are so many things to do in Colmar that many can get overlooked on such a short visit. I know because that's how we first visited Colmar.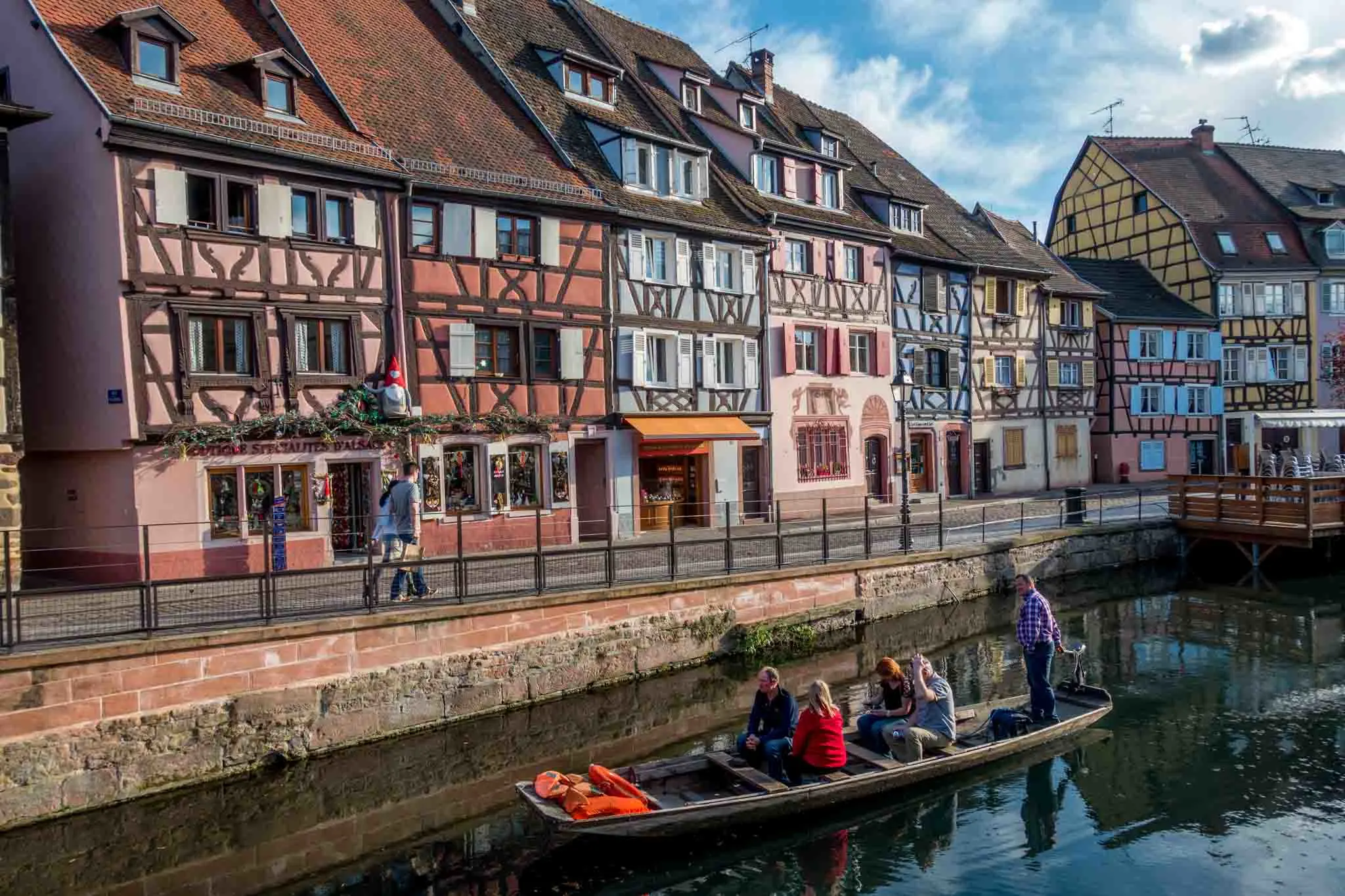 We had our first taste of Colmar over a decade ago on a quick day trip from Basel, Switzerland. In just a few hours, the city won us over.
Since then, we've enjoyed coming back many times and digging a little deeper into what to do in Colmar.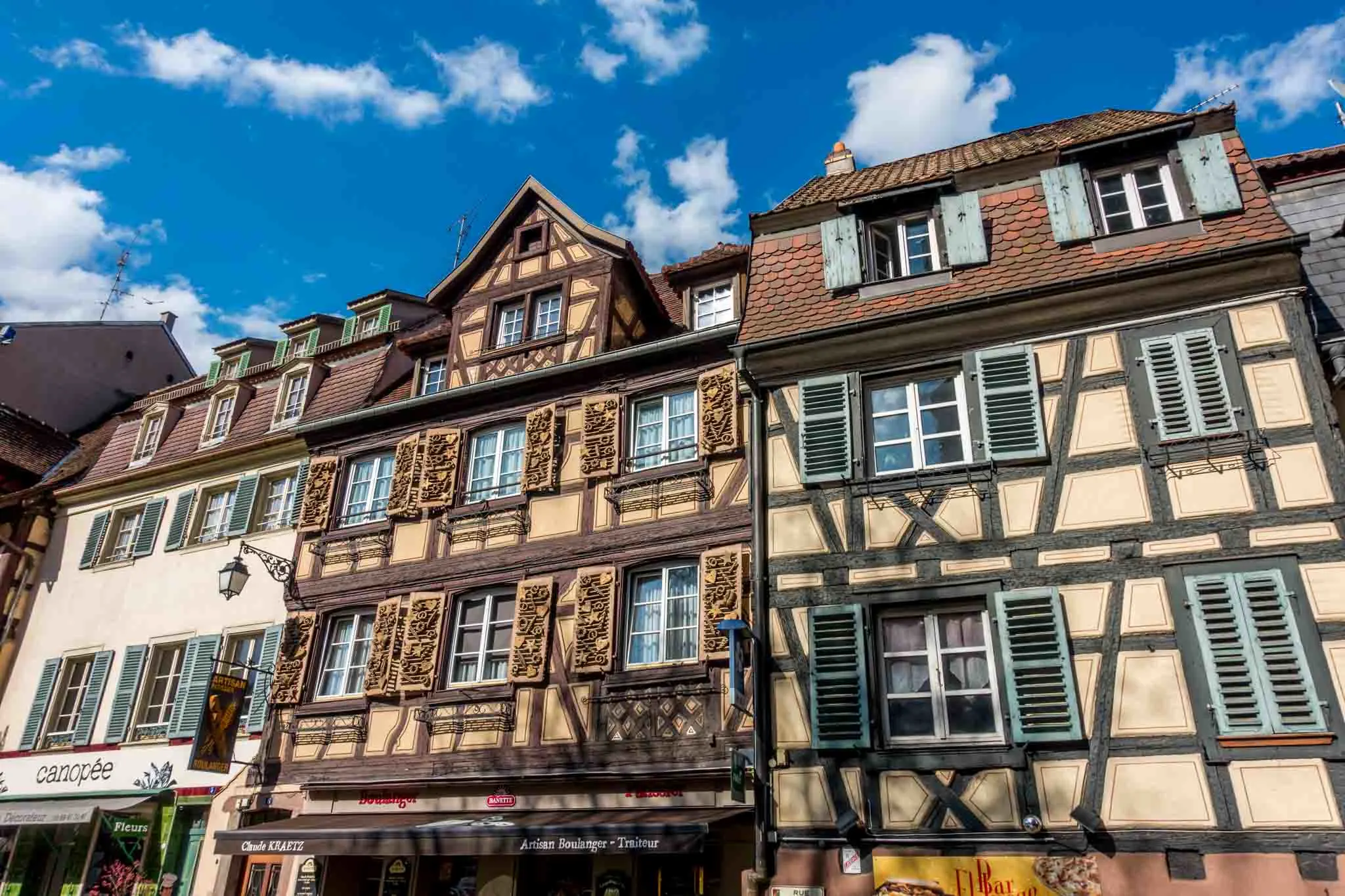 This corner of France, known as Alsace, has changed hands several times with Germany over the centuries. As a result, Colmar and nearby small French towns have a distinctive culture all their own influenced by those who have claimed the region. From language to food to architecture, everything is a little French and a little German.
Remarkably, the city's historic beauty was preserved during World War II, so its tiled roofs, cobbled lanes, and centuries' old buildings are around for us to marvel at today. We've spent a lot of time wandering the beautiful streets and uncovering all the fun things to do in Colmar, France. Here's what we've discovered about what to do, where to stay, and what to eat in this charming city.
Things to do in Colmar
Visit Petite Venise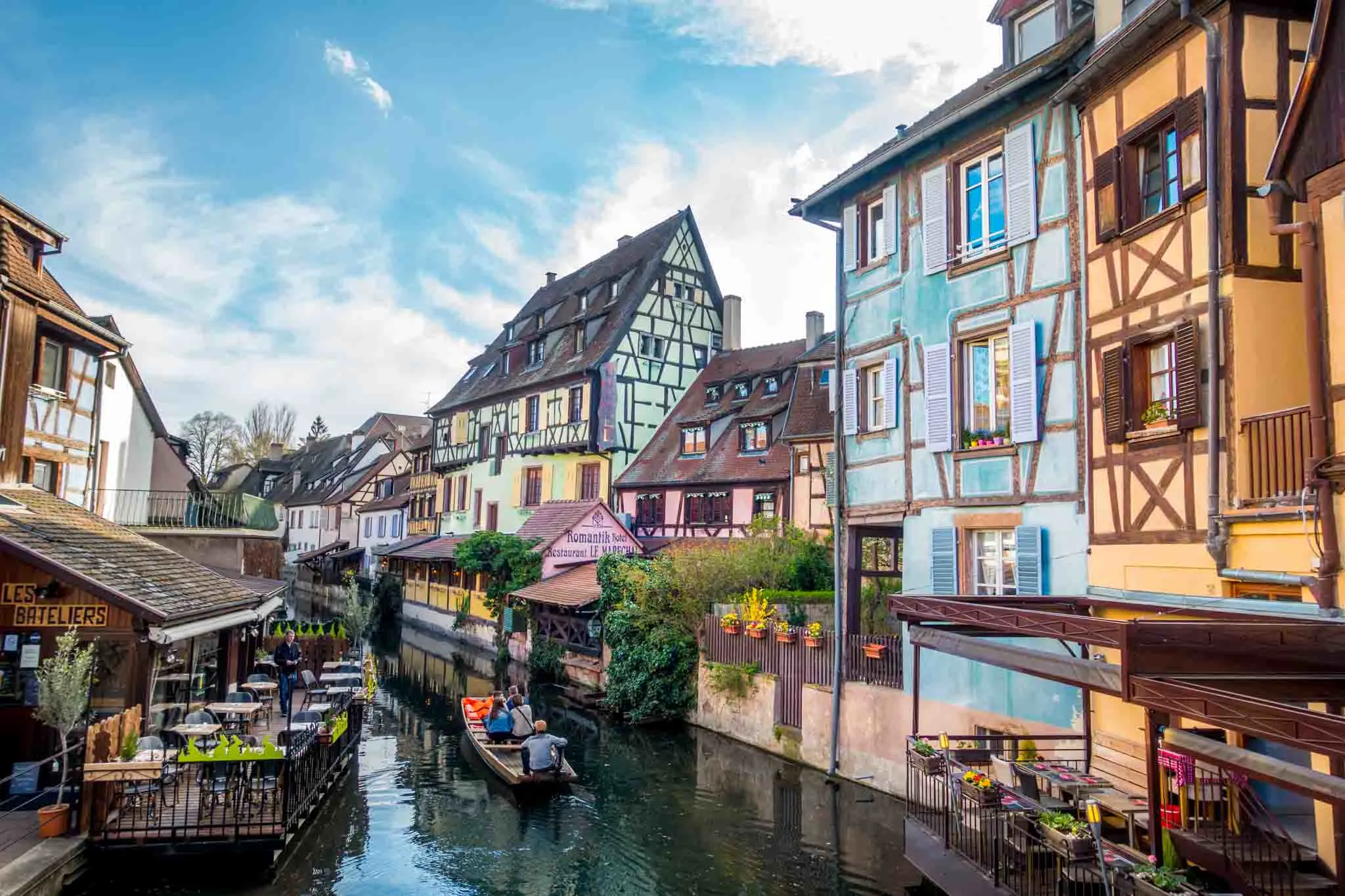 No matter how much time you have, Petite Venise (Little Venice) is an absolute must see. This stretch of half-timbered buildings along the canal is certainly one of the most picturesque views in Colmar. Walking along here, it's hard not to feel like you've stepped into the middle of a fairytale or a scene from Disney. But there's nothing Disneyfied about it—the sherbet-colored rustic homes and businesses along the water have been this way for 400 years or more, although they're probably a little brighter now.
In the Middle Ages, the river Lauch was redirected to the center of Colmar to supply water to the town for drinking and business. The surrounding area—as the street names indicate—was home to the butchers, tanners, and fishmongers, and the water helped power the businesses and move goods around. Even the market hall has steps going down to the water to receive items being transported.
Pop into the shops along the street and sample some traditional Alsatian biscuits and local charcuterie. Or just lean against the railing and watch for a while because this must be one of the most beautiful settings in all of France.
The decorations on this beautiful stretch of canal change with the seasons—flowers in the spring, lights and trees at Christmas. No matter the time of year, it's a happy place.
If you're spending the evening in Colmar, come by again at night when the crowds have dissipated and the buildings are lit up. At any time of day, a stop here is one of the best things to do in Alsace.
Wondering where to stay?

Five-star Luxury and Service: La Maison des Tetes

Views of Petite Venise: Le Colombier

Convenience and comfort: Hotel Saint Martin

You'll find more details about where to stay at the end of this article.
Visit St. Martin's Church
The soaring St. Martin's Church occupies a place in Colmar city center that has been home to a church for at least 1000 years. The current Gothic-style building, which was built between 1234 and 1365, is constructed of gleaming red and gold stone and topped with a red, yellow, and green tiled roof, characteristic of some of the oldest buildings in town.
Inside St. Martin's Church, treasures abound from the 13th-century stained glass to the Baroque organ case dating from 1755. One of the church's greatest works, the Isenmann alterpiece, is now at the nearby Unterlinden Museum. The seven surviving wooden panels by Caspar Isenmann that depict the life of Jesus are elegantly displayed there.
Cruise the canal
Piling into one of the flat-bottomed boats in Petite Venise presents a unique way to view the old town. On the canal, you'll glide under the willows, beside the flowerboxes, and past the city's lovely houses on a wooden boat powered by a silent motor. While the route doesn't present the excitement of a canal cruise in Amsterdam, for instance, it is peaceful and a nice break from walking.
The boats depart with 7-9 guests at the bridge Saint Pierre next to Restaurant Le Caveau Saint-Pierre. The half-hour cruise is €8 per person. Sit in the front of the boat for the best views.
Shop at the Covered Market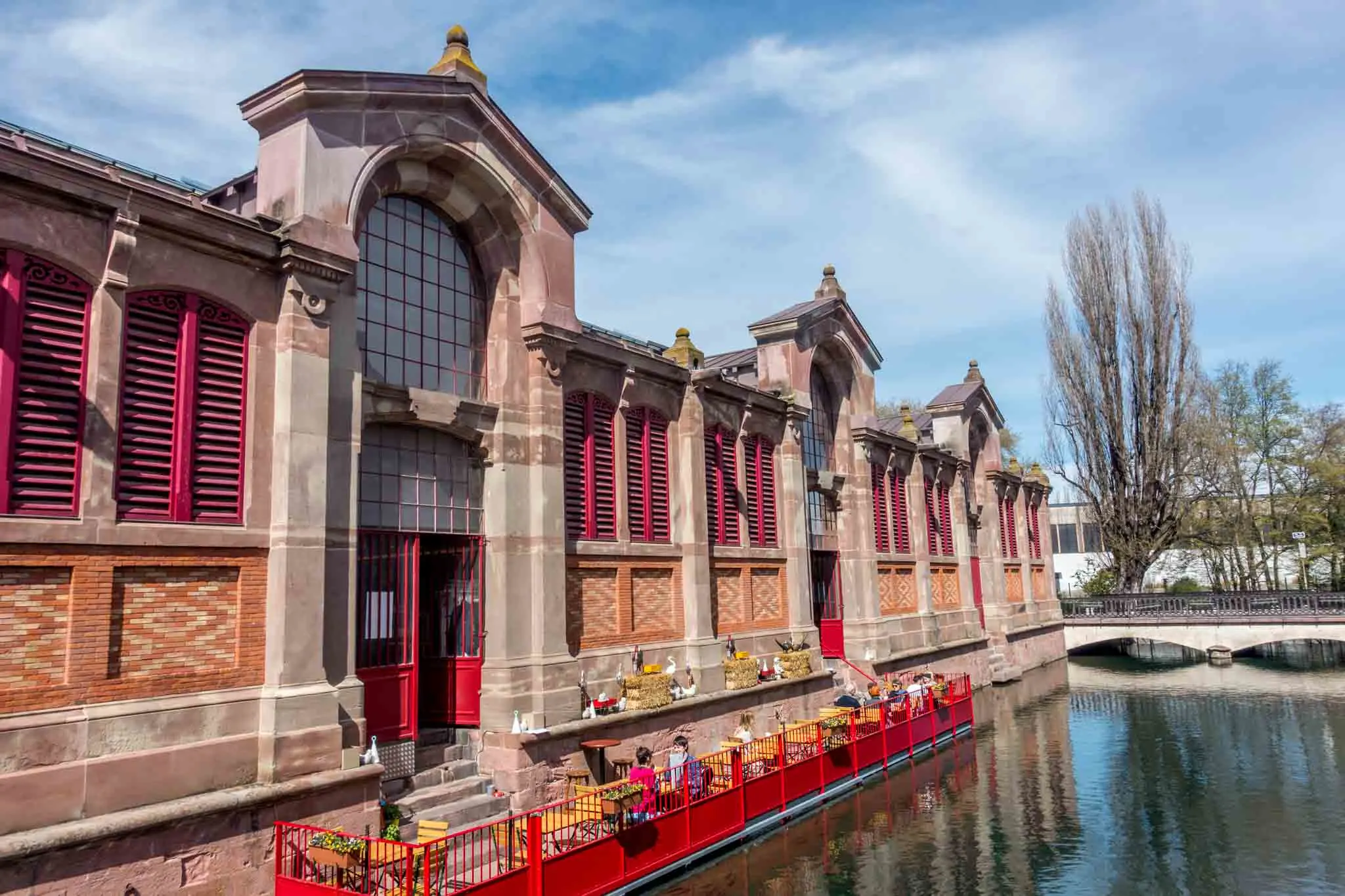 Markets are my happy place. From Italy to Ecuador, I visit them around the world at every opportunity and even planned a trip based on the schedule of the markets in Provence, France. It goes without saying that visiting the covered market is one of the top things to do in Colmar.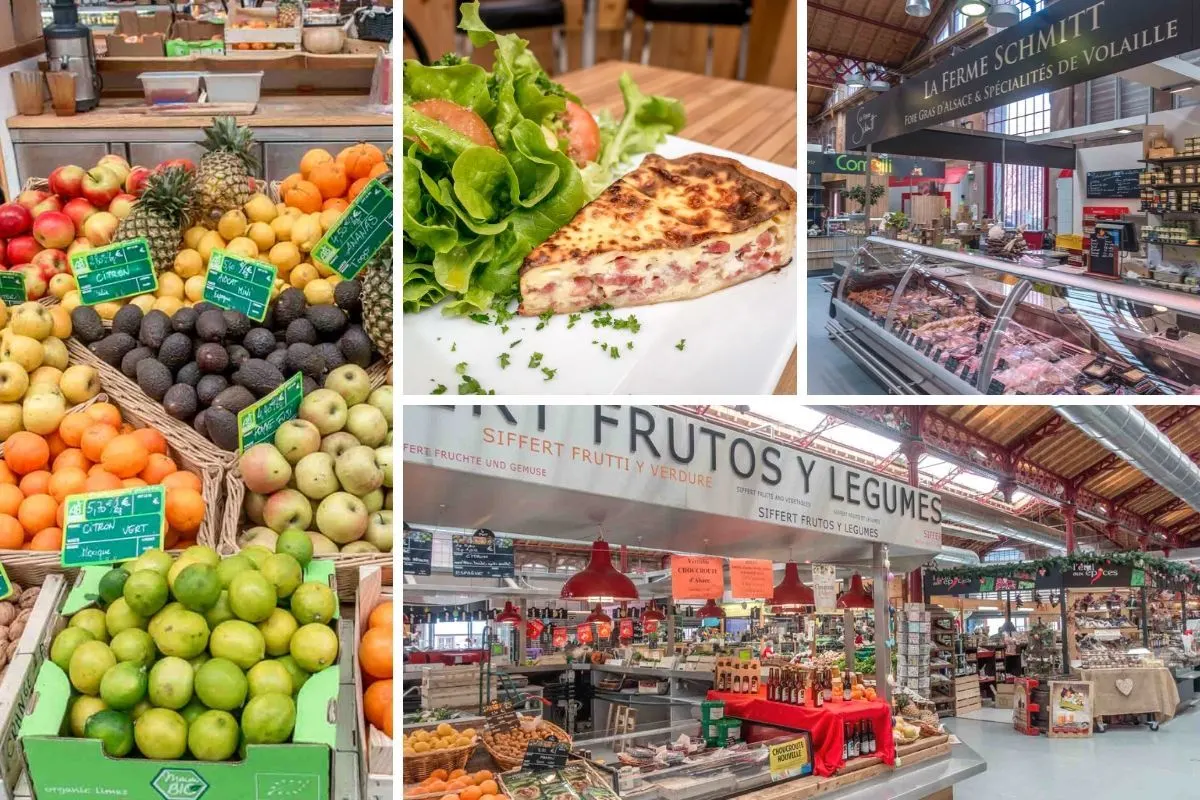 The red and orange building on the edge of Petite Venise was designed in 1865. Today, it is home to about 20 merchants providing all the good olive oil, ripe cheese, and perfect produce you'd expect for a French city. There are several café options in the market where you can try the dishes of the day. In nice weather, canal-side seating with a glass of Alsatian wine makes for a lovely lunch spot.
Hang out in a park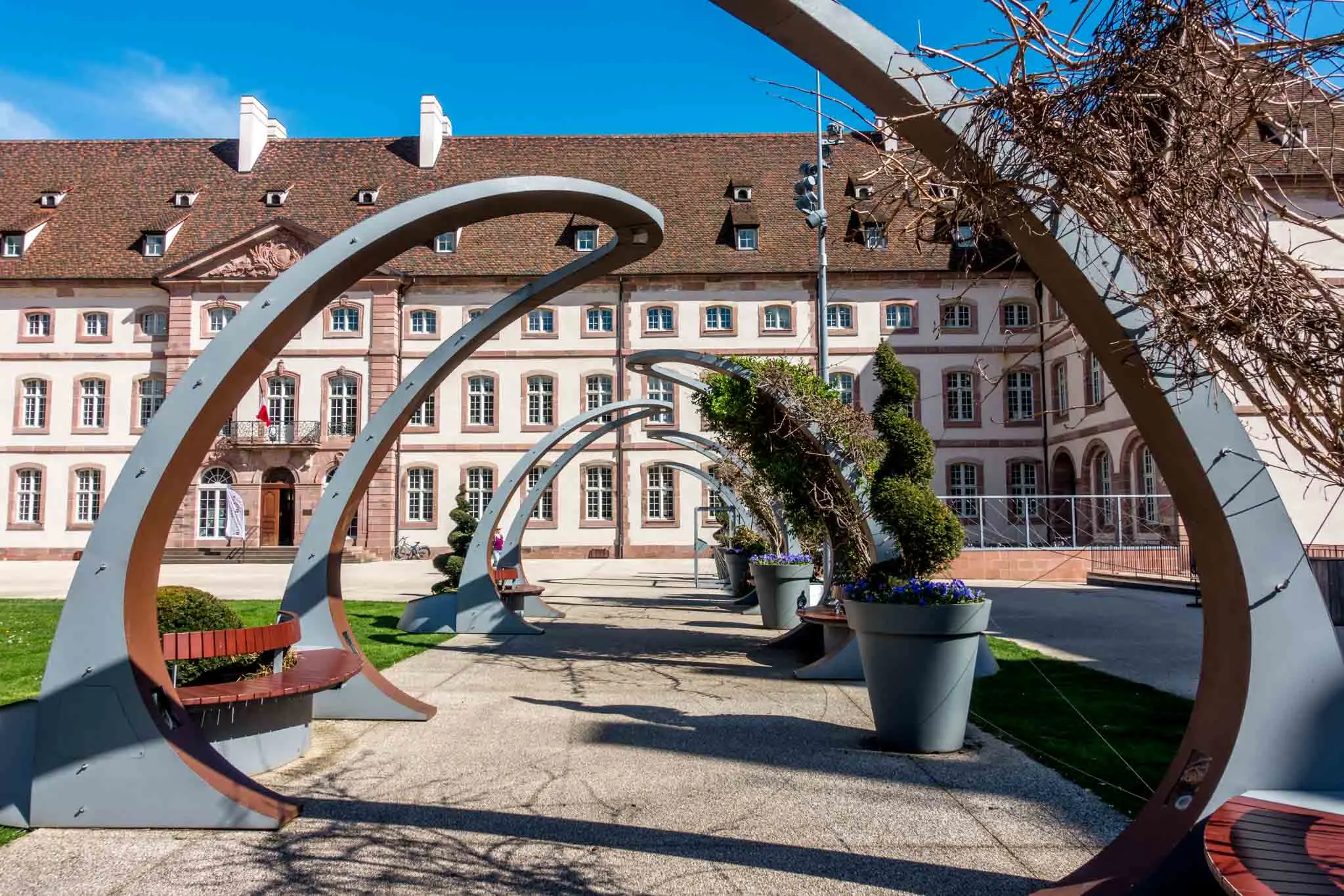 Unlike many Europeans cities, Colmar doesn't really have a main square for hanging out and people watching. There are many outdoor cafes along Grand Rue, bars and restaurants to enjoy the sun in Place de l'Ancienne Douane, and spots along the canal, but most of the lounging happens in the parks.
A block off Grand Rue near St. Matthieu's Church, you'll find Square de la Montagne Verte. With unique sculptures and lots of benches and green space, it's a great place to relax in the heart of the city.
About a half-mile away (closer to the train station), the much larger Champ de Mars park is one of the most popular places in the city. That's where you'll find locals hanging out by the fountain along with children enjoying the carousel, playing on the playground, and generally having a good time until the sun goes down.
Take a coffee break
Colmar doesn't lack for places to pause and enjoy the view. Throughout the Colmar old town, many restaurants have outdoor seating with views of the churches or surrounding Medieval buildings. On a nice day, pull up a seat anywhere you can find one and enjoy a glass of crémant or a meal outside. My favorite cozy spot is Cafe de la Lauch, which has a welcoming interior and a patio.
See the city
Colmar feels like an open-air museum. There are so many stunning buildings to see everywhere you look. Follow the golden triangles on the sidewalk that are emblazoned with the head of the Statue of Liberty, and you'll see many Colmar attractions that are well sign-posted.
In many instances, the houses themselves are a highlight. These gorgeous half-timbered structures were once considered budget construction, made of beams, straw, mud, and timbers treated with ox blood to make them waterproof. Today, they're one of the city's biggest tourist draws and are one of the reasons we keep coming back to visit.
To see the city with an expert, check out this private guided tour.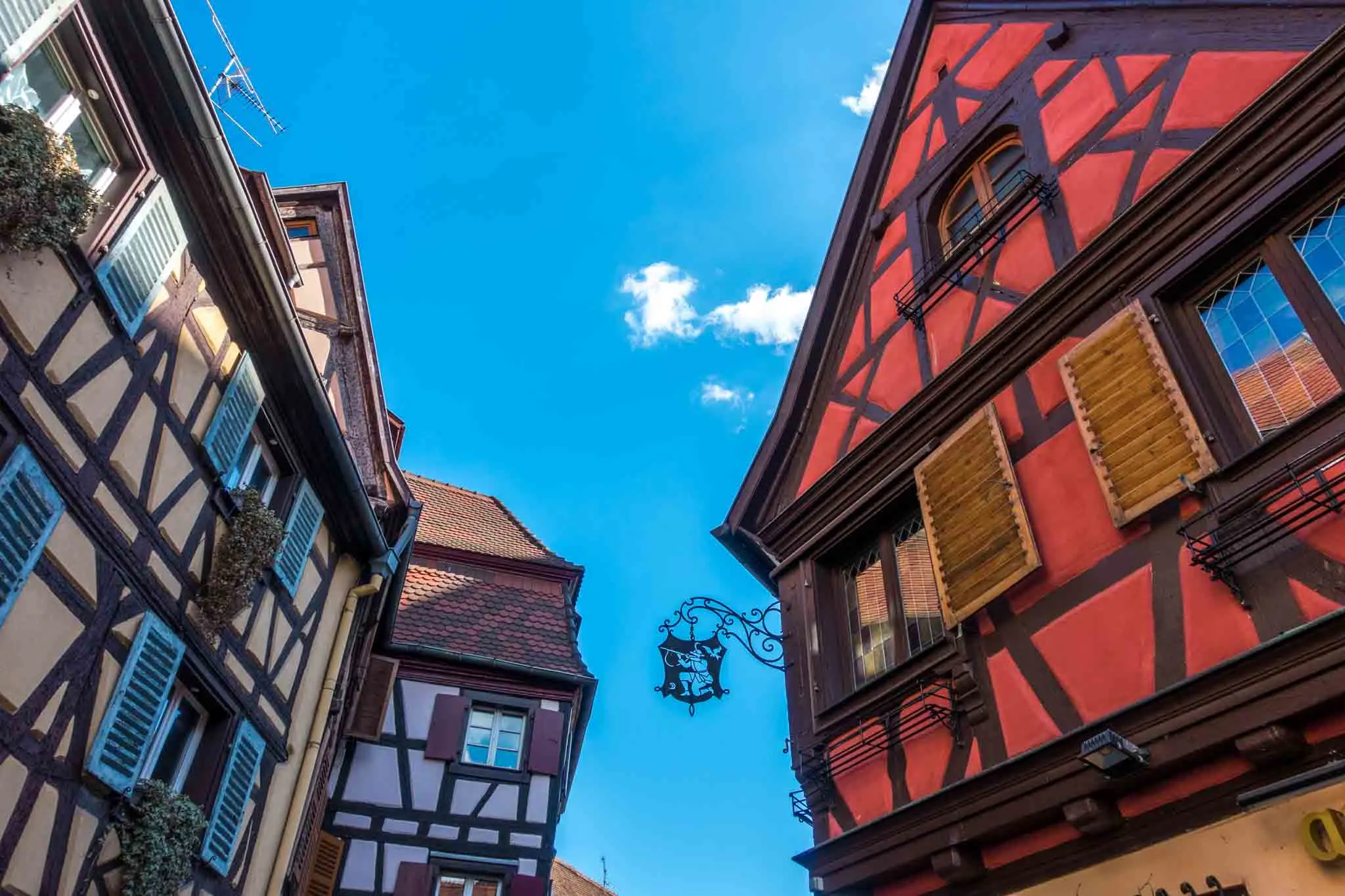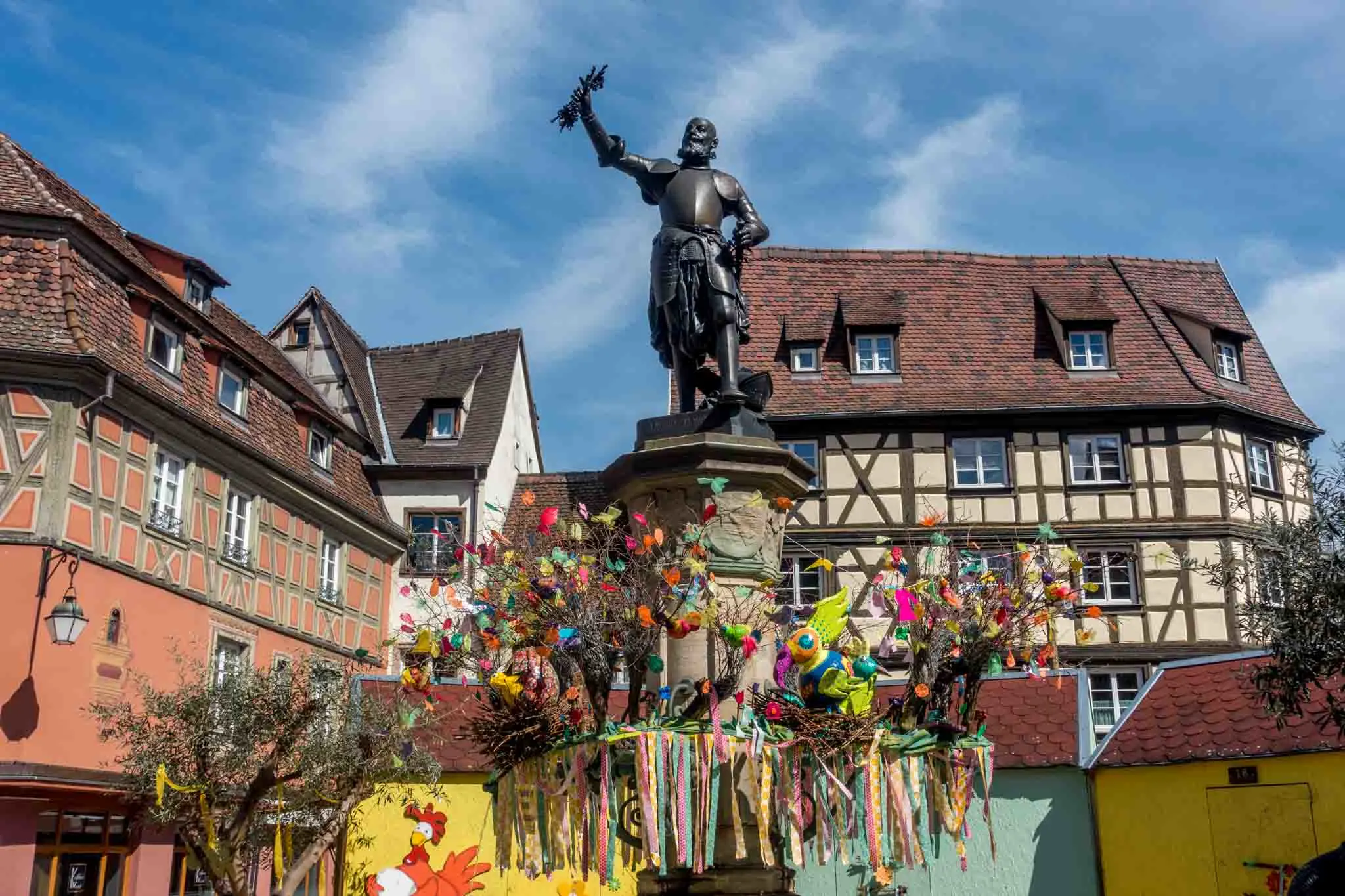 Don't miss the Customs House (Koifhus), which was the center of the action during Colmar's trading heyday in the Middle Ages. As the head of a trading league, the city was a seat of wealth and power, overseen directly by the Holy Roman Emperor.
Through the archway of the Customs House, Place de l'Ancienne Douane was the center of business in Colmar. This area is surrounded by half-timber merchant houses and has a fountain at its center. The plaza often hosts festivals, wine tastings, and fairs, like the Easter markets happening during one of our visits.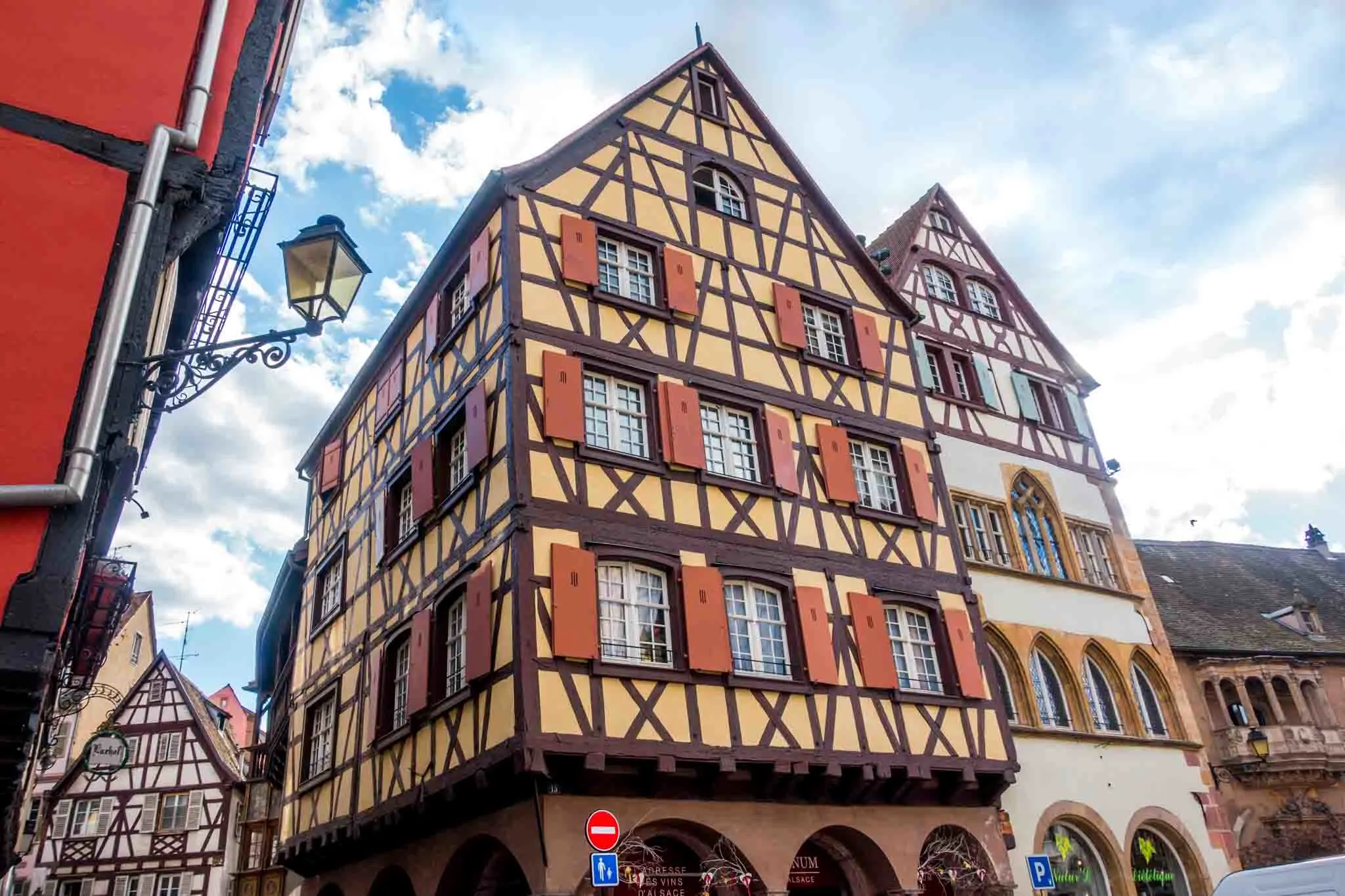 Several blocks away is the Adolph House. One of the oldest in Colmar, it was built around 1350, which blows my mind. The third story and half-timbered gable were added in the 1500s.
See the works at Musee Bartholdi
Colmar's most famous son, Frederic-Auguste Bartholdi, has a museum dedicated to his sculptures located in the home where he was born. Most renowned for his work as the creator of the Statue of Liberty, Bartholdi also made numerous other sculptures, fountains, and large-scale pieces throughout his 50-year career.
The three-story Bartholdi Museum (Musee Bartholdi) includes models and sketches of the artist's major works such as the Statue of Liberty and the Lion of Belfort as well as works like the Schwendi Fountain, which can be seen at Place de l'Ancienne Douane.
You can also visit the Bartholdi family's living quarters which have the family's furniture and the artist's personal items. Because of the level of detail, this museum is best suited for those with a deep interest in the artist and his work.
Try Alsace wine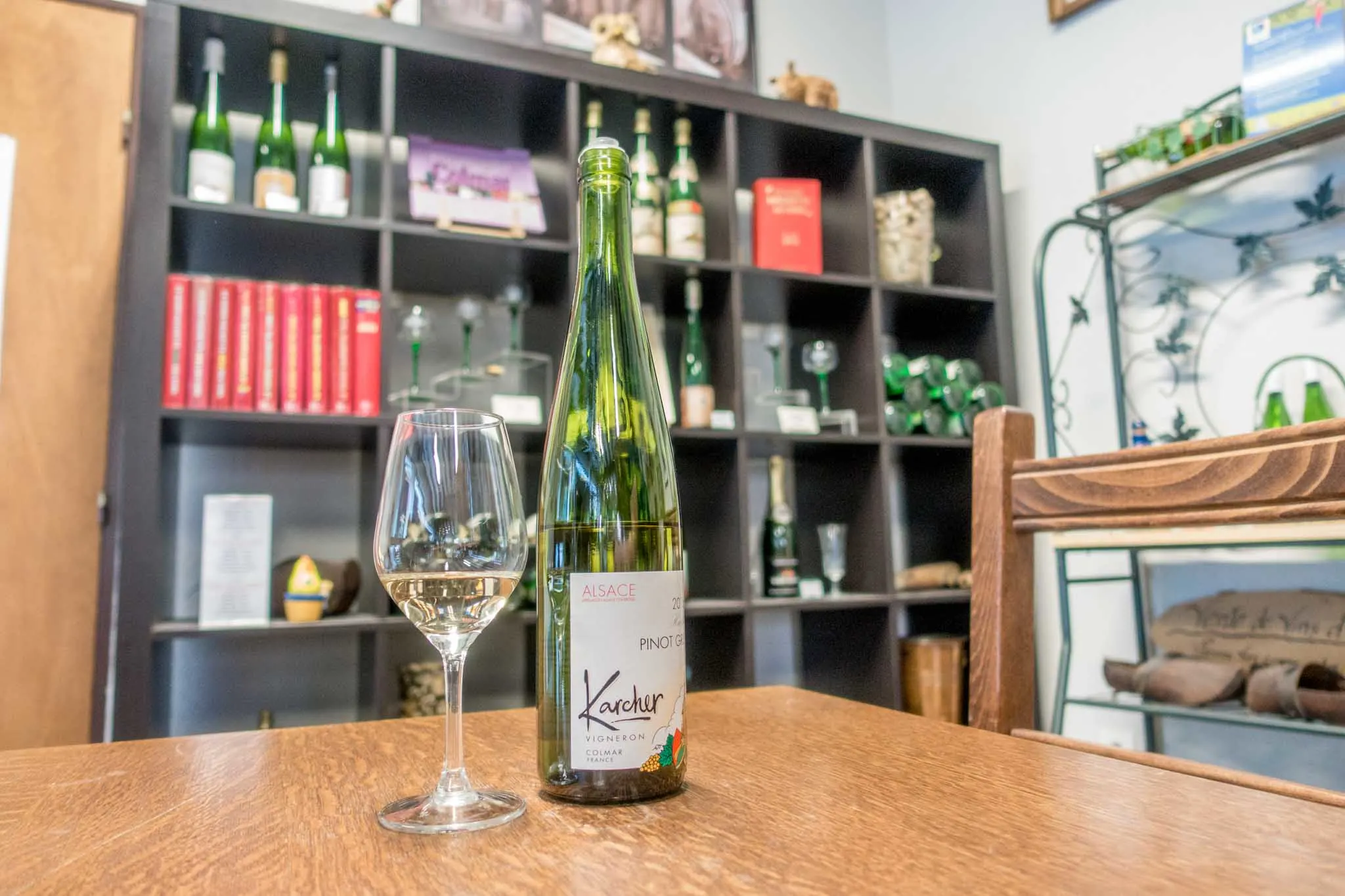 Alsace has been famous for its white wines for hundreds of years. Alsatian wines are named for their grape varietals—unlike wines in Provence, which are usually named for villages, or wines in Bordeaux, which are named after châteaux. You'll find Riesling, Gewürztraminer, Pinot Gris, and Muscat alongside the local sparkling wine called Crémant d'Alsace.
In the summer, there are often wine tastings, or you can stop at one of the wineries conveniently located in the center of town. We had the chance to visit Domaine Karcher, a family-run vineyard that has made wines in Alsace for over 60 years. Their 10 hectares of vines are 20 minutes away by tractor (they really do travel that way), but the wine-making and aging happens in Colmar.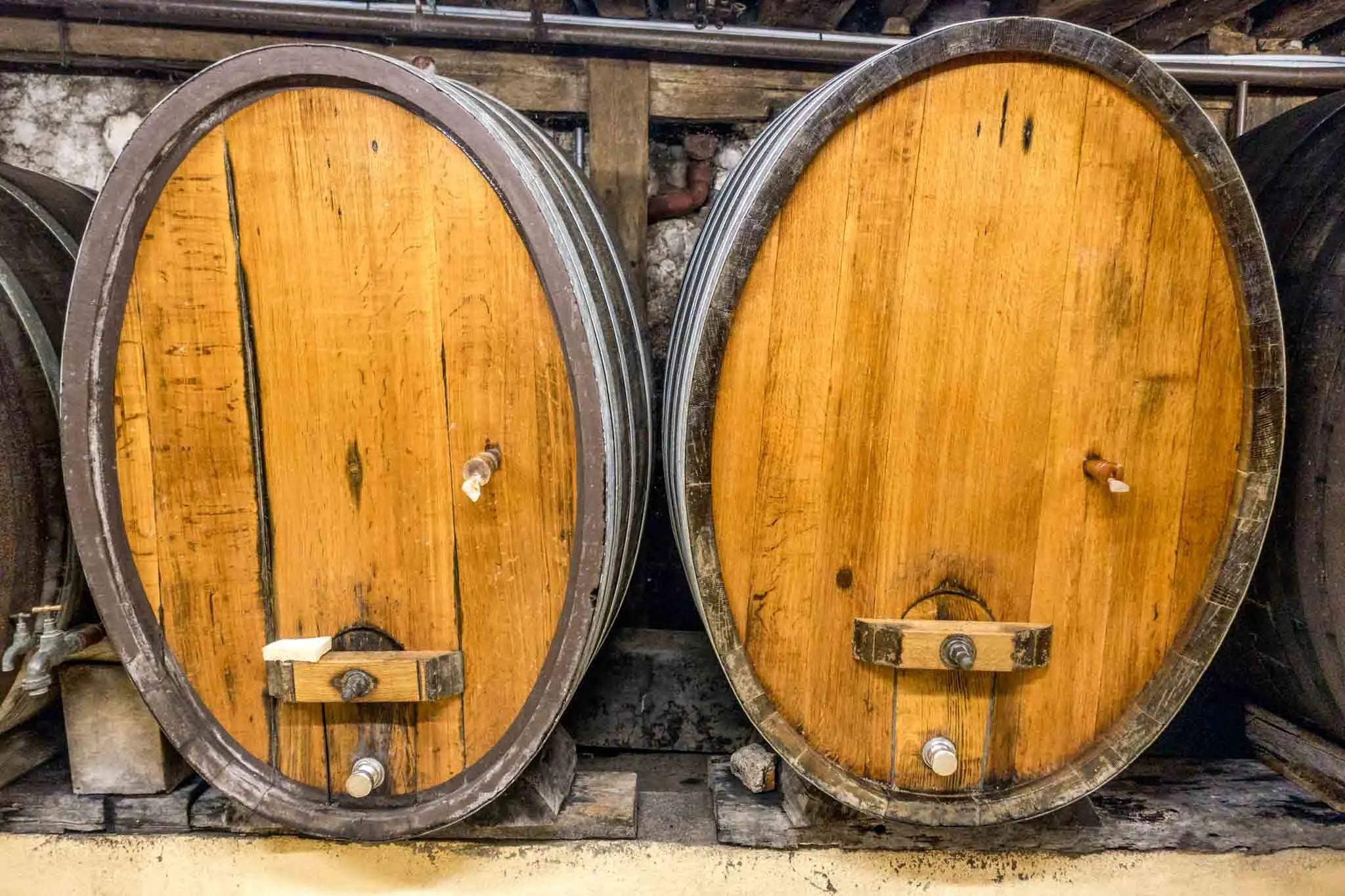 During our 45-minute-long tasting, we saw the barrel aging cellar and tried three wines—the crémant, a pinot gris, and a late harvest gewürztraminer. Crémant K Brut (like the crémant I recently tried in Luxembourg), is produced using the same process as Champagne and is aged for 18-24 months. The medium-dry pinot gris was easy drinking. The late harvest gewürztraminer—all harvested by hand—was sweet, fruity, and a delicious compliment to the drier wines. If you have a little spare time, it's worth it to do a proper tasting.
See the Pfister House paintings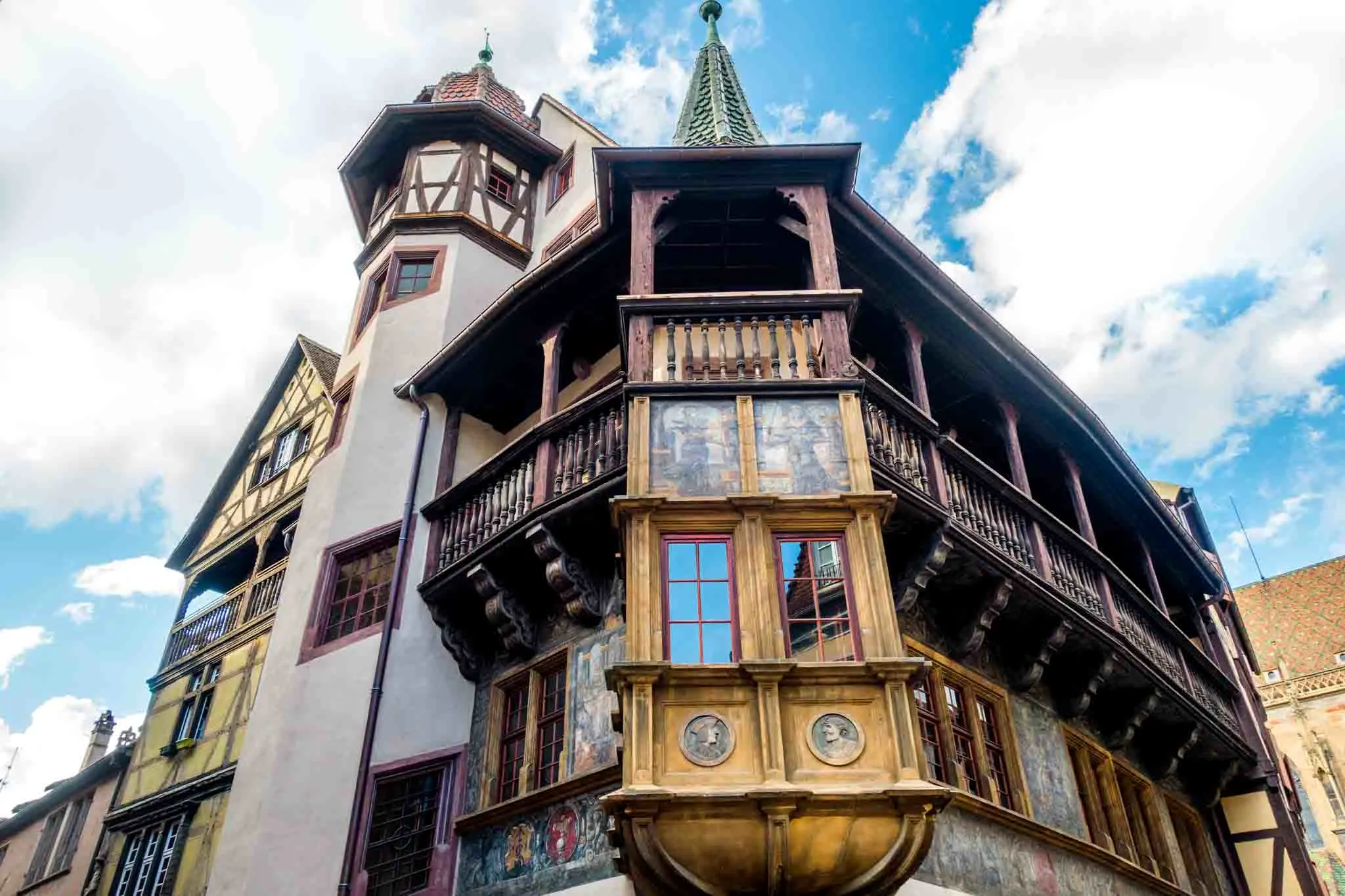 Built in 1537, the Pfister House stands out from the half-timbered houses in Colmar. With its painted facade, wrap-around wooden gallery, and octagonal turret, the house was a dramatic display of wealth in the 16th century and still attracts the attention of passersby today.
An example of renaissance humanism, the Pfister house is one of the symbols of the old Colmar. The wine store on the ground floor is a great stop to try some of the best Alsatian wines.
Ride the tourist train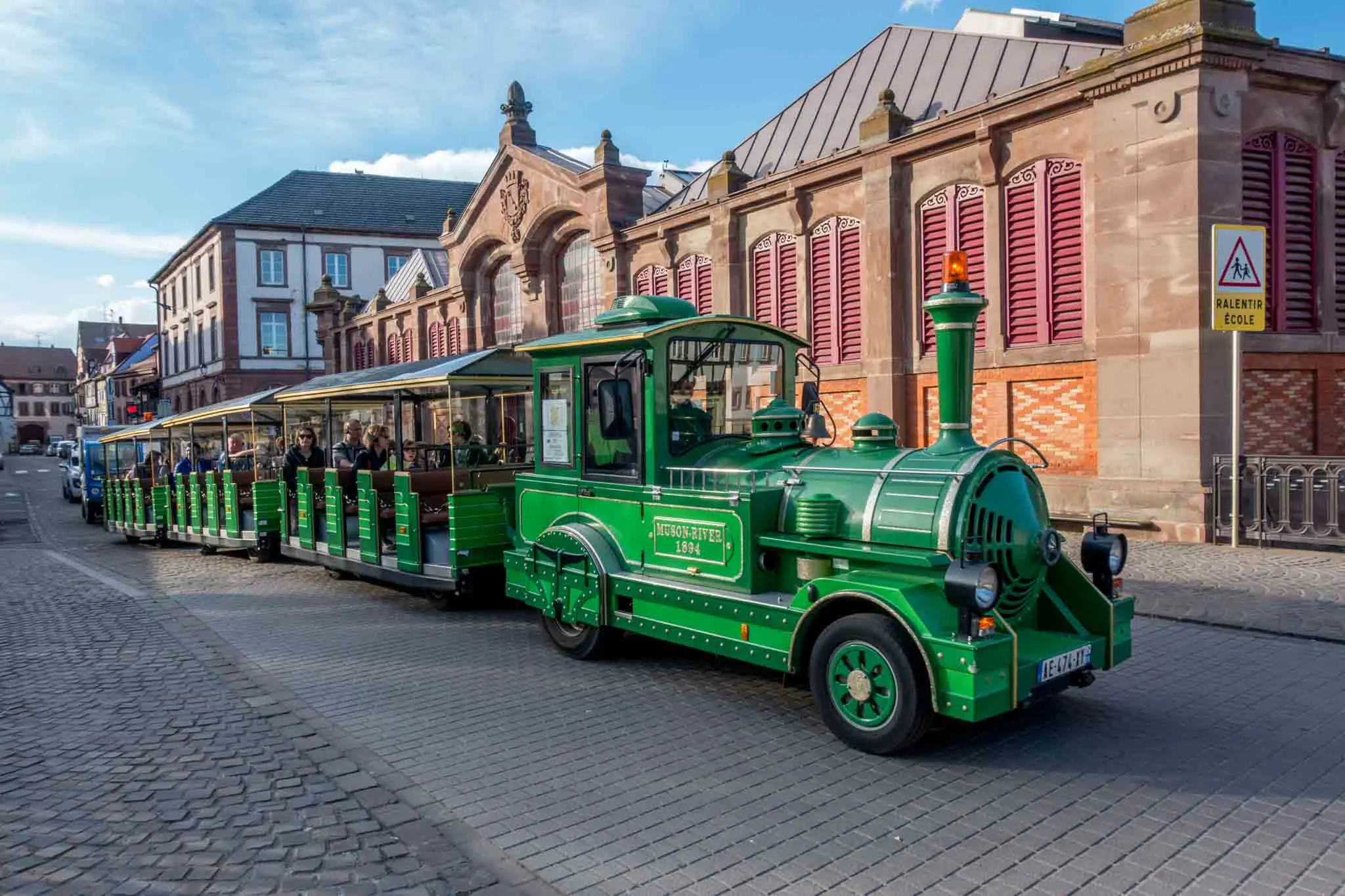 Colmar has two competing tourist trains—one green and the other white. Every half-hour, they make a 35-minute loop through the heart of town giving visitors a look at everything that makes this city so special.
Along the train ride, you'll hear a bit of narration available in more than a dozen languages. This is a great option for those traveling with children or those who just want to save a bit of wear and tear on their feet. Both trains leave from the Unterlinden Museum 9:00am-6:30pm (shorter hours in winter).
Try Alsatian food
The German influence on Alsatian cuisine is clear from the potatoes and pretzels to the sauerkraut and sausage. Around town, you'll see rösti (an oven-baked potato-and-cheese dish), Alsatian Baeckeoffe (a casserole of meats, potatoes, onions, and other vegetables), and spätzle of the kind you typically find on tables in Germany or Austria.
There's also plenty of foie gras, poulet au Riesling (chicken cooked in Riesling wine), and quiche. Because, France. Also popular are Munster cheese and tarte flambée (aka flammkuchen), a thin crust pizza which is found all over town and is a great option for lunch or a light dinner.
There are no fewer than three Michelin starred restaurants in Colmar, so there are plenty of good eats available. For something less fancy, the options in the center of town near the Customs House are surprisingly good.
Appreciate art at Unterlinden Museum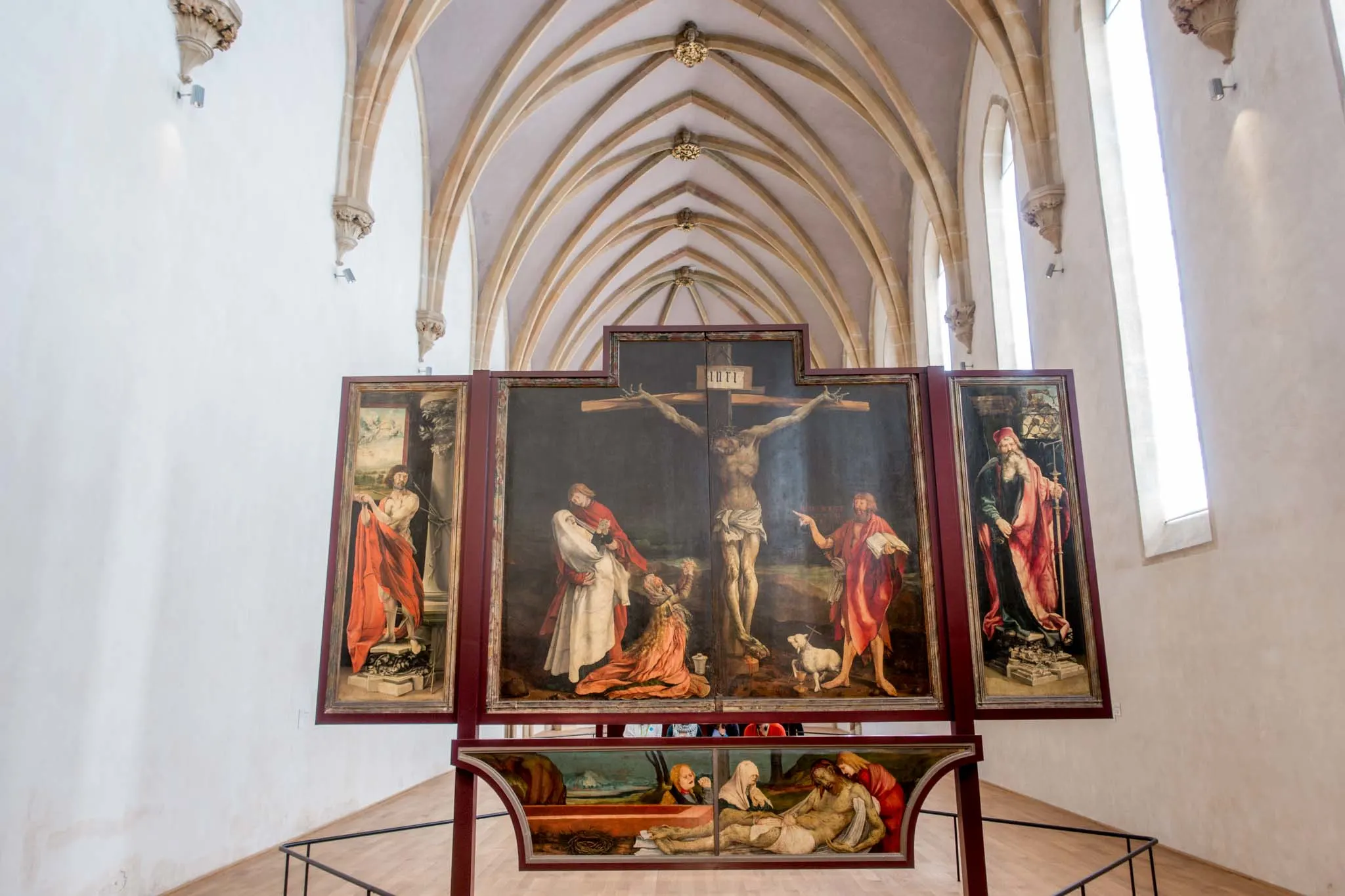 The magnificent Unterlinden Museum covers nearly 7000 years of history. From prehistoric times to contemporary works, there's not much the museum doesn't touch on. There are exhibits on Medieval winemaking, Alsatian cultural artifacts, and ancient mosaics as well as works by artists such as Lucas Cranach, Martin Schongauer, and even Monet.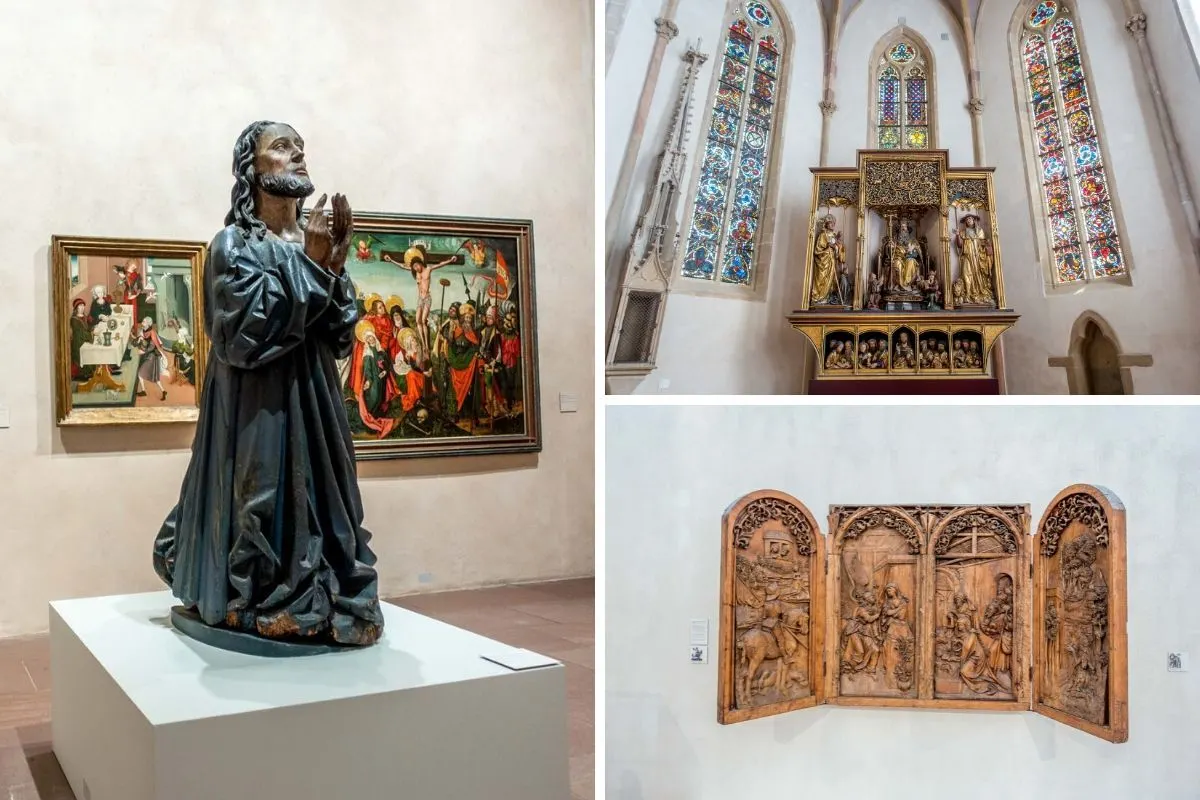 The star of the show is the Isenheim Altarpiece. Dating from 1515, the two-sided painting is done on hinged panels that the priests could move depending in the season. The effect is a rich, beautiful painting that feels a bit like a "choose your own adventure story," only with Jesus at the center.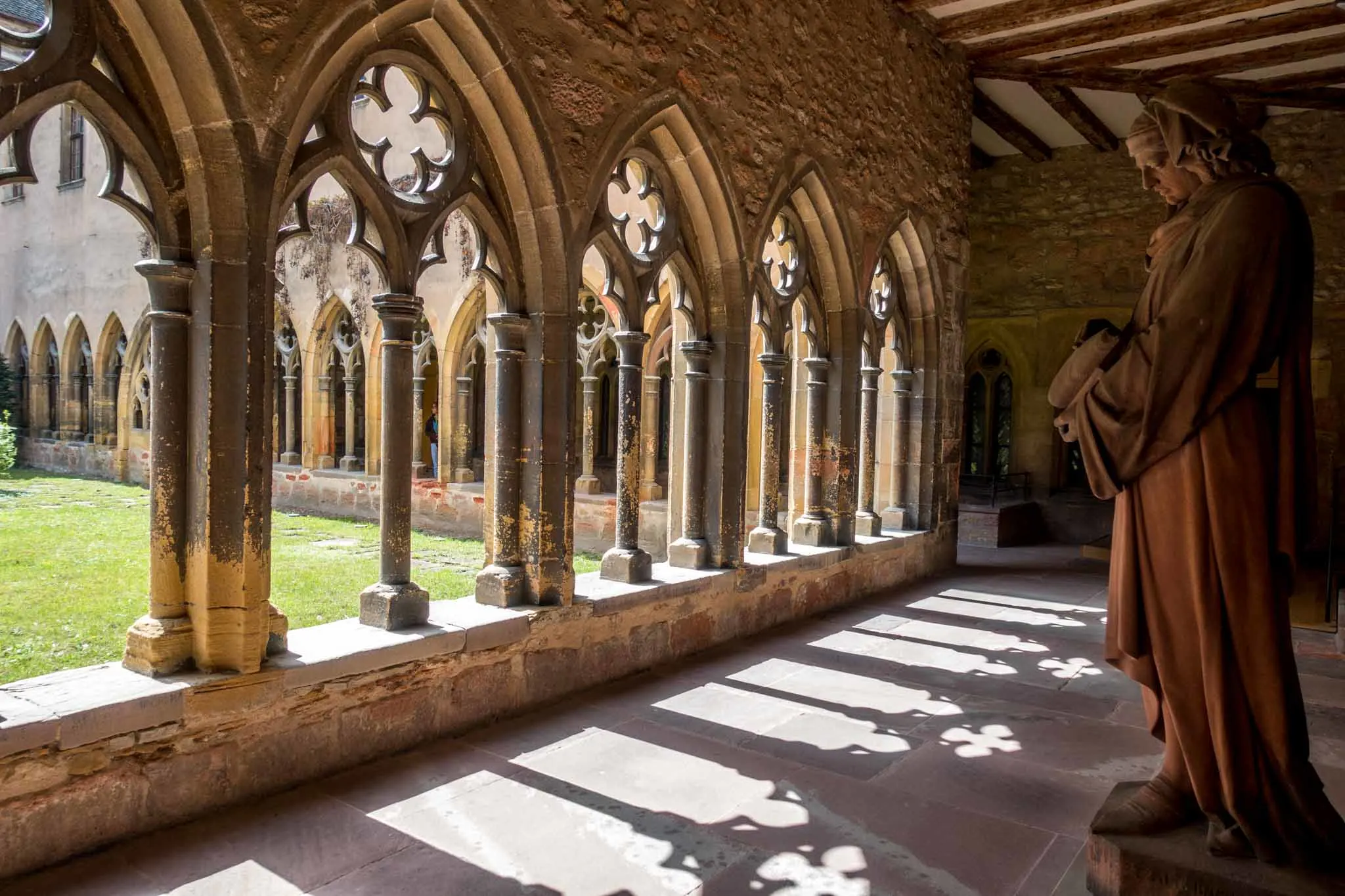 In addition to the displayed works, the museum itself is something of a work of art. The primary area, which houses the Altarpiece, is a 13th-century Dominican convent and chapel with a lovely center courtyard. It all seems quite appropriate considering the religious subject matter of most of the art. There's also an underground gallery and a wing for displaying modern art and temporary exhibits.
Explore the Alsace wine route
For even more winding lanes and half-timbered buildings, take a day trip to some of the nearby towns along the Alsace wine route.
Just seven kilometers away, an easy bike ride (bikes can be rented at the Colmar train station) will deposit you in the town of Eguisheim. This little wine town was once named France's favorite town, and it's easy to see why when you stroll its circular path. With just 1500 people, it has 33 wineries, most of which you can easily pop into for a free tasting.
With a car, you can go a little further afield as we did, taking a trip that's one of the best things to do in France.
Stop in Eguisheim, using the convenient parking on the outskirts of the town center. From there, consider stops in Kaysersberg and Riquewihr, at a minimum. Both cities—just a few miles from each other—are lined with ancient, colorful buildings, flowers galore, and plenty of places with good food and good wine. Thanks to the easy driving through the vineyards, the short distances, and the beautiful scenery, this is one of the cutest and simplest day trips from Colmar.
Tip: If you're interested in renting a car, limit yourself to the Avis at the train station. Other rental car agencies are located farther out but can be difficult to reach. (Pro tip: We have a whole article about renting cars and driving in France, which may help you!)
Skip the driving altogether, and take a small-group day tour of the Alsace wine route.
Play at the Toy Museum of Colmar
Dolls, cars, puppets, games, and more delight visitors of any age at the Toy Museum of Colmar. The exhibits—housed in what was once a movie theater—give in-depth information on the toys' history, often stretching back a century.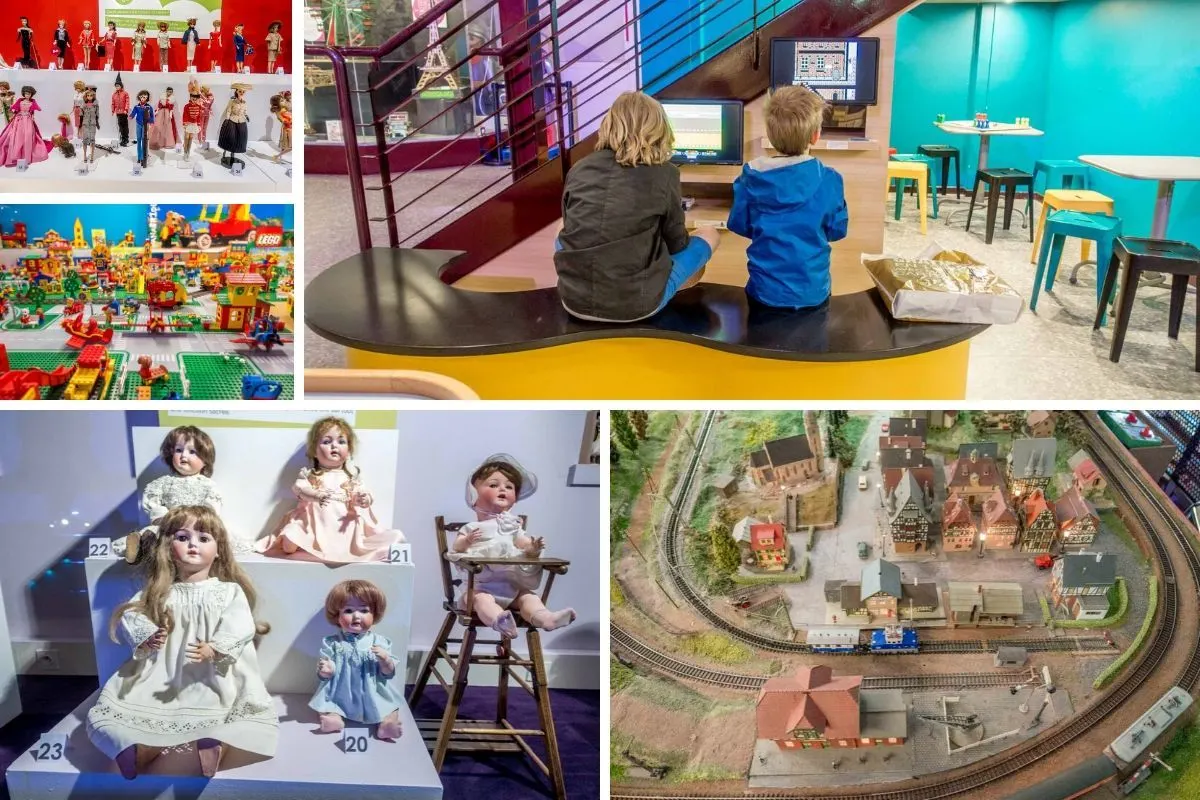 From vintage teddy bears to original Barbie dolls to board games and video games, the space has lots to see and reminisce about. Children will enjoy the interactive exhibits while adults are reminded of the toys that marked their childhood. I was a bit nostalgic at the bedroom full of toys and gadgets from the 1980s and early '90s that looked like my own elementary school collection. Train aficionados will love the half-mile-long train display on the second floor, too.
See the Statue of Liberty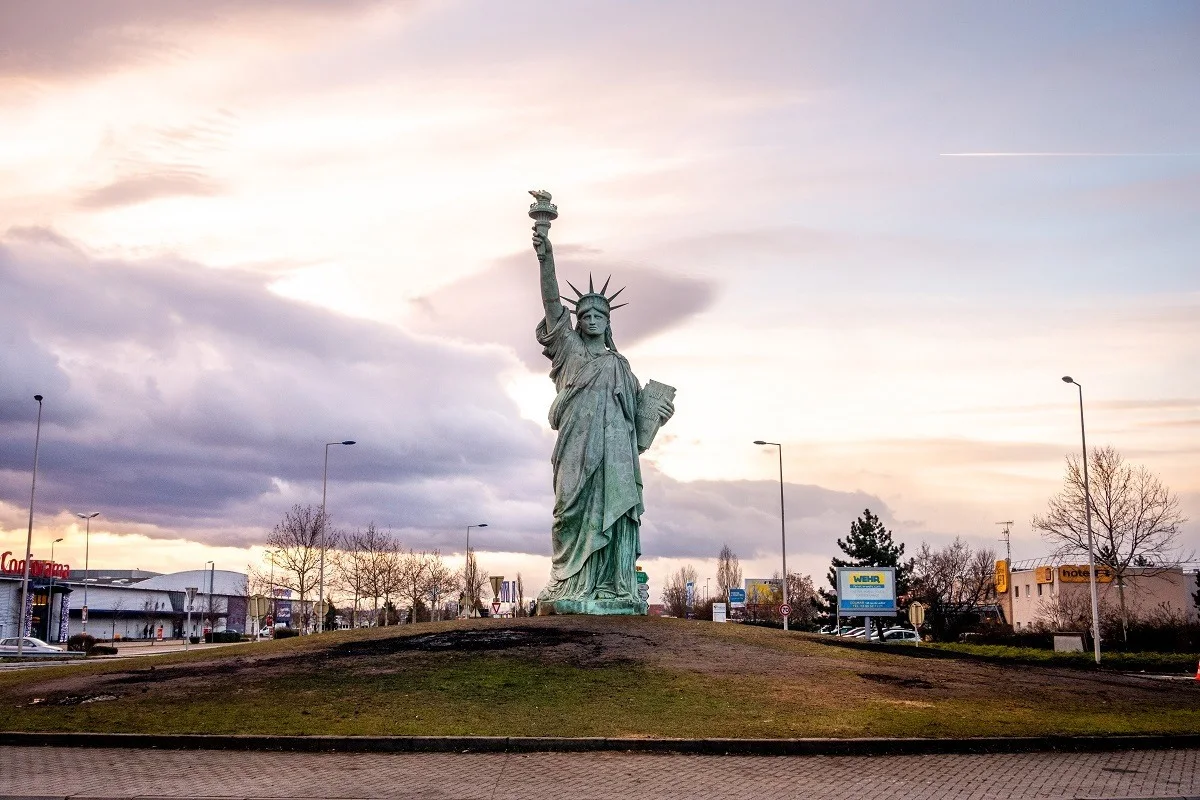 About 2 miles from the historic center, you'll find one of Colmar's most unique attractions—a Statue of Liberty. The 39-foot-tall statue honors its sculptor Bartholdi in a big way.
The Statue of Liberty is in the middle of a roundabout at the north end of town. If you're arriving from the Colmar airport or Strasbourg, it's easy to spot at the intersection of D83 and Rue Curie.
Visit the Christmas market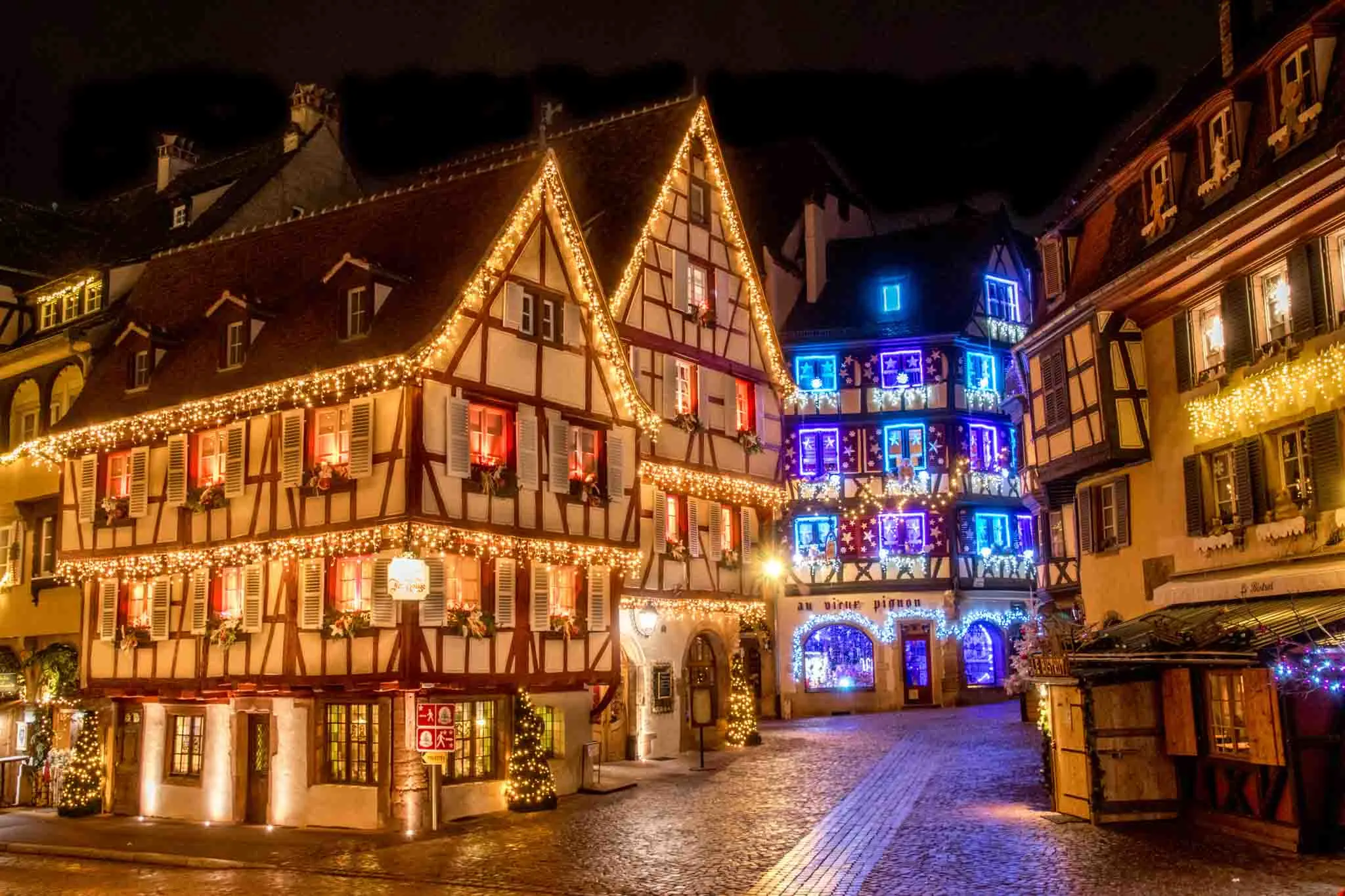 At Christmas, all of Colmar becomes part of the Christmas market. Throughout the historic center, there are carnival rides, cooking demonstrations, Christmas trees, and thousands and thousands of glittering lights illuminating the half-timber. You'll find lots of hot chocolate, mulled wine, and plenty of sweet and savory treats.
The Christmas market runs for about 5 weeks, from the last week of November through December 30. Technically, the market has six separate parts, though they all seem to run together into one giant celebration. It's a magical time to be in the city.
When to Visit Colmar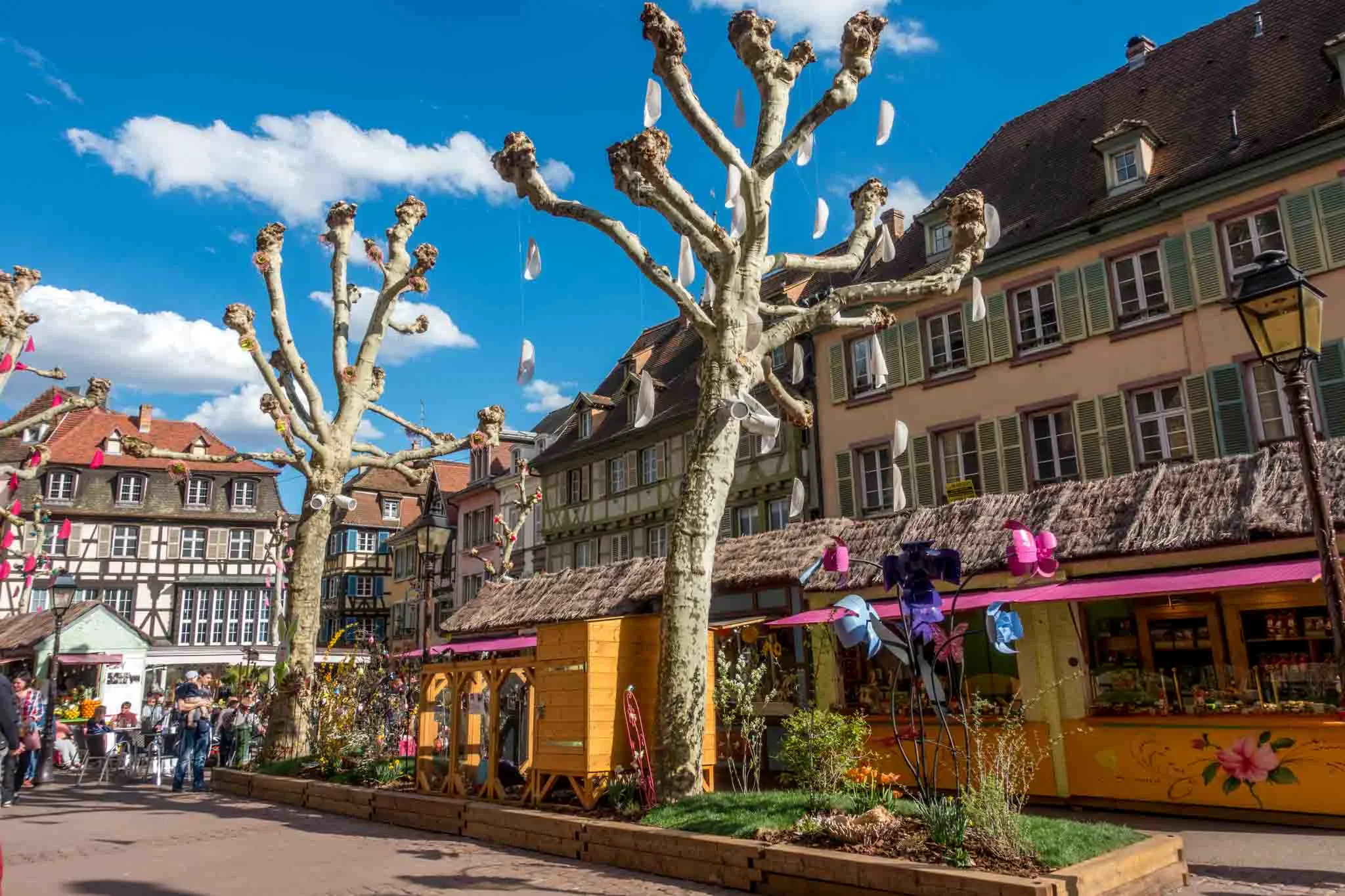 There seems to be something fun going on most weekends of the year. From mid-March through mid-April, the Easter markets dominate the heart of the old city. In July, the Colmar International Festival brings stars from the classical music world. In December, the storybook city comes to life with the glory of the Christmas markets, which are some of the most popular in Europe.
In between the bigger fairs and festivals, there are concerts, celebrations of Alsatian culture, wine tastings, and more. The result is that there's almost no bad time to visit Colmar. It's worth noting that November and January are the quietest months, and January may find some businesses closed after the activity of the Christmas season.
Where to Stay
There are so many great places to stay in the heart of the city.
La Maison des Tetes–This five-star hotel features 21 plush rooms located in an historic monument building that dates from 1609. Its brasserie and restaurant are also highly rated (Check reviews and book a room).
Le Colombier–In the heart of Petite Venise, this hotel offers 33 air conditioned rooms and suites. It's hard to find better views in town (Check reviews and book a room).
Hotel Saint Martin–In the city center, the Hotel Saint Martin offers the convenience of an ideal location and clean, comfortable rooms (Check reviews and book a room).
Where to Eat in Colmar
The city is full of good eats at different price points.
Restaurant JY's–With two Michelin stars, Restaurant JYS is one of the very best restaurants in Alsace and a must-visit destination for food lovers. It's also situated right in the heart of Petite Venise.
Le Caveau Saint Pierre–With great tarte flambée and other Alsatian food, Le Caveau Saint Pierre is a great option for a quick lunch or filling dinner.
Koifhus Winstub–A large selection of meats, fish, and other traditional dishes are offered up by this well-priced eatery in the middle of old town. Grab a seat outside, if the weather allows.
Brasserie Schwendi–This Alsatian restaurant in the center of town offers rosti, tarte flambée, and many other solid choices. There is lots of seating outside and inside.
Le Palmyre – Le Palmyre offers a great change of pace with Lebanese and Syrian specialties. Their meze plates and falafel are delicious.
How to Get Here
Colmar, a city in northeastern France, is located near the borders of Germany and Switzerland.
From Paris: Colmar is 2 hours 20 minutes east of Paris on the TGV train. Many of the Paris to Colmar train routes require an easy switch in Strasbourg to a local train (about 2 hours 40 minutes, total), but there are some direct TGV options.
From Basel: The trip from Basel Mulhouse Freiburg airport—which serves France, Germany, and Switzerland—is about 45 minutes.
Laura Longwell is an award-winning travel blogger and photographer. Since founding Travel Addicts in 2008, she has written hundreds of articles that help over 3 million people a year get the most out of their travel. In that time, she has visited nearly 60 countries on 5 continents, often returning to favorite destinations over and over again. She has a deep love of history, uncovering unexpected attractions, and trying all the good food a place has to offer.
In addition to Travel Addicts, Laura runs a site about her hometown of Philadelphia—Guide to Philly—which chronicles unique things to do and places to see around southeastern Pennsylvania. Her travel tips and advice appear across the web.