Although the swirling blue slides aren't visible the exact moment you step off the ship at Amber Cove cruise port, they could be. Instead, what you see are the brightly-colored cabanas tantalizingly balanced on the wooden walkway over the ocean. If you're not sure what to expect from your day (or longer) in the port of Puerto Plata, Dominican Republic, Amber Cove will warm you up.
About Amber Cove Cruise Port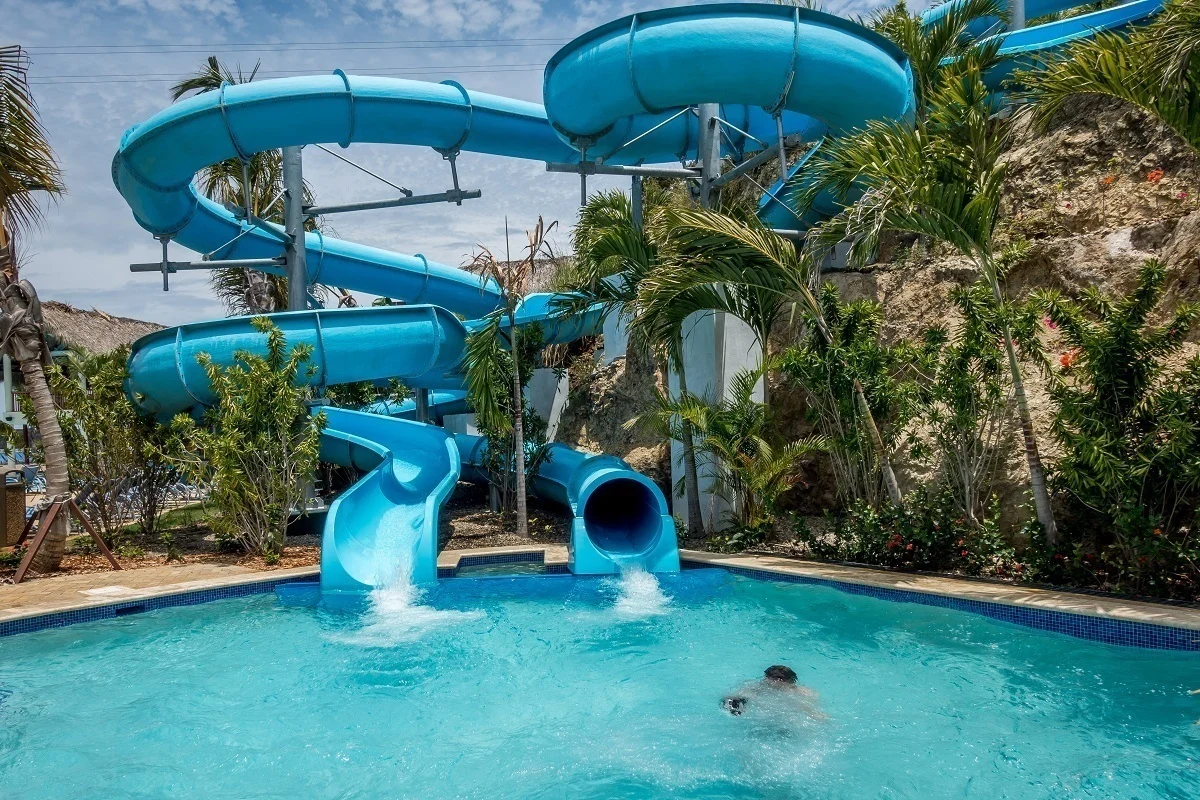 Amber Cove port is the exclusive port for Carnival Corporation's lines, including Holland America, Princess, and Carnival. (I first visited on the now-defunct Fathom line.) The $85 million port is located near Puerto Plata on the northern coast of the Dominican Republic.
Although the port itself doesn't have a beach, there are lot of options for on-site activities, and it is close to great beaches and other attractions.
Things to do in Amber Cove
The Dominican Republic port has many things that are typical of a cruise port in the Caribbean, but there are also lots of activities and offerings that set it apart, making the port a destination itself.
It's not usually my style to hang out at the port when I take cruises. Usually I'm off exploring local beaches, scuba diving, or snorkeling. But sometimes you need a balance between adventure and relaxation, and Amber Cove is great for that. Here's a look at some of the things you can do in the comfort of the cove.
Explore the port
The area is large, so there's a lot to see. There are palm trees, man-made waterfalls, waterside hammocks, and fountains. In the main plaza, you'll find giant colorful masks with descriptions explaining their significance.
The huge Amber Cove sign—conveniently positioned with your ship in the background—is a great place for taking photos. Afterward, get your passport stamped at a kiosk in the center of the port.
Shop
Shops are open when the ships are docked. There is, of course, a Diamonds International (this is obligatory at every port, right?) and a full complement of souvenir shops. There is every kind of duty-free rum you could hope for, with free tastings available.
The most unique shopping opportunity is at the artisan market. You'll find a variety of local products, including food items like chocolate, handmade recycled paper, jewelry, and more. Because the products are truly local, purchases here help to support the local economy beyond the port.
Enjoy the pool
The winding pool (numerous lifeguards included) occupies a large section of the port. It twists and turns at different depths that are perfect whether you want the wading area for children or the deeper area that becomes a swim up bar at the Coco Cana. And what's not to love about a swim up bar? Plus, there's a sea of pristine, blue lounge chairs just waiting for guests.
Play on the slides
Just next to the pool area are those alluring, swirling slides. The side-by-side tubes allow you to race your friends to the bottom and provide just as much (if not more) fun for adults as for kids.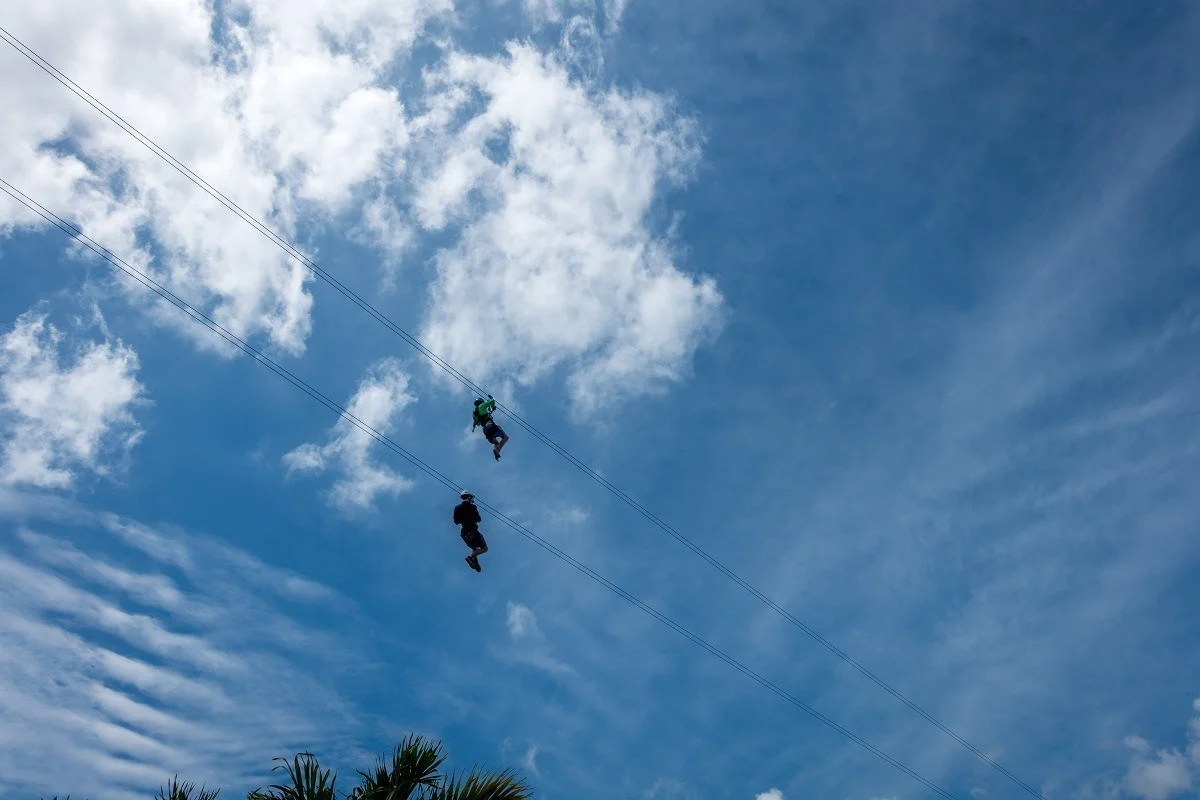 Zip line
If you're looking for something even more active, clip onto the twin zip lines that run above the pool. For just $20, you can speed down them an unlimited number of times.
Try a water sport
Nearby, you can rent pretty much any kind of equipment you need to make your day more enjoyable. Kayaks ($19-46) and stand up paddleboards ($20-32) can help you explore the bay adjacent to the port. For something different, try out an aquaboat cycle—like a cross between and paddle boat and a bicycle.
Grab a drink
Yes, there's Coco Cana in the pool area, but there are other options if you want to get away from some of the crowds. The aptly-name Sky Bar at the top of the hill is a great place to watch the sunset, or you can head to El Cibao Café for coffee. At El Cibao, you can learn about coffee production in the Dominican Republic and sample the different varieties.
Exploring Beyond the Port
As much fun as the staying at the port is, there is lots of natural beauty to see in the surrounding area. Consider booking a tour or venturing out on your own.
Take a Dominican Republic excursion
These tours are solid options for how to spend a day.
My favorite activity during my visit to the Puerto Plata area was a trip to Playa Dorada. This half-day trip will ensure you get in some quality beach time.
If you want time in the water plus a bit more adventure, check out this visit to a local waterfall. To take your activity level up yet another notch, consider this 4×4 ATV adventure.
Puerto Plata is an area rich in culture. This three-hour tour will take you to the malecon, have you visit a local rum factory, and see gorgeous mountaintop views.
Rent a car
Those that are looking for adventure beyond the port just need to walk in, turn left, and head out near the back of the complex. That's where you'll find the National/Alamo car rental counter if you're feeling like exploring the island on your own.
Hire a taxi
If you're looking for something between a planned shore excursion and a sporty day driving yourself in the Dominican Republic, visit the taxi stand. Hiring a taxi can help you have a day in town, take a trip to the 27 waterfalls attraction, or do any of the other things to do on the island. Be aware that the taxis are pricey compared to those at other Caribbean ports, so you may want to gather a group.
Do you have a favorite spot in the Caribbean?
Laura Longwell is an award-winning travel blogger and photographer. Since founding Travel Addicts in 2008, she has written hundreds of articles that help over 3 million people a year get the most out of their travel. In that time, she has visited nearly 60 countries on 5 continents, often returning to favorite destinations over and over again. She has a deep love of history, uncovering unexpected attractions, and trying all the good food a place has to offer.
In addition to Travel Addicts, Laura runs a site about her hometown of Philadelphia—Guide to Philly—which chronicles unique things to do and places to see around southeastern Pennsylvania. Her travel tips and advice appear across the web.