The craft distillery boom is in Texas in a big way. All across the state, entrepreneurs are trying their hands at everything from bourbon to brandy. Although some Texas distilleries are brand new and others have achieved national success, there are clear threads that unite them–hard work, commitment to a hand-crafted product, and desire to be the best at what they do.
In addition to making great products, many facilities open their doors to share their process with local fans. Often, for less than the price of a cocktail, you can meet the owners and distillers to see first-hand everything that goes into making their wares, and you can try them, too.
Here's a look at 12 great distilleries in Texas, each of which has its own character and flavorful offerings.
Ironroot Republic Distillery
Denison, Texas
Near the Texas-Oklahoma border in the small city of Denison, Texas, brothers Robert and Jonathan Likarish have added their Ironroot Republic Distillery to a list of experts in an area proud of its viticulture heritage. The distillery is the city's first, complimenting a growing number of wineries and breweries nearby.
Located in a former boat dealership, Ironroot Republic has 15,000 square feet of space to house the distillery operation, a large bar for enjoying the products, and a generous seating area. The space allows for multiple stills to produce the liquors, including a glass still dedicated to making the components of their gin. If I lived in Denison, I would spend way too much time here.
An area this large is helpful because Ironroot Republic prides itself on doing everything from scratch–their "grain-to-glass philosophy." All the grain comes from within 60 miles, and they use non-GMO and organic ingredients whenever possible. The grains are mashed and fermented in-house before being distilled in the large stills that dominate the front room.
The spirits age in various types of barrels in the back of the facility. During the aging process, Robert and Jonathan test each one every 4-6 weeks to ensure that the products are progressing as planned. When needed, they move the liquid to different barrels to draw out unique characteristics from the wood. You can get the full story during a tour.
Ironroot Republic Distillery has nine products available. Blue Norther Vodka, Texas Drought Gin, and Carpenter's Bluff Moonshine (it has a taste similar to tequila) complement a line of whiskeys. Among them, you'll find Hubris and Icarus–two varieties of corn whiskey–and Harbinger and Promethean, two varieties of bourbon whiskey. Esoteric is an American whiskey that's half bourbon and half corn whiskey and changes every year. Harbinger Straight Bourbon was named World's Best Bourbon in 2020, cementing Ironroot's reputation as one of the best distilleries in Texas.
Bendt Distilling Co.
Lewisville, Texas
Bendt Distilling Co. (formerly Witherspoon Distillery) was the brainchild of founders Quentin Witherspoon and Natasha and Ryan DeHart. A former Marine, Witherspoon began distilling almost out of necessity when he was stationed in the Central African Republic (if necessity means a distinct lack of liquor) and gained further knowledge about whiskey in the South and rum in the Caribbean. All that expertise fueled the creation of some top-notch whiskeys.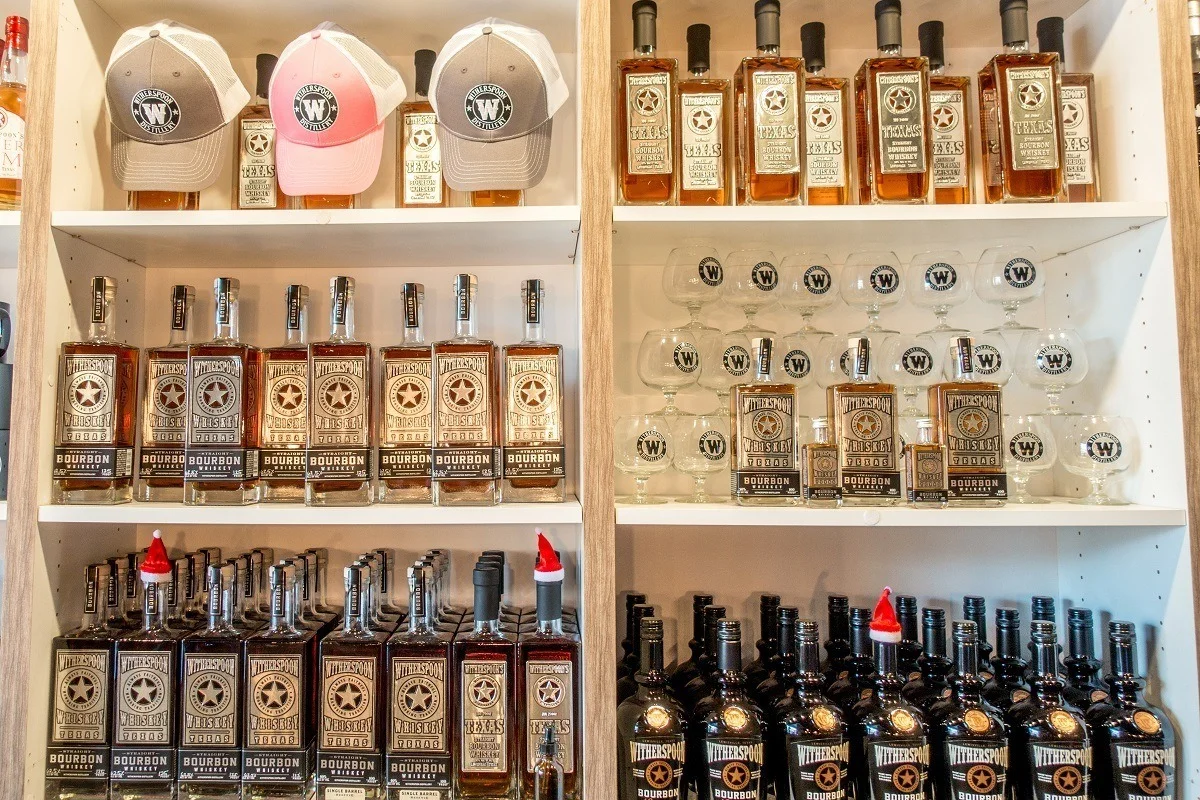 Since the distillery's founding, Witherspoon has departed the partnership–hence the name change–but the legacy of good liquor was left behind. The core products now include Bendt No. 5 American Blended Whiskey, straight wheat whiskey, and straight malt whiskey, among other offerings.
For the Blended Whiskey, each whiskey is individually distilled and aged at the distillery, and then they're blended together to create a single product highlighting the best characteristics of each.
Between Friday and Saturday, there are seven opportunities to sample the best Bendt has to offer on a tour of their North Texas distillery. Visitors will learn about the history of distilling and how Bendt's products are made. With or without a tour, you can hang out in the huge bar or lounge in their patio area. A visit here is a great addition to any weekend trip to Dallas.
Balcones Distilling
Waco, Texas
One of the best craft distilleries in Texas, Balcones Distilling consistently turns out a portfolio of liquors that win numerous accolades throughout the distilling industry.
Founded over a decade ago, Balcones was started by two partners who made everything themselves–from the stills to the heat exchangers–in a welding shop under a bridge in Waco. That same level of care and intensity is still found in the hand-crafted product line of Balcones whiskeys (though they prefer the alternate spelling "whisky") and other spirits.
The careful crafting of remarkable spirits has helped Balcones become internationally renowned.
Balcones has over 10 products available and experiments frequently. You'll find Texas Pot Still Bourbon, a straight bourbon whiskey, and Baby Blue, the first Texas whiskey sold since Prohibition and the first blue corn whiskey made anywhere in the world. Made from 100% roasted Hopi blue corn, Baby Blue smells like buttered corn and has a slightly nutty taste. It was my favorite of the products I had a chance to taste.
The flagship product of the Balcones Distilling franchise is its Texas Single Malt Whisky. This smooth spirit smells like banana bread and honey and tastes like toasted bread with a hint of spice and sweetness. The single malt is responsible for many of Balcones awards and helped propel the distillery to US and worldwide recognition.
A unique complement to the whiskey offering is Rumble, an unclassified spirit made from all-Texas ingredients–honey, mission figs, and turbinado sugar. It has brandy and rum-like qualities, so it's as delicious as you would imagine with notes of honey, fruit, cinnamon, and spice.
Schedule a tour of the distillery Thursday through Saturday or stop by for a tasting or cocktail Tuesday through Saturday.
Still Austin Whiskey Co.
Austin, Texas
The first whiskey distillery in Austin since Prohibition, Still Austin is about all things Texas. From the grains that go into its whiskeys to the botanicals for their rye gin, Still Austin stays true to its Lone Star roots in everything it does. A stop here is one of the fun things to do when you visit Austin.
Still Austin is designed to showcase the craft of whiskey making, which is clear from the moment you step into the 10,000-square-foot space. Giant windows in the tasting room show everything happening on the distillery floor just a few feet away. As you sip on a selection of cocktails from the bar, you're likely to see everything from grain bags being hauled around to the distillers carefully watching over the fermentation and distillation process, making adjustments along the way.
A tour of the distillery gives a view that's even closer up. As I visited the facility, I learned about the complete process of making their whiskeys and gin. It begins before the grains are even purchased with Still Austin's owners and distillers working with the farmers to select varieties that will impart specific qualities and flavors into the different kinds of whiskeys. Then there's the fermentation process (in vats named after famous writers like Hunter S. Thompson), distilling in their 42-foot-tall column still (named Nancy), and aging.
Fans who want to go beyond a tour can take part in whiskey making workshops, help with bottling, or even purchase their own barrel of aging bourbon.
Still Austin Whiskey Co. has several products available now. Their focus is their rye gin and ongoing releases of their bourbon whiskey. The small-batch gin is made from scratch and flavored with juniper, coriander, elderflower, citrus, and other botanicals. The Straight Bourbon is their flagship product aged for at least 2 years, and a Straight Wheat Whiskey is also available.
Still Austin is open for distillery tours and drinks every day except Monday. There is a food truck on the grounds, and there's often live music.
Deep Eddy Vodka Distillery
Dripping Springs, Texas
Deep Eddy Distillery, a hometown favorite, straddles the line between a craft distillery and a major corporation. Located just a half-hour outside the capital, it still heavily identifies with Austin but is in liquor stores and bars everywhere. Still, its Dripping Springs home is the only place you can have a cocktail made by the Deep Eddy bartenders.
Information in the tasting room walks visitors through the stages of distillation and offers a lesson in the ingredients that go into the flavored vodkas, including real fruit juices, local honey, and Texas Hill Country water.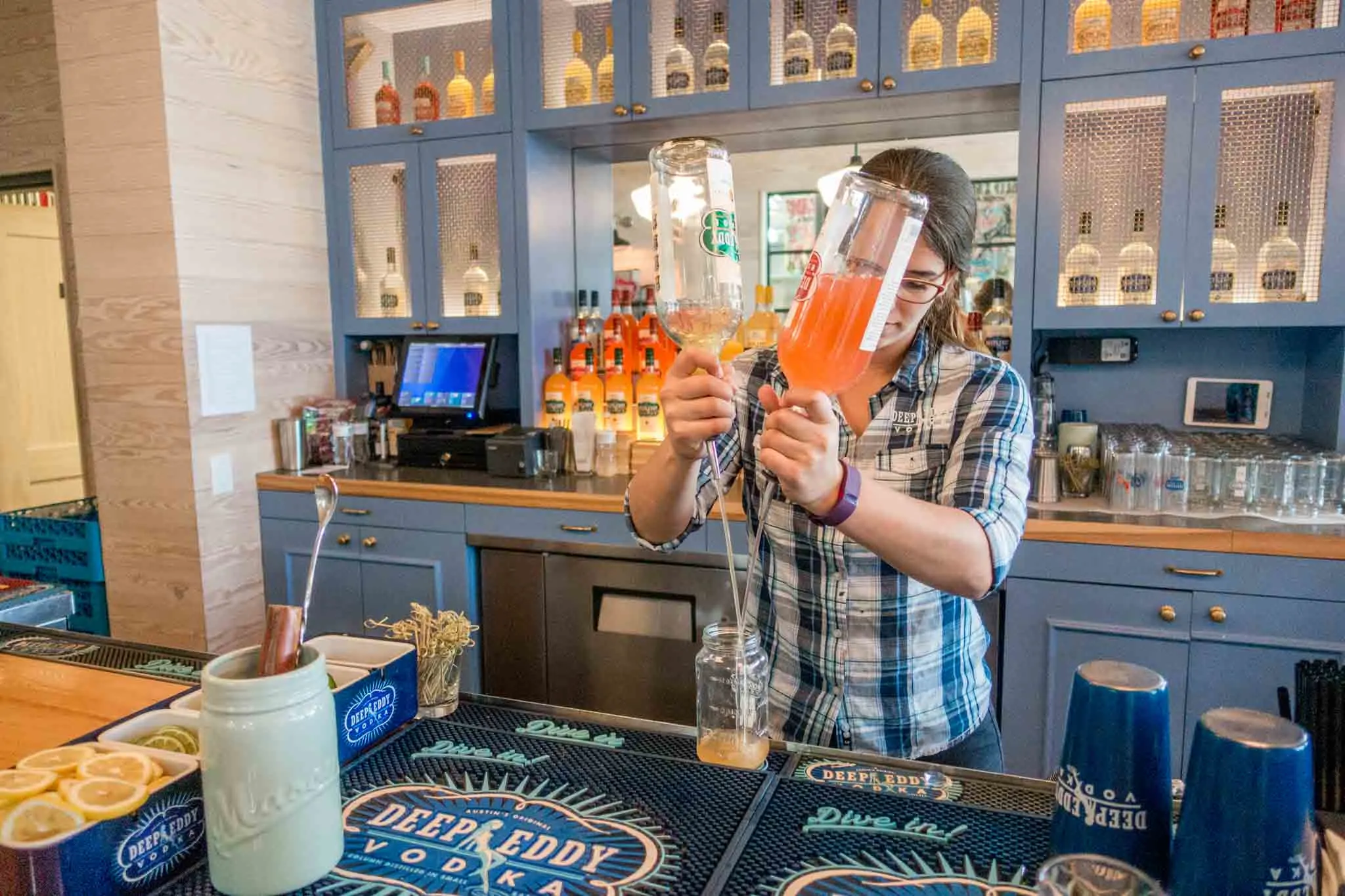 Even without a tour, the Deep Eddy tasting room is a fun place to visit. All the cocktails are designed to showcase the products—straight vodka, grapefruit, lemon, peach, orange, cranberry, and sweet tea—in traditional and unexpected ways, like combining multiple flavors of vodka into some killer drinks. My favorite was the Olio Twist, featuring the orange and ruby red grapefruit vodkas and a lemon oil shrub. The tasting room is open Thursday through Sunday.
You can try a cocktail, visit a food truck that's frequently on site, and enjoy the frequent live music and games on the hilltop patio.
Dripping Springs Distilling
Dripping Springs, Texas
Dripping Springs Distilling is doing something unique among Texas distilleries—instead of making their products in one or two large stills, they use handmade, 50-gallon copper stills to improve the taste of their spirits. The stills require more work and attention than other types of equipment, but owners Kevin and Gary Kelleher feel the effort is worth it for their spirits.
On a tour of the Dripping Springs distillery, you can see the distillation process in action. Throughout the building, there are batches of vodka and gin in various stages of readiness. Many are infusing with the different botanicals and fruits (zested by hand on site) that go into the flavorful products. On a tour here, you'll learn about all their products, most of which are made with mineral-rich artesian spring water.
The first distiller based in the Texas Hill Country, Dripping Springs Distilling has been producing vodka since 2007 and gin since 2014. They add complexity to the product line by having multiple options of each spirit, which can be tried in their tasting room. They also offer 1876 Bourbon, which is made from yellow Texas corn and winter rye and aged for 3 to 5 years.
As much as I enjoyed the vodkas, the gins were my favorites. They're infused with nine botanicals, including lavender, cardamom, and orange. The Artisan Gin is a more floral product (which I love), and the Traditional Gin is a juniper-forward London gin.
Stop by the distillery in Dripping Springs for a tour or a tasting Thursday through Sunday. There are also frequent fun events like live music, trivia, and themed parties and competitions.
Treaty Oak Distilling
Dripping Springs, Texas
Treaty Oak Distilling is more than just a distillery–it's one of the coolest places to visit near Austin. Located in Dripping Springs, Treaty Oak is a place to have great drinks, play games, listen to music, grab a bite to eat, and just hang out on a lovely afternoon.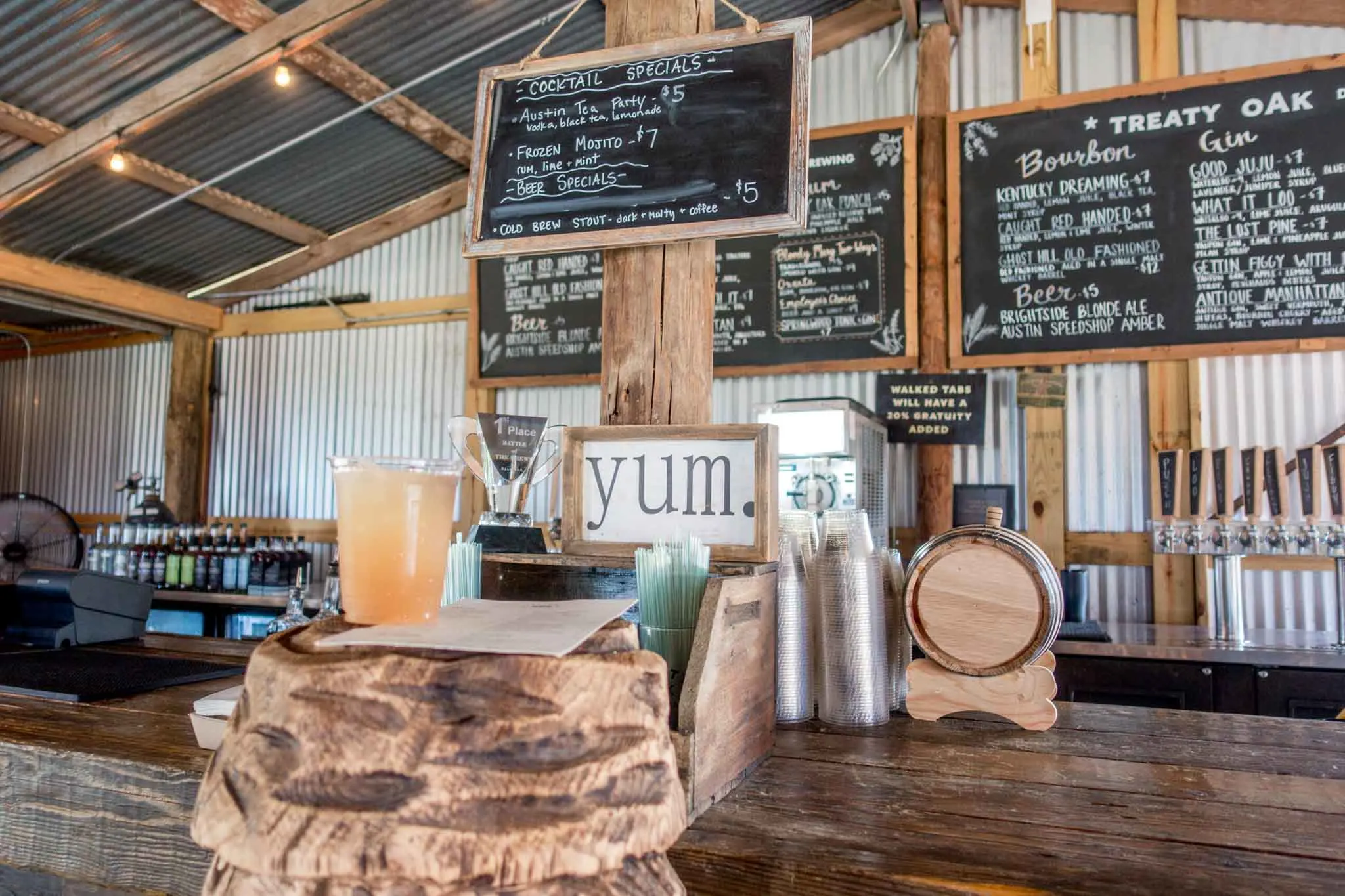 The huge plot of land that Treaty Oak lovingly refers to as "the ranch" is practically a community center with a little bit of something for everyone. The on-site Alice's Restaurant serves everything from pulled pork to Mexican street corn daily. The open-air cocktail bar serves flights of straight spirits and lots of unique draft cocktails, some of which include Treaty Oak products only available at the distillery.
In addition to all the beverage and food options, Treaty Oak is a family-friendly environment with games and picnic tables for everyone to enjoy, plus a playground. There's also often live music and special events like cook offs, cocktail classes, and even farmers' markets.
Distilling for over 15 years, Treaty Oak focuses on "the pursuit of the curious," leading them to play with different methods and different products over their long history. They focus on using Texas grain to produce their grain-to-glass whiskey, Ghost Hill Texas whiskey. They also sell Red Handed Bourbon and Red Handed Rye, two products made with outsourced whiskey while they continue making their own new takes on the spirit. In addition to whiskeys, Treaty Oak's series of Waterloo gins include unique flavor profiles, including one aged in the tradition style of Dutch genever.
Garrison Brothers Distillery
Hye, Texas
Several miles off the highway in the Hill Country, an area known predominantly for its wine, stands one of the most well-recognized Texas distilleries, Garrison Brothers Distillery. The first legal whiskey distillery in Texas, Garrison Brothers makes only bourbon, and they want it to be the best.
Garrison Brothers has a strict "corn-to-cork" approach, which is outlined during the tours they give each week around the property. They do everything from making the mash to bottling the bourbon. Their numerous awards show the value of the hands-on approach.
Making the Texas bourbon starts with all-organic, food quality grain–corn from the Panhandle, wheat they grow themselves on 65 acres in the Hill Country, and barley from the Pacific Northwest. After distillation in Garrison Brothers' impressive copper stills, the spirits are aged for 30-40 months in charred white American oak barrels.
The pressure caused by the Texas heat requires that Garrison Brothers uses some smaller, thicker barrels than the typical bourbon barrels you might find in Kentucky, which could otherwise burst. After aging, the spirits are cut with rainwater. Pure Texas.
Garrison Brothers currently has eight products available. Their annual release of their Texas Straight Bourbon Whiskey is always aged at least 3 years and is one of the smoothest bourbons out there. The Single Barrel Bourbon is also highly sought-after.
Garrison Brothers also makes Cowboy Bourbon, a cask-strength, limited release bourbon made from their favorite barrels, and Balmorhea, a double-barreled bourbon whiskey. They have two other types of straight bourbon whiskey–Guadalupe, which is finished in port wine casks, and Honeydew, which is infused with Texas honey.
Revolution Spirits
Austin, Texas
Innovation and partnership are the names of the game at Revolution Spirits. Working with a number of local companies, they produce liqueurs in addition to other spirits.
My favorite offerings from Revolution are Cafecito and Chocolate Cafecito, a fabulous coffee liqueur and its coffee-and-chocolate cousin. Austin specialty purveyors Cuvee Coffee and SRSLY Chocolate contribute their products to make the liqueurs as smooth and flavorful as they are. Past partnerships with local cideries and breweries like Jester King have led to delicious apple brandy made from barrel aged cider and fruit liqueurs made using fruit pulp from farmhouse ales.
Revolution Spirits' flagship product is its Austin Reserve Gin. The floral spirit has flavors of juniper, rosemary, and grapefruit, among others. You can try the straightforward version or something from the Single Barrel Series in which the gin is aged in different types of wood—on my visit, they were using whiskey barrels from Ironroot Republic.
The cocktail bar and tasting room is open on Saturdays, and tours of the production area are available by request during those hours.
Stinson Distilling
Llano, Texas
In its welcoming tasting room on State Highway 29, Stinson Distilling serves its award-winning spirits, offering everything from vodka to pecan whiskey.
Stinson makes classic spirits like gin and the Texas brandy that has garnered a long list of awards. There are also liqueurs, including Mirabeau Elderflower and Carajillo, a "not safe for work coffee creamer," both of which we enjoyed.
Visitors will find corn hole and other games on site to be enjoyed while trying out a flight of spirits or one of the many cocktails available.
Desert Door Distillery
Driftwood, Texas
A cozy tasting room, lots of outdoor seating, and one of the most unique spirits distilled in Texas combine to make Desert Door Distillery an absolute must visit. Tasting room visitors can see the spirit—sotol—come to life before their eyes thanks to the large windows that give a great view of the still.
Sotol, which is the name of both the spirit and the plant it is made from, smells a lot like tequila but tastes more like gin. It is smooth with hints of caramel, orange, and a tiny bit of herb. I did not expect to enjoy it, but, after a tasting and cocktail, walked away wondering how many bottles were too many to take with me.
Most visitors to Desert Door are either sotol lovers or complete newbies, so the staff is used to being very patient as they describe the production process and the flavors in detail. It's a welcoming experience for those who are unfamiliar with this curious liquor made from a plant that is wild harvested in West Texas.
A tasting includes the Original sotol (which can be substituted in place of clear spirits in most cocktail recipes), an Oak-Aged version that has light vanilla and toffee notes, and a flavored version, depending on what they're experimenting with. There are also lots of cocktails to choose from.
The tasting room has a fireplace and couches so comfortable you'll never want to leave. Outside, there are picnic tables, games, a food truck, and frequent live music, so there's lots to enjoy here.
A previous version of this article included Crystal Creek Distillery in Spicewood and Cypress Creek Reserve Rum Distillery in Wimberley, which have since closed. I was the guest of Ironroot, Balcones, and Still Austin. Opinions about the liquid gold they are hand-crafting are my own.