This year has been a fantastic year of travel for us. We've been to new places, revisited old favorites, and even got to cap off the year with nearly three weeks of festivities at Christmas markets in Europe. It's truly been a magical year, and we're looking forward to even more in 2019.
In 2018, we flew 33,351 miles, visiting 10 countries and 5 states. And that doesn't count all the driving we did across the US and Europe. With all those miles under our belts and only one travel mishap (a canceled flight to Montreal), we consider ourselves to have been blessed by the travel gods this year. Here's a look at the adventures we had.
Austin and the Texas Hill Country
Despite living in Texas for half my life, I've never adequately explored Austin until now. Thankfully, my sister moved there recently, so you can count on a lot of coverage about street art, music, and everything that makes Austin great. We had a glorious two weeks to explore this year.
The capital of Texas has earned its reputation as the coolest place in Texas for good reason. The city is constantly changing, adding new places for breakfast tacos, cool art venues, and plenty of genuinely quirky experiences.
In our two visits this year, we checked out hidden speakeasies and went two-stepping. We took a bat-watching cruise, watched the sunset over Lake Travis, and saw an Austin original—Esther's Follies which has run for over 40 years.
Austin is also perfectly-located for day tripping. Just a half-hour away is Dripping Springs, a tiny city with a cute, historic Main Street that's also full of wineries, distilleries, and breweries. We spent a day checking out all the fun things Dripping Springs has to offer.
Driving east from Austin, we headed to a rural area that was home to many of the German and Czech immigrants who settled the state beginning in the mid-1800s. Although many of the towns they founded are essentially ghost towns now, they left behind magnificent painted churches designed to echo those they left behind in Europe. We wrote about visiting five of the beautiful painted churches of Texas.
Utah and Arizona
Growing up, Lance spent lots of time visiting National Parks with his family, so they have always been a love of his. A business trip to Las Vegas gave us the chance to hit the road to some of the nearby parks in Utah and Arizona.
Utah's Zion National Park was amazing in the off-season. We did a few hikes, marveled at the landscape, and watched some intrepid souls starting off on the Narrows (a gorge that's the narrowest part of Zion Canyon). A quick drive through Bryce Canyon National Park was stunning. We watched a snowstorm roll in and out over the park in just 45 minutes, leaving behind a thin coating of snow on the bright orange hoodoos, the rock column formations that lace Bryce's landscape. From there, we were off to see the massive rock spines of Capitol Reef National Park.
Like many people, we were interested in visiting the Wave in Arizona. We entered the lottery for day passes but were not successful, so we headed instead to a nearby similar rock formation called White Pocket. With outcroppings striped in red and yellow and ground that looks like it was painted, White Pocket doesn't have the name recognition of the Wave, but it is certainly unique.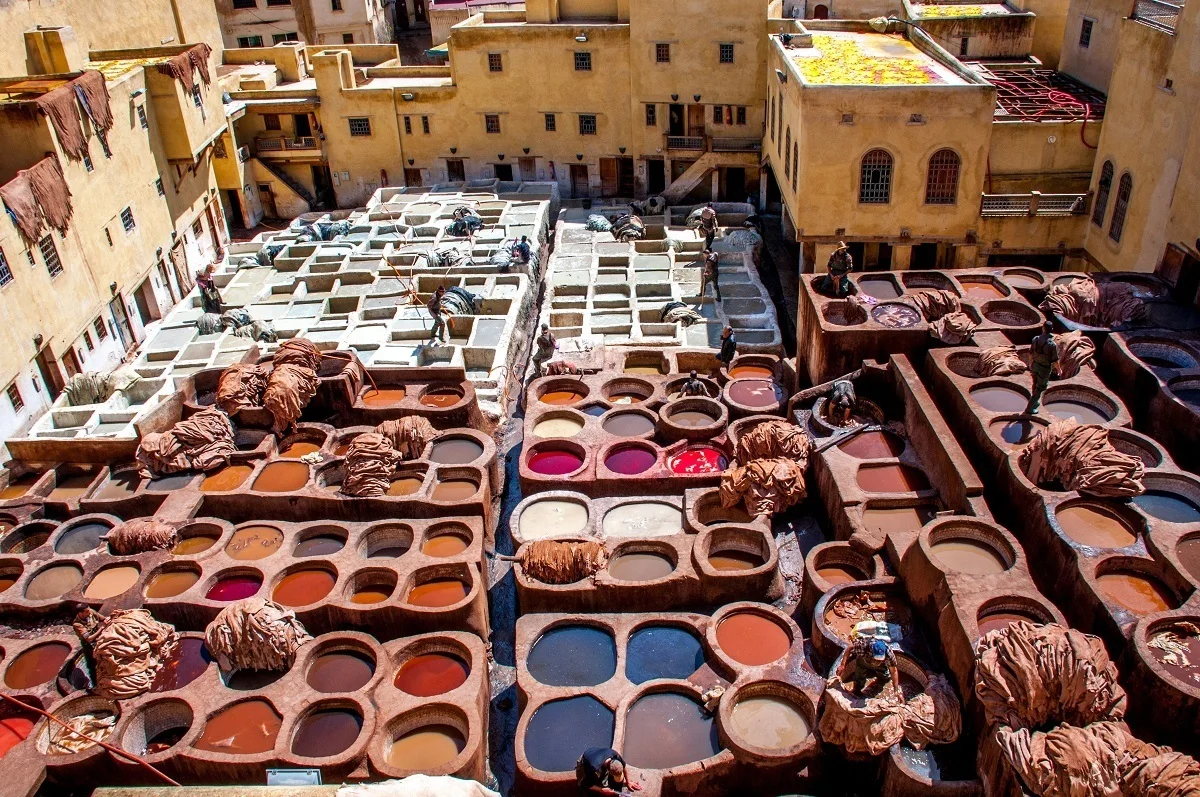 Morocco
Our two weeks in Morocco took us to hectic medinas and colorful cities, over the High Atlas Mountains and all the way to the desert. Every moment of our Morocco trip brought something new from unique foods to Roman ruins.
Morocco had so many highlights, it's hard to capture them all. Our trip began with a destination we've wanted to see for a long time—bright blue Chefchaouen, which is just as sapphire and azure-hued as we had hoped. From there, we gazed at the tanneries and sites of Fez, wandered the beautiful UNESCO ruins of the Roman city of Volubilis, and sunk into the sand of the Sahara.
Three days in Marrakesh gave us ample time to see the circus that is Jemaa el-Fnaa square and watch the sunset over the rooftops. We took a fabulous food tour to spots in the medina we never would have found and tried foods we never would have tried. From there, a day trip to Essouira on the coast brought goat-filled trees and a picturesque fishing city. Quite an adventure.
Belgium
Belgium is one of the most under-rated places in Western Europe. It rarely appears on those widely-circulated lists of must-visit places, and you rarely see people sigh and get googly-eyed at the dream of going to its cities, except for possibly Bruges. And that's really a shame because Belgium has lots to offer.
Last year, I visited Brussels and Bruges for the first time, so it only made sense this year to return to visit Antwerp and Ghent when Lance returned home after our Morocco adventure. I visited the spectacular Grote Markt in Antwerp lined with centuries' old merchant houses (I'm a complete sucker for them), and strolled through Plantin Moretus, the world's only museum on the UNESCO list. I stood in the studio of Peter Paul Rubens and sampled genever in every specialty bar I could find. Antwerp was a winner.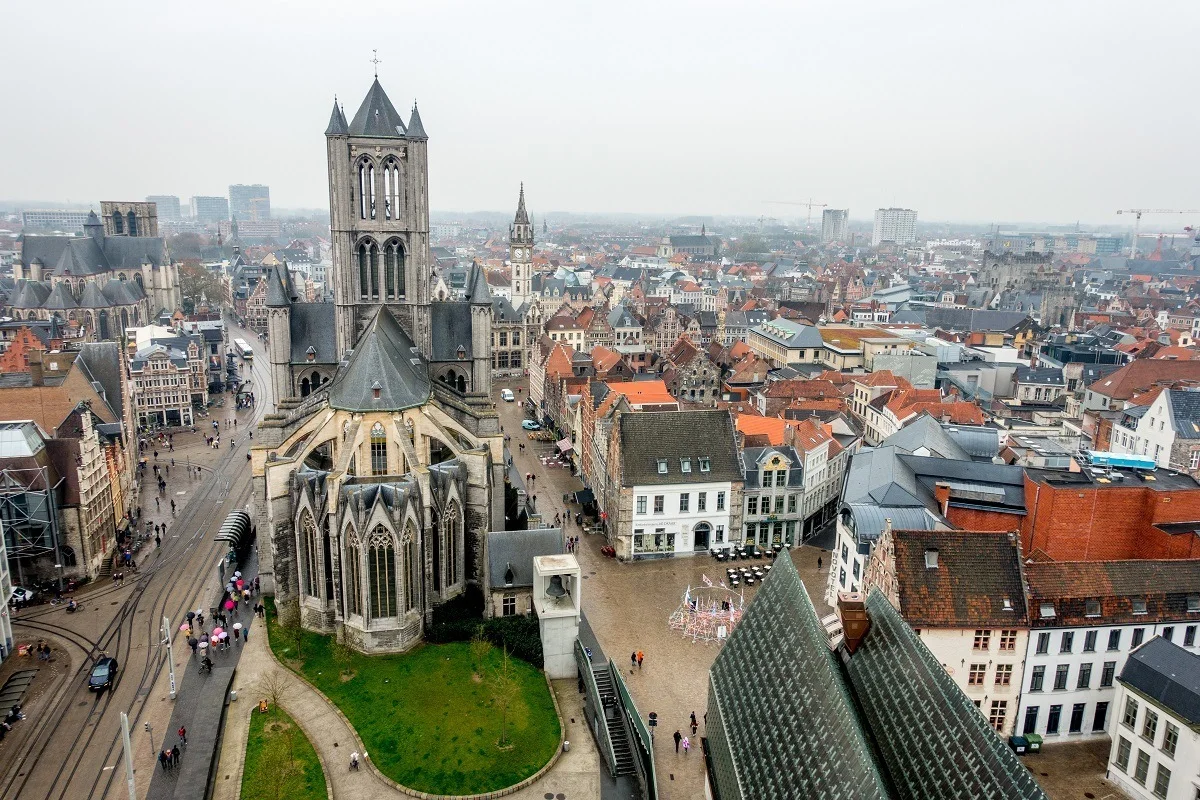 And then there's Ghent. While people (rightly) love Bruges (I do, too), I think I may love Ghent just a little bit more. It has all the splendor of the remarkable architecture of Bruges and yet feels like more of a real place, complete with university students, street art, and a fair amount of vegetarian food in otherwise meat-heavy Belgium. Walking its streets and gazing at Ghent's towers really is a dream.
Netherlands
While staying in Antwerp, I set out on an epic long day trip to Keukenhof gardens. I don't know if or when I'll find myself in that region of the world in the spring again, so I jumped at the chance to visit the world-famous tulip garden. It was magnificent.
A cold spring meant that some of the flowers weren't yet showing their bright petals, but there were plenty of tulips, roses, and other plants to entertain the crowd. Keukenhof goes all-out to make sure that visitors who come at any time during its 8 weeks have something to see—there are sculptures, pavilions, demonstrations, and endless creative floral presentations. Keukenhof's reputation is well-deserved.
After a spin through the gardens, I rented a bike and rode several miles through the surrounding flower fields. They are the subjects of those viral Facebook videos that make the rounds every spring with drones zooming over endless rows of colorful flowers. In person, the colors and smells are even better. And I'm happy to report I only came close to being hit by a car once!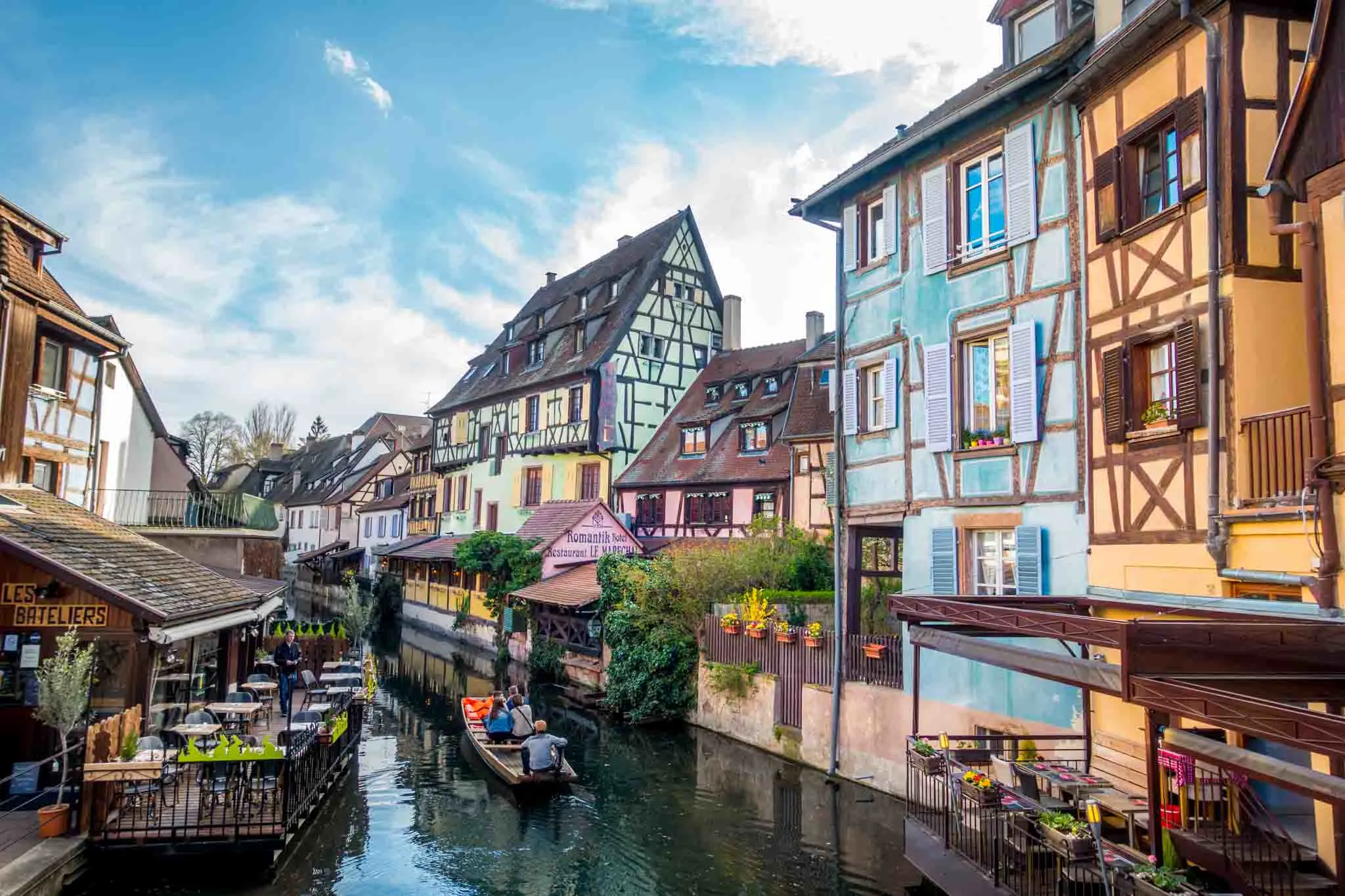 France
This year brought us a lot of time in France, including a return to a favorite region—Alsace—and a new region—Bordeaux.
We've been in love with Alsace for 10 years since we visited Colmar on a quick day trip. This year brought the chance to return for almost a week. We explored every inch of Colmar from the fairy tale Petite Venise to the wineries and museums we missed before. We day tripped to (much larger) Strasbourg and visited the cutest medieval towns in between on the Alsace Wine Route.
After Alsace, we were off to Bordeaux. With soaring churches and city gates that date from the 1400s, the city of Bordeaux is exquisite. Driving around the region adds a new layer of beauty. In addition to the ubiquitous vineyards, there are huge chateaux that look like mini-castles just waiting to be photographed. We visited the UNESCO World Heritage Site of St. Emilion, tried out local food markets, and tried every type of Bordeaux wine we could get our hands on.
Luxembourg
My first trip to Luxembourg was quick—not quite even 48 hours. But thanks to the compact size of the historic center of Luxembourg City and the small size of Luxembourg overall, I covered a lot of ground. In Luxembourg City, I strolled the corniche and took in the dramatic views over the lower part of the city. I visited churches, relaxed in the city's squares, and learned about Luxembourgish food. A trip outside the city to the Moselle River valley let me sample some of the best wines most people in North America have ever heard of.
Spain
We've found ourselves in Madrid a lot lately because it's affordable to get there from the East Coast and the city is well-connected to lots of other places in Europe. On a quick visit to Madrid, we headed off on a day trip to nearby Segovia. The Roman aqueduct, 12th-century castle, and 16th-century cathedral provide plenty of great sightseeing.
Montreal
Our Montreal adventure began a little bit rocky with a cancelled flight and an unplanned 7-hour overnight road trip. But, from there, we could not have had a better time.
Montreal is a little bit European and a little bit North American, so you can indulge in that delicious gravy-and-cheese curd concoction known as poutine while listening to most people nearby speak French. We indulged in the amazing local markets, scouted street art, and climbed to the top of Mount Royal. When we walked so much that our feet ached, we stopped into Bota Bota, a glorious spa in the middle of the Saint Lawrence River. Montreal may be our favorite new discovery of 2018.
As a bonus, our road trip home allowed us a return visit to charming Saratoga Springs, New York.
Seattle
The weather gods smiled on us during our time in Seattle. We did the typical touristy things like going to Pike's Place Market (if there's a local market within 10 miles, we're probably visiting it) and seeing Chihuly Garden and Glass. We had dinner overlooking Puget Sound and searched for the perfect rooftop bar. Getting out of the city, we headed even farther west to Olympic National Park for some time in the mountains, on the beach, and hanging out in some hot springs.
Lehigh Valley
As in 2017, we spent some time a little closer to home exploring Pennsylvania's Lehigh Valley. It started off with attending Musikfest, the largest free music festival in the US, which we never knew was in our own backyard (and in the shadow of these awesome steel stacks, no less). We also visited the Martin Guitar Factory where, after over 180 years, the guitars are still hand crafted. With the addition of some distilleries, great restaurants, and covered bridges, and we had a fabulous time.
New York City
About 100 miles away from our current home, New York City is where we met and lived early in our relationship. For a lot of reasons, New York will probably always feel most like home to us, and we go back whenever we can. One thing that happens when a place is or feels like home is that you take certain things for granted, even in a place as magnificent as Manhattan.
For the first time in over 15 years (shameful, I know), we went one subway stop over to Brooklyn for a little sunset/night photography. There's really no place like New York.
New York's Finger Lakes
In September, Lance was invited to speak at a travel blogging conference in the Finger Lakes region of New York, so it was time for a road trip. We spent our free time visiting the area's delightful wineries and a distillery and marveling at the dramatic waterfalls nearby. Time well spent.
Wales
We went to Wales just to do something different. We love England and Northern Ireland, so we thought it was time to dig a little deeper into the UK. Spoiler alert: it's pretty.
Our experience in Wales was full of two things, primarily—hills and castles. The landscape is outstanding, and every so often, you come upon a castle built in the 13th century. To break up the castles, there are abbey ruins, remarkable cathedrals, charming country churches, beaches, harbors, and even a massive aqueduct that's been UNESCO-listed. For Anglophiles, history buffs, and nature lovers, Wales is an excellent destination.
England
After our time in Wales, Lance returned home and I spent a couple of extra days in England doing something I'd wanted to do for 20 years—returning to Oxford. When I was in high school, my first trip to Europe was a month in Oxford attending an academic program. I met friends from all over the US, learned to survive on my own, and fell in love with travel. Oxford is a special place for me, so returning was a treasure.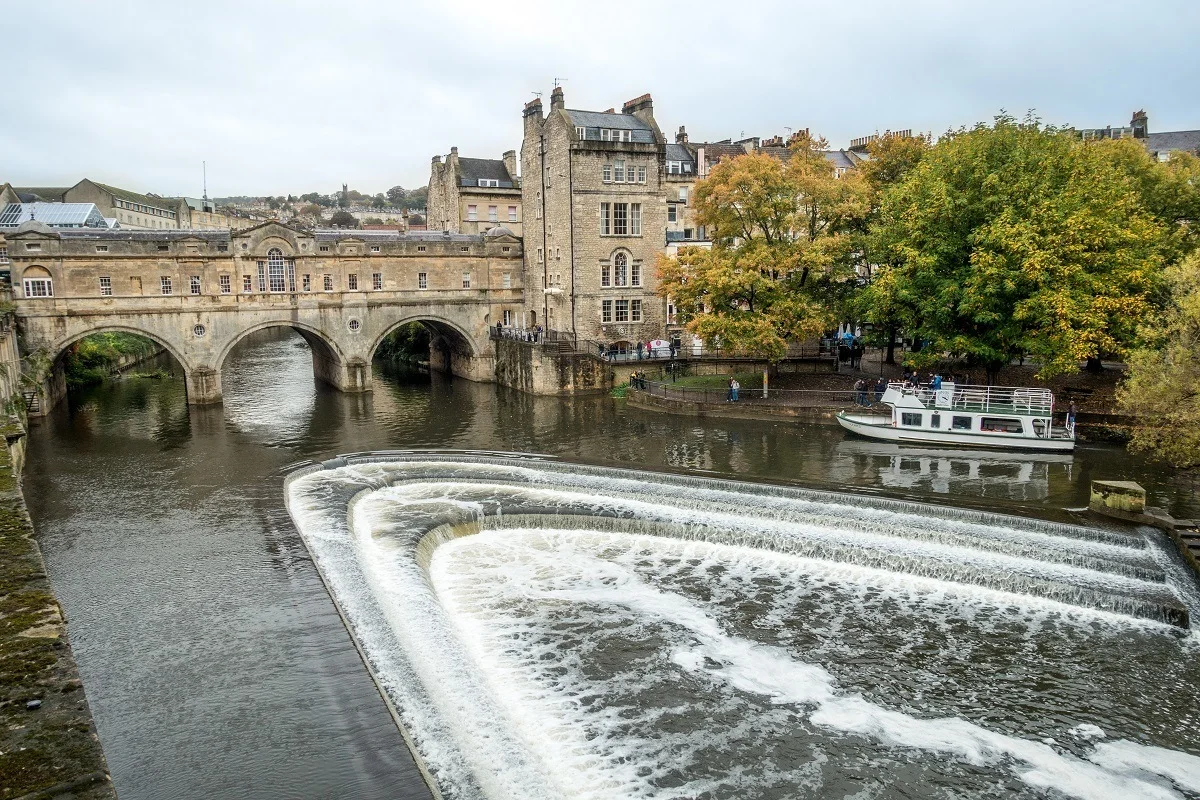 Many of the buildings in Oxford date back to the 1500-1600s, so the architecture is incredible. Plus, there are lots of opportunities for indulgent afternoon tea, strolling through Renaissance-era gardens, and generally enjoying history and atmosphere of the place. Since my last visit, Harry Potter (some of which was filmed at Oxford) also became a phenomenon, so I got to geek out of some of that, too. Bliss.
I also took a side trip to Bath just an hour away to capture some of the sites we'd missed on a previous trip a couple of years ago.
Christmas in Europe
We capped the year off with festivities, spending nearly three weeks in Europe and visiting as many Christmas markets as we could. The adventure started in Luxembourg, progressed on a day trip to Germany, headed for several days in Alsace, and ended with Christmas in Belgium.
We hadn't intended to recap a handful of the places I'd visited earlier in the year, but sometimes itineraries write themselves, and it meant that Lance got to visit many of the places I'd loved in the spring. Everything seems very different at Christmas anyway.
In Luxembourg, we based ourselves in Luxembourg City, which is blessedly full of Christmas markets. Thanks to Luxembourg's proximity to Germany, we got to enjoy favorites like currywurst and discover new loves like the feuerzangenbowle, an amazing combination of mulled wine and rum-soaked sugar set on fire. During the days, we explored the city further and headed out on trips to some of Luxembourg's castles. We even got to visit a hot springs spa, which is always a highlight of any trip.
About 45 minutes from Luxembourg City, Trier, Germany, lies right across the Moselle River. We took a trip to see the city's ancient Roman UNESCO sights and sneak in another market. We first fell in love with German Christmas markets back in 2011 when we visited Munich and Nuremburg, and Trier lived up to our expectations completely.
Our next stop took us to Alsace—first Strasbourg, then back on the Wine Route, and finally to Colmar. Every bit of it was half-timbered, gorgeous, and bedecked in twinkling lights. Our visit to Strasbourg came just a week after the terrorist attack there, so we were always mindful of the tragedy and the increased security, but we persevered and had a lovely time. The numerous markets in the Capital of Christmas each have a slightly different focus, so there's always something new to see.
The Alsace Wine Route and the Colmar Christmas markets were even more magical in the winter than in the spring (when they're already spectacular). The buildings that already look like gingerbread houses become like something in a story book when you add wreaths and lights. Sooner or later, you being to run out of words for just how breathtaking it all is.
Our last stop was a week in Belgium with my family, exploring new cities like Leuven and Liege and ones I'd visited before. We became lost in the light shows in the Grand Place in Brussels and cruised the canals of Bruges. In Ghent, we basked in the sun, gawked at the canal houses, and fell in love with even more markets. And there was that time my sister had to trade her shoe for a beer. Antwerp brought Art Nouveau spectacles, glittering merchant houses, and the best hot chocolate we've ever had.
All in all, we are grateful for another amazing year of travel, for discovering new things in new places, and for each one of you who stops here for a little advice or inspiration. Thanks for joining us!