Austin is like nowhere else in Texas. With ubiquitous live music, street art, and a ridiculous amount of breakfast tacos and breweries, the city is brimming with character. There are so many fun things to do in Austin from seeing "Old Austin" classics to checking out newer places to go.
We've been to the Texas capital more times than we can count. On every visit, we've been lucky to have my sister, an Austinite, as a guide to explore the best attractions you've heard of and many that may not be on your list yet.
Here's a look at what to do in Austin, as guided by a local.
Swim at Barton Springs Pool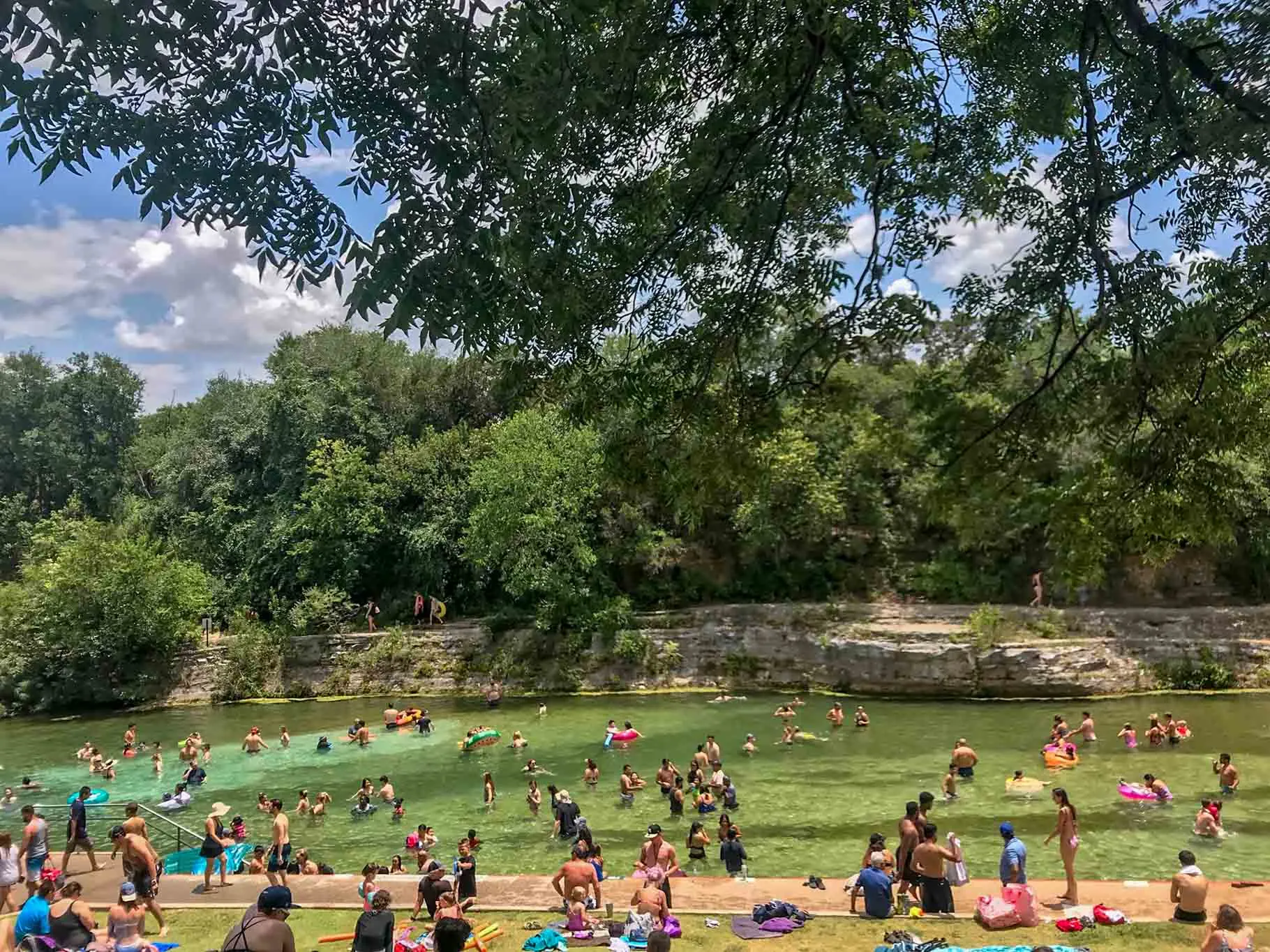 When we're looking to escape the Texas heat, Barton Springs is one of our favorite places to go when we visit Austin. Within the 358-acre Zilker Park, Barton Springs is a refuge in the city.
Spanning 3 acres, the Barton Springs Pool is fed by underground springs that stay 68-70 degrees year-round. For reference, that's about 10-14 degrees cooler than the average swimming pool. Jumping in can be a shock, but we got used to it quickly, and the cold is welcome on a sweltering Texas afternoon.
Barton Springs is open year-round, but it's closed during the day on Thursdays for regular cleaning.
Wondering where to stay?

Vibrant boutique hotel – South Congress Hotel

Top-rated convenience – Hyatt Place Downtown Austin

Luxury downtown accommodations – Fairmont Austin

Customized comfort – The Carpenter Hotel

You'll find more details about where to stay at the end of this article.
Seek out the street art
Like Nashville, New York, and San Francisco, Austin is known for its street art. In prominent places and tucked away in alleys, we found beautiful works of art all over the city.
One of the city's most iconic street art pieces started out as a love note and has taken on a life of its own in merchandise, pop culture, and even as a gif on Instagram. The "I Love You So Much" mural on the side of Jo's Coffee on South Congress Avenue is one of the most popular places to visit for photos. There is also the "Hi, How Are You?" mural made famous by Kurt Cobain and the postcard "Greetings from Austin" on the side of Roadhouse Relics, just to name a few.
Keep your eyes open for other great works as you walk around the city or put together a tour of your favorites.
Visit the Texas State Capitol
The Texas State Capitol building is one of the top Austin attractions. You can learn about Texas history and visit key areas of the Capitol on one of the free tours that happen throughout the day. If a guided tour is more time that you want to spend, you can do what we did–walk around the rotunda on your own and see the many statues on the grounds outside.
For a top-rated tour of the Capitol and to see other fun places, check out this small group tour.
Sample craft beer at Jester King Brewery
Jester King is one of the area's best craft breweries and possibly my sister's favorite place. On the outskirts of the city, Jester King brews farmhouse ales and barrel-aged wild ales on a 165-acre property they call "the farm."
With over 60 draft options, you could visit over and over and never have the same thing twice. In addition to the beer, you can have cider and wine from Texas and beyond.
There is also a restaurant with a wide selection of appetizers and pizzas to soak up the alcohol. As an interlude from the eating and drinking, check out one of the tours or some of the games available to play.
Have BBQ at The Salt Lick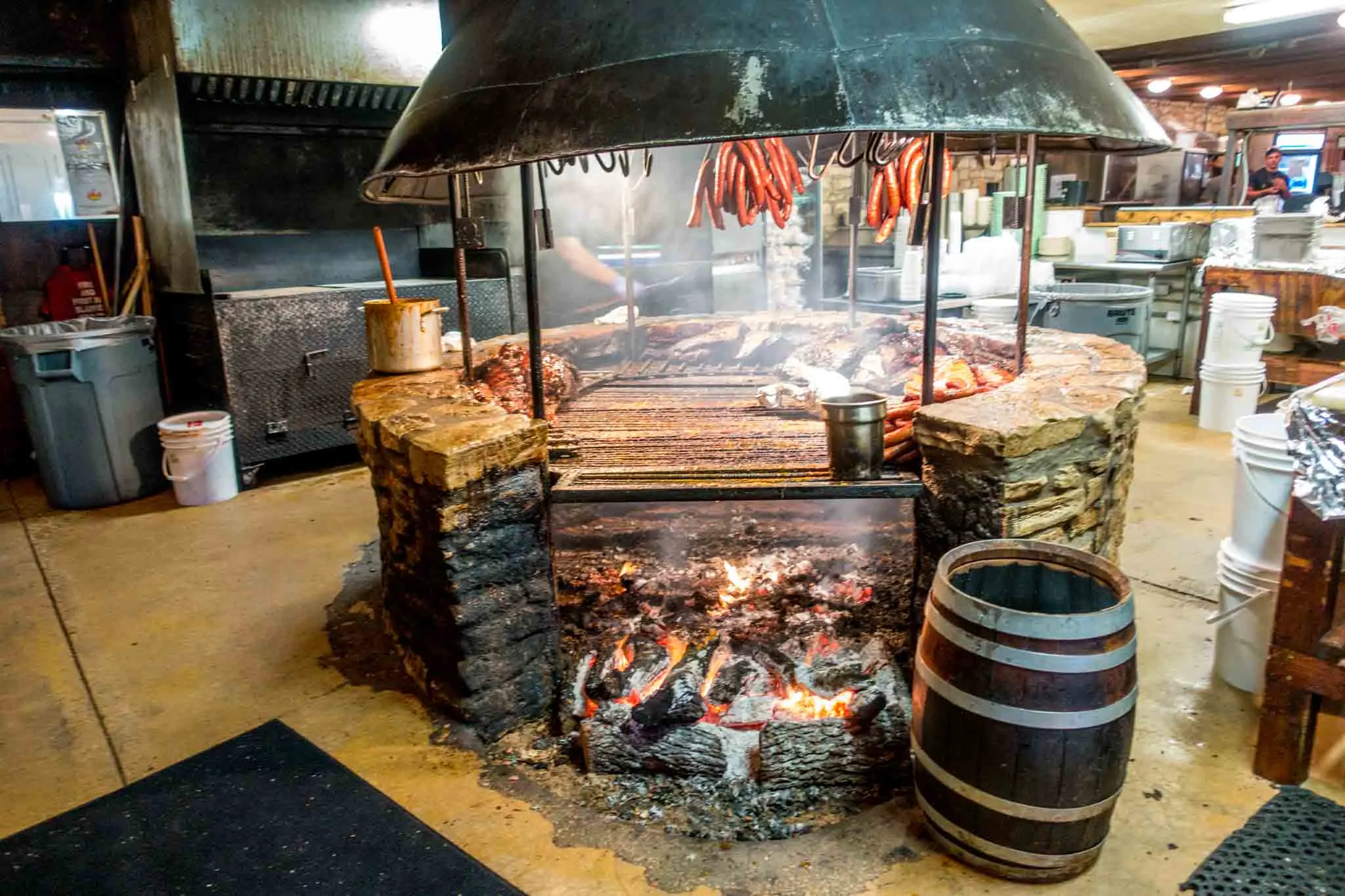 Growing up in Dallas, we learned a thing or two about good BBQ, and Austin is home to some of the best in the country.
One favorite that we've returned to again and again is The Salt Lick. Their award-winning brisket, ribs, sausage, and pulled pork are slow-cooked in their famous pits in the Texas Hill Country. Their main location is a half-hour from downtown in Driftwood, or you can visit their restaurant in the airport or in nearby Round Rock.
Other barbecue favorites include Franklin Barbecue (be prepared for the wait), Terry Black's, and Stiles Switch BBQ & Brew.
See Esther's Follies
With unusual sketches, comedy bits, and some magic thrown in, Esther's Follies has entertained the city for over 40 years. In five shows each weekend, the modern-day vaudeville show treats viewers to a healthy dose of satire and off-beat comedy. The shows are full of surprises, and one thing we didn't expect is that they use their windows overlooking Sixth Street to their advantage–some of the action takes place right outside on the street in downtown.
Try Ranch Water at Ranch 616
Ranch 616 is the home of Austin's unofficial cocktail, Ranch Water, so trying it is a must.
With tequila, lime juice, and orange liqueur, Ranch Water's ingredients bear a striking similarity to those in a margarita, but it's topped off with many Austinites' favorite drink–the sparkling mineral water called Topo Chico. It's light, refreshing, and packs a surprising punch, so make sure to hydrate along the way.
Bar hop on Rainey Street
Probably the most unique street in the city, Rainey Street is filled with cute craftsmen houses from the 1930s that have been re-purposed as bars. Everywhere you look there are patios decked out in lights, food trucks, restaurants, and people. So many people. In fact, I hesitated to put Rainey Street on the list of places to see in Austin because it's such a tourist attraction. Locals do go there, but it's somewhat infrequent and almost never on the weekends.
If you decide to go, consider an off-peak time and set your expectations accordingly. Check out Half Step for great cocktails, Geraldine's at Hotel Van Zandt for lunch or happy hour, or Via 313 for Detroit-style pizza.
Play a round at Peter Pan Mini-Golf
For over 75 years, Peter Pan Mini-Golf has contributed to the quirkiness of Austin. The small plot of land hosts two 18-hole mini-golf courses complete with a T-Rex, a castle, a giant tuxedoed pig, and other unexpected creatures. Visitors can bring in a cooler to sip drinks while they navigate around the obstacles and appreciate the throwback that is this family-run course.
Note that parking is limited in the Peter Pan lot, so leave time to find an alternative if you're meeting people or have a large group.
Hang out at a speakeasy
Speakeasies are a paradise for lovers of craft cocktails. Our favorites (so far) are Midnight Cowboy and Small Victory. Hidden in a former brothel behind a nondescript door, Midnight Cowboy might be one of the only reasons a local would head to Dirty 6th (the strip of raucous bars otherwise known as 6th Street). Its dark leather interior and top-notch service create a welcoming environment to try one of their signature tiki drinks or a classic cocktail.
At Small Victory, there's no secret buzzer or password, though you may find yourself wondering if you're in the right place. A couple of doors and a small flight of stairs are the only thing between you and cocktail heaven. They also offer a selection of charcuterie and cheese plates.
See sunset at The Oasis on Lake Travis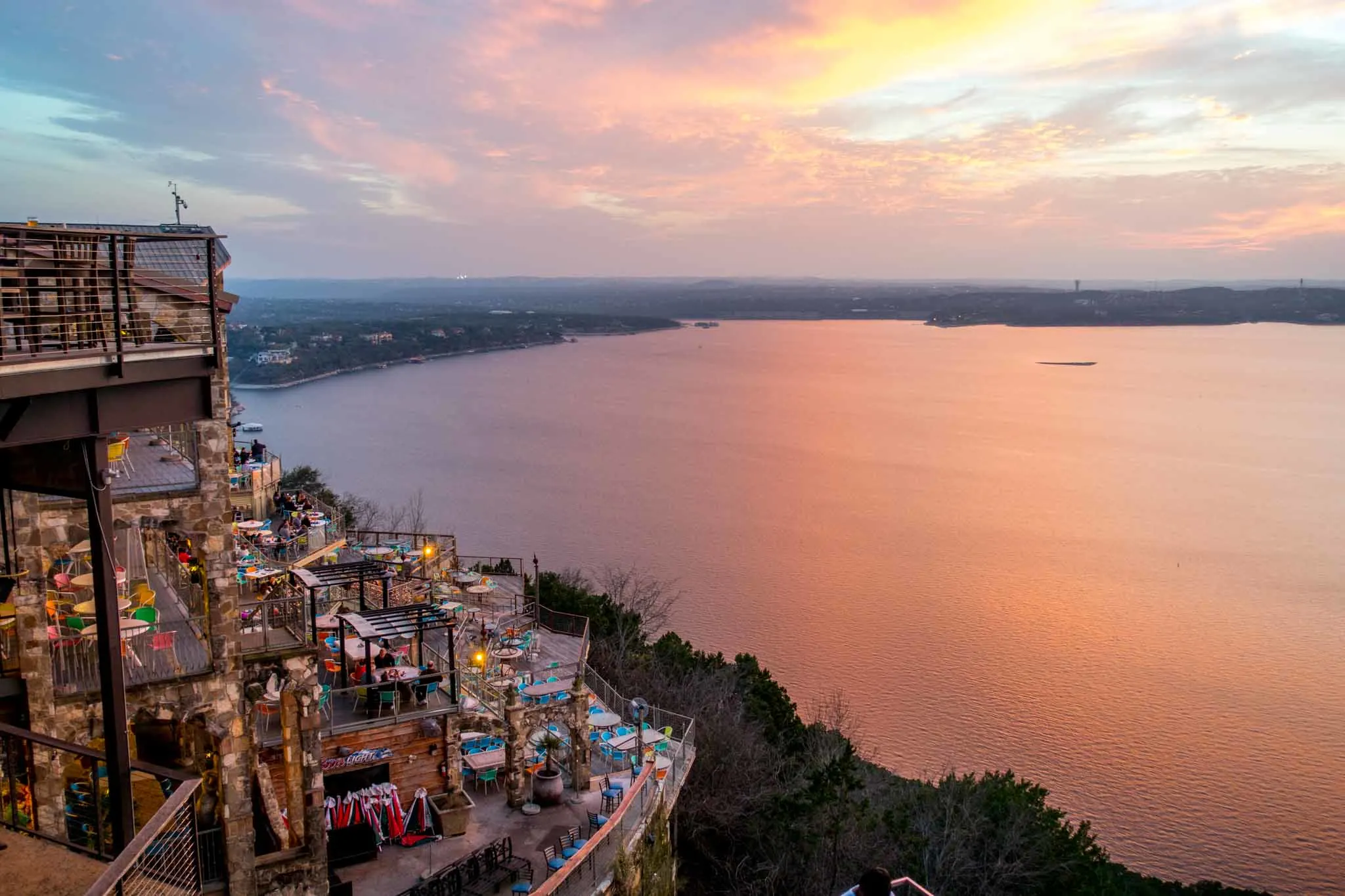 Texas sunsets are legendary. About 15 miles from downtown, The Oasis on Lake Travis is one of the best places to see them.
With a multi-deck patio overlooking the lake, the Oasis has unparalleled views. There is a restaurant, but it serves up to 2500 people and doesn't accept reservations, so set your expectations and patience accordingly if eating there is a priority (though it probably shouldn't be).
Our best advice is to eat before or after your visit so you don't have to deal with the wait. Instead, spend your time at the Oasis hitting the bar at Oasis Brewing Company and enjoy your tasty beverage while watching the sky light up at twilight. The secret is that the colors get even better after sunset. It truly is spectacular and one of the best things to do in Austin.
Watch the Congress Bridge bats
Most people may not think bats and big cities go together…unless you live here. In the warmer months, bat watching is actually one of the most fun activities in Austin.
The Congress Avenue Bridge is home to a massive colony of Mexican Free-Tailed Bats—the largest urban bat colony in North America. Not only do they help with the fierce Texas mosquitoes, but they put on a nightly show.
From spring through early fall, the bats start their flight around sunset and continue flying for as long as 2-3 hours. At the height of the season, there may be as many as 1.5 million bats taking to the air above Lady Bird Lake.
Arrive at least an hour before dusk in order to find parking and get your spot. The Statesman Bat Observation Center adjacent to the bridge is a great place to go, but there are other vantage points along the Butler Hike & Bike Trail and on the bridge itself, though it can get quite crowded.
We've watched from the bridge in the past but most recently took to the water to watch the bats from a boat, which puts a fun, more relaxing spin on the evening because you get dinner and drinks, too.
Relax at Mozart's Coffee Roasters
Mozart's Coffee Roasters might be the prettiest spot in town to sip a latte. Overlooking Lake Austin, the café is the perfect place to be for a moment of Zen, enjoying a pastry, and watching the boats bob by just a few feet away.
Mozart's serves gourmet coffees from around the world that are roasted on-site several times a week. From cannolis and macarons to quiches and empanadas, they also offer a wide range of homemade sweet and savory treats. You can enjoy them all in the shade on the patio while taking advantage of the free wifi. If you're visiting Austin at Christmas, don't miss the popular annual holiday light show.
Be surprised at the Museum of the Weird
Reminiscent of dime museums and sideshow attractions, the Museum of the Weird is one of the unusual places to visit in Austin. With shrunken heads, Big Foot, and a cyclops pig, you never know what's around the next corner in this odd space. Keep an eye out for the Wax Museum near the end.
Play Chicken Shit Bingo
Near the top of the list of unique traditions, you're sure to find Chicken Shit Bingo. For over 20 years, this unusual game has filled Sunday afternoons at The Little Longhorn Saloon.
For a small donation, visitors purchase tickets and eagerly wait to see where the chickens will do their business on a giant bingo board. There's live music, plenty of beer and cider, and lots of cheering when the chickens get going. It's definitely one of the things you have to experience here.
Stop for a sip at Austin Eastciders
Austin Eastciders Tap Room has 10-12 different ciders at any given time, ranging from hopped to honey to blood orange. They have a lot of fruit options that focus on flavor without being sweet. The laid-back bar has picnic tables, games, and a dog-friendly patio. Plus, they offer special releases that aren't available elsewhere.
Explore Umlauf Sculpture Garden
Just blocks from the heart of the city, a six-acre oasis houses a beautiful sculpture garden in an ever-changing environment. The Umlauf Sculpture Garden near downtown features the work of sculptor and University of Texas professor Charles Umlauf, who gifted his works, home, and studio to the city for use as an arts destination.
Fifty-nine sculptures and other artworks are on view around the grounds, which are landscaped with ponds and native plants. Adults can explore the works while kids complete "Sculpture Safaris." There are also regular guided tours.
Pull up a chair at Brew and Brew
If you're looking for a great coffee shop, a bar, a place to hang out, or a spot to get some work done, Brew and Brew has you covered on all fronts. In East Austin, this multi-purpose space has a full espresso bar and nearly 40 taps of craft beer and cider, so you can find your drink of choice all day long. There is wifi and a menu including breakfast, several sandwiches for lunch, and bar snacks.
Browse the racks at Atown
Atown is full of personality. From jewelry to clothes to home goods, this shop is packed with fun gifts, treats, and souvenirs. In addition to all the slogan t-shirts you could want, you'll also find work by local artists and designers. Depending on the time of your visit, you might be able to indulge in complimentary chocolate chip cookies or mimosas while you browse.
Get festive at Lala's Little Nugget
It's always Christmas at Lala's Little Nugget. This local bar is decked out year-round with Christmas lights, reindeer, Santa, and more. With Christmas-themed cocktails like the Snowball and Grandma's Boozy Eggnog, it's the ideal place to get into the holiday spirit whether it's April or December.
See the art at HOPE Outdoor Gallery
Since 2010, artists have visited the HOPE Outdoor Gallery to add their work to the collection of spray-painted treasures that adorn the walls. Once an abandoned construction project, every inch of the area is decorated with unique images of street art.
Every day, people visit to climb around on the concrete slabs to see the art or to make their own in this unusual public space. From cartoon characters to cats in space, there is all kinds of imagery, and there is always some kind of activity going on. The gallery has become a gathering spot and is used for dance classes, dinner parties, and other fun events.
HOPE Outdoor Gallery is slated to reopen in fall 2023 near the airport.
See a set at Parker Jazz Club
Five nights a week, Parker Jazz Club comes alive with world-class musical acts. The purpose-built venue has incredible acoustics to showcase the artists. In addition to the greats from across the country who grace the stage, owner Kris Kimura is a frequent performer, choosing from a stunning array of instruments that demonstrate his talent with woodwinds.
The basement jazz lounge serves pizzas and desserts, and it wouldn't be a proper jazz club without the excellent cocktails from the bar.
Visit a local distillery
We love people who are passionate about what they do, and we love good cocktails. Luckily, that makes craft distilleries a perfect fit for our list of things to do around Austin. Seriously, if you've never had a chance to take a distillery tour with the distillers themselves, do it—they love geeking out and sharing their passion for making great spirits. There are several distilleries to choose from in Austin and within a half-hour drive of the city.
Still Austin Whiskey Co. is our choice in the city. It's the first whiskey distillery in the city since Prohibition and keeps true to its roots using Texas grains and botanicals. They're open for tours and tastings, or you can stop by for a cocktail at the bar and some live music and food trucks. I love their Old Fashioned.
Within a half-hour of downtown, you can find three more great distilleries in nearby Dripping Springs– the famous Deep Eddy Vodka, Dripping Springs Distillery, and Treaty Oak Distilling, which is one of the coolest places to visit near Austin.
Go thrifting on Guadalupe Street
Lovers of thrifting, vintage clothes, and finding a bargain will enjoy the strip of thrift stores near W. 29th Street and Guadalupe Street. At least a half-dozen shops in the area specialize in new and used clothing of different types. You can pay by the pound at Flamingos, look for specialty items at Pavement, and shop til you drop all around the neighborhood. On nice weekends, the racks are often set up outside, too.
See a show at Alamo Drafthouse
Alamo Drafthouse is an institution. It's known for inventive festivals and for showing first-run and classic movies as well as blockbuster and art house films. It was one of the first movie theaters to add good food and beer to complete the movie-going experience. They even create unique menus to pair with the themes of certain movies. There's always something new and different there.
The Drafthouse hosts special events throughout the year, but one of our favorite reasons to go is the regular Tuesday night trivia. Pop culture and movie experts will go far in trying to take home the night's prize.
Indulge in Tiff's Treats
Tiff's Treats is the perfect solution to a crummy day or the best way to make a good day even better. I mean, who doesn't want freshly baked cookies right from the oven? No one.
The owners started the cookie company from their dorm rooms while students at the University of Texas, so indulging in their treats is truly one of the authentic things to do in Austin. At their locations all over the city (and throughout Texas), you can try over 10 varieties of cookies and brownies, plus ice cream and more. (Our favorite is the peanut butter chocolate chip.) Plus, Tiff's Treats is known for being the first bakery in the U.S. to offer a warm cookie delivery service, so you can also enjoy them in your PJs in your hotel room.
Enjoy the scenery at Hamilton Pool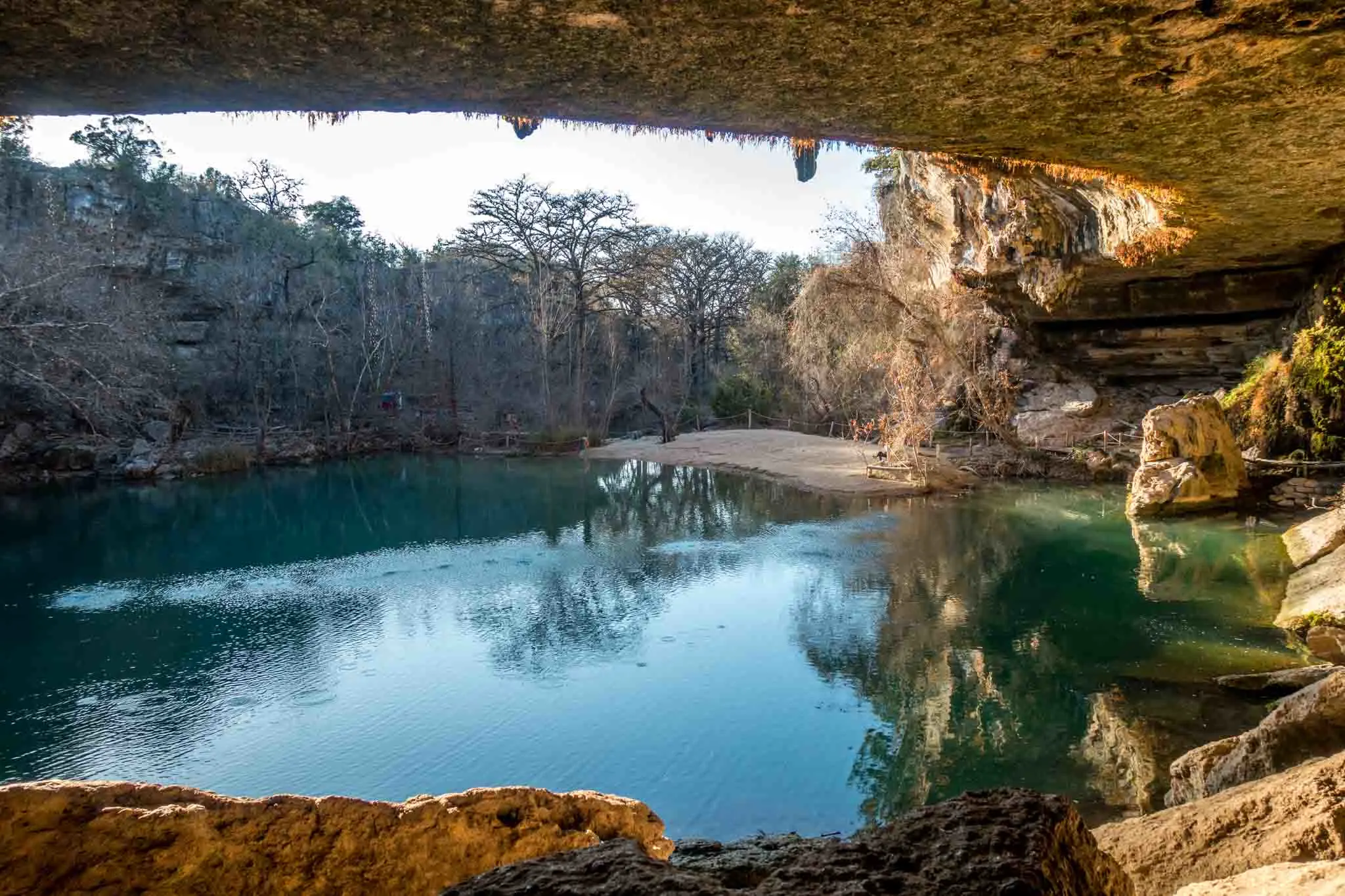 Hamilton Pool is one of the most picturesque sites around, and it's one of the top swimming holes in Texas. Located on a 234-acre nature preserve, it draws people from all over central Texas.
The pool is the result of the collapse of an underground river, so it has a unique formation with a waterfall and even a tiny beach. You can bring a picnic, enjoy the (sometimes very cool) natural spring pool, or relax on the beach.
If Hamilton Pool is on your must do list in Austin, plan ahead—you'll need to reserve a 4-hour time slot for your visit. Slots per day are limited to protect the ecosystem, which means that the pool always feels like a bit of a private oasis. Bring close-toed shoes or water shoes for the rugged quarter-mile hike from the parking lot and for walking around the swimming area.
Spend an afternoon at Cidercade
Cidercade is a cool venue offering a unique combination of arcade games, hard cider, and thin-crust pizza. For just $12, visitors can play unlimited games from pinball to Skeeball and more while enjoying food and craft ciders from the team at Bishop Cider. As a bonus, there's a great patio overlooking the lake.
Take the plunge at Deep Eddy Pool
Deep Eddy Pool has been a gem in Austin's crown for over 100 years. This unique, freshwater pool offers wading for kids, lap swimming for adults, and pool-side movies in the summer. It's a great location to cool off as the water ranges between 66 and 75 degrees.
What makes Deep Eddy so special is that you feel like you're far away from everything, surrounded by trees at the bottom of a hill. Yet, you're really just 5 minutes from downtown.
Deep Eddy is filled with fresh well water and isn't chlorinated. As a result, moss grows on the bottom of the pool and can be bit slick. Consider wearing water shoes to make it a little easier to manage getting in and out.
Eat at Pool Burger
Just a few steps from Deep Eddy, Pool Burger feels like summer. With the smell of grilling burgers and the clank of the cocktail shaker, the vibe is laid back and fun.
Food (there are options for vegetarians, too) comes from the 1968 Airstream trailer, and tiki drinks come to life at the straw-covered stand. Find yourself a spot of shade on the comfy cushions and sip your mai tai slowly.
Two-step at the White Horse
One of the city's coolest honky tonks, The White Horse in East Austin has live music every day of the week. In addition to the entertainment, they have tacos every night/early morning and whiskey on tap. It's kind of perfect.
One of the nicest things about The White Horse is that it doesn't have a particular type of crowd and everyone is welcome. You'll see people of all generations from hipsters to ranchers to rockabillies, so no one really feels out of place. They all pack the dance floor, and many come for the free dance lessons offered Thursday through Saturday.
See live music venues like The White Horse and more on this music crawl tour of the city.
Visit Elisabet Ney Museum
The castle-like stone building that rises from a wild plot of land in Hyde Park was once the studio of renowned European sculptor Elisabet Ney. Built in 1892, the structure that she called Formosa is now a museum dedicated to her life and work.
The Elisabet Ney Museum houses many large-scale works. Subjects of the busts and sculptures range from King Ludwig II of Bavaria (Ney's benefactor) to Jesus. There are also 19th-century intellectuals, statesmen, and figures from Texas history. Brochures in the museum provide lots of detail about Ney and her work. It is free to visit and definitely worth a stop if you are nearby.
Explore by bike or scooter
Getting around can be really easy—just pick up a bicycle or a scooter when you see one. With Bcycle bicycle stands and companies like Lime and Jump offering bicycles and scooters all over the city, you're never very far from an option that will take you a few blocks or to the other side of the city. Most of them only require an app and a credit card.
For a more organized approach, consider this bicycle tour of Austin highlights or check out this tour that takes you around the city on an e-bike.
Go on a breakfast tacos crawl
Trying breakfast tacos is a must when you visit Austin. There are so many great places to try that it's hard to pick just one. The good news is that many places serve breakfast tacos all day, so you can put together your own taco crawl, if you're so inclined.
My favorite place for breakfast tacos is Veracruz All Natural. They have several locations, and we like the truck on Manchaca Road because it's conveniently located at Radio Coffee, so you can easily address all your breakfast needs in one place. Bring your patience because Veracruz is super popular, but the wait is worth it. They're most well-known for their amazing migas taco.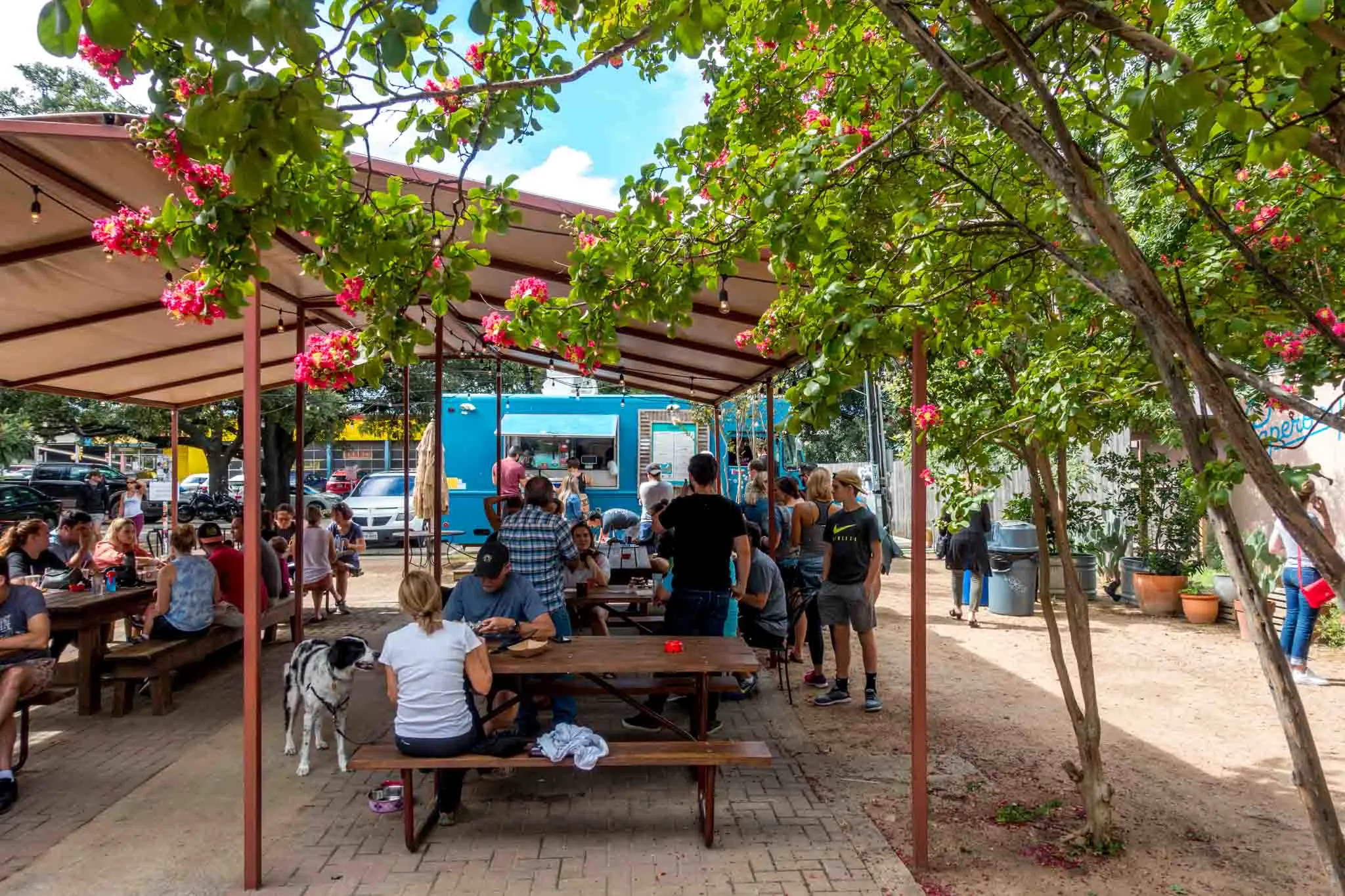 If you can't make it to Veracruz All Natural, check out Tacodeli or Torchy's Tacos. For 20 years, Tacodeli has met Austinites' tortilla needs, and their breakfast tacos—especially the Otto—are legendary. Torchy's Tacos, which started out as a food truck, now has 50 locations, so there's almost always one nearby. Try the queso, too.
Have fun at Toy Joy
Toy Joy is not your standard toy store. An Austin institution for over 30 years, Toy Joy stocks thousands of items to appeal to everyone. You can find expected toys like standard board games and stuffed animals alongside less expected gag gifts, costumes, crafts, and more. From Harry Potter to anime, there's plenty to see here.
Get outside at Lady Bird Lake
Lady Bird Lake looks a bit more like a river, or at least that's what I called it until my sister set me straight. It's actually a section of the Colorado River that has been dammed up. Whatever you call it, it's the perfect place for outdoor activities and water sports.
Year-round, there are people in kayaks and canoes and on stand-up paddle boards enjoying the lake. Along the banks, you can also rent paddle boats, dragon boats, and other crafts for use. To enjoy the water in a more motorized fashion, check out Capital Cruises, which runs regular excursions. The Ann and Roy Butler Hike-and-Bike Trail runs over 10 miles around the lake.
See the Trail of Lights
One of the top holiday traditions in town is the Austin Trail of Lights. This amazing festival fills Zilker Park with more than 2 million Christmas lights.
Along the trail, there are 70 displays and lighted tunnels plus nearly 100 trees lit up in the colors of the season. When you add regular entertainment, food trucks, photos with Santa, and more, it's clear why the Trail of Lights is super popular.
Typically, about half the nights of the 2-week event are free for the public, which means the trail can get quite crowded. Visitors who want a little more room to move around and perks like easy parking can buy an early-entry ZIP pass or VIP Platinum passes on select nights.
Explore the Texas Hill Country
There is plenty to occupy your time if you're visiting Austin for a long weekend. But, if you have more time or want to see a side of Texas other than the big city, consider exploring the fun things to do in the Texas Hill Country.
Just a half-hour from Austin is the little town of Dripping Springs, Texas, which is certainly worth a stop. You can get a hint of Tuscany at the Texas Hill Country Olive Oil Company, enjoy the scenery at Pedernales Falls State Park, and splash down in the natural swimming hole of Jacob's Well.
If you have a little more time to spare, visit Fredericksburg about 90 minutes away. Founded by German settlers, Fredericksburg has its own unique culture that you might not expect in the heart of Texas. This German town is packed with dozens of wineries and has a cute downtown shopping area. You'll also find wildflower gardens, historic sites, and the world-class National Museum of the Pacific War. Plus, it's right by Luckenbach, Texas, the place to go for country music.
Where to Stay

South Congress Hotel – A boutique hotel, South Congress Hotel is one of the top places to stay. Some rooms have courtyard or city views, and you can't beat the rooftop pool bar.
Hyatt Place Downtown Austin – A reliable choice for comfortable accommodations, Hyatt Place offers an on-site restaurant, pool, and fitness center. It is within walking distance of most of the main sites.
Fairmont Austin – The definition of a luxury hotel, with stellar service, well-appointed rooms, a spa, and five restaurants and bars
The Carpenter Hotel – A unique setting in the former carpenter's union hall near Zilker Park, this boutique hotel has a fabulous cafe, a restaurant serving inventive dishes, and an outdoor pool.
Laura Longwell is an award-winning travel blogger and photographer. Since founding Travel Addicts in 2008, she has written hundreds of articles that help over 3 million people a year get the most out of their travel. In that time, she has visited nearly 60 countries on 5 continents, often returning to favorite destinations over and over again. She has a deep love of history, uncovering unexpected attractions, and trying all the good food a place has to offer.
In addition to Travel Addicts, Laura runs a site about her hometown of Philadelphia—Guide to Philly—which chronicles unique things to do and places to see around southeastern Pennsylvania. Her travel tips and advice appear across the web.